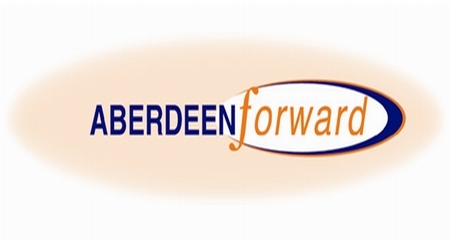 With thanks to Ed Walker.
Aberdeen Forward is the first re-use organisation in Aberdeen to achieve accreditation for the new Revolve re-use quality standard offered by Zero Waste Scotland.
The community based environmental organisation has been working towards Revolve accreditation, Scotland's national re-use quality standard, to gain national recognition for their customer focused organisation.
Aberdeen Forward works to minimise landfill around Aberdeen through a number of pro-active initiatives.
Their Creative Waste Exchange helps organisations-such as oil and gas companies, schools and other businesses-divert their office furniture, commercial equipment and other landfill in order to be more environmentally sustainable.
However, the cycle does not just end there and the items are sold on to various small businesses, third sector organisations and individuals, raising vital funds for the charities other operations.
Aside from this project, Aberdeen Forward run various initiatives including a baby shop, which helps support parents with low cost baby goods, and a 'Roots and Shoots' project which helps get ex-offenders back into work through community garden projects around the city.
In addition to this, the charities headquarters serve as a centre for individuals and volunteers to gain experience and get back into the community through various environmentally sustainable activities.
In the 3 months of August, September & October, Aberdeen Forward had an average customer satisfaction rating of 94%; when you take into account the average UK retail organisation AIMS to have an average customer satisfaction rating of between 65% and 80%, this is a really great result for the Aberdeen based charity.
Lynn Smith, Chief Executive at Aberdeen Forward, expanded on this result and had the following to say about the award itself:
"We are delighted that Aberdeen Forward has been awarded Revolve accreditation. Since we started working towards gaining the title we have seen a boost in trade as our customer experience is now at a level which rivals high street shopping […] We believe there is a strong market in providing people with a sustainable alternative to new goods, and look forward to building customer confidence in the sector and passing on good practice to other organisations in the re-use sector."
The programme is backed by around £650,000 of investment in the re-use sector in 2012-13 designed to drive various improvements including the provision of a national re-use phone line (0800 0665 820) to make it easier for people to donate goods to re-use and find their local re-use outlet.
Iain Gulland, Director of Zero Waste Scotland said:
"The overall aim of Revolve is to lead and develop a change in Scotland's re-use organisations, giving them the advice, training and support to develop a business model which provides customers with an experience that is comparable to commercial shops on the high street […] We essentially want to increase the appeal of re-use, develop a sector of customer focused organisations selling high quality products, and increase shoppers' confidence in buying previously-owned goods."
Aberdeen Forward is an environmental charity, established in 1999 to distribute landfill community funds.  It now also funds and supports a number of waste minimisation, sustainability and social projects across the North East.  Scottish Charity No: 034866.