Itinerant Scots have been accused of many musical misdemeanours. Musicologists have built careers tracing the global paths that Scottish traditional music has wandered along, injecting swing into cowboy music, adding Hebridean angst to the blues and a hint of bothy life into bluegrass. Since the heady days when The Old Blind Dogs linked New Deer with New Orleans there's been a consistent interest in setting traditional Scots tunes against global rhythms. Along those lines, and on the face of it, this looks like an interesting CD release from Huntly's Deveron Arts, reviewed by Graham Stephen.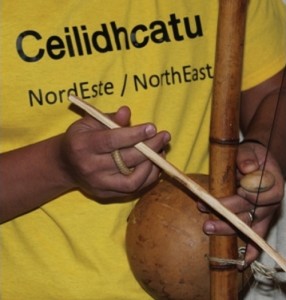 Brazilian musician Allysson Velez, inspired by ceilidh music, recognised rhythmic links with his own tradition and its African slave roots. He teamed up with Omar Arif, a West African musician living in the area, and a handful of local musicians, including fiddle maestro Paul Anderson. The result is Ceilidhcatu, promoted as 'a transcultural community of art'.
What I expected was a cross-cultural stew of shared enthusiasm with musicians sparking off each other's playing and musical styles.
This may well happen in a live situation, but much of this recording lacks a dynamic spark, sticking to repetitive, unadventurous arrangements and never quite matching its ambitions.
Too often it sounds like two styles brought hesitantly together, shyly inter-mingling, but happier to stick to familiar territory. That, you may argue, is itself a fundamental tradition in the NE.
Not that there is anything wrong with the performances. The musicians play well, which is frustrating, because at times the formula works, giving hints of the possibilities. The relentless African drum patterns, for example, enhance the gloom and menace of Twa Corbies.
Driven by Anderson's strong fiddle, The Devil In The Kitchen set threatens to take off, demanding to be pushed into overdrive by some strong percussion. When the drums arrive, however, they stick to a repetitive groove regardless of changes in the tunes, where subtle shifts and textures would have brought the set to life.
Opening track Scotland The Brave also suffers from this sense of deceleration, giving a feeling that the two elements have been brought together separately, rather than being a natural bonding. The traditional songs and tunes chosen are also very familiar. Perhaps a choice of material beyond the standard session repertoire might have enhanced the project.
Significantly, the strongest tracks are duets featuring only Velez and Afif, their hypnotic Maracuta rhythms echoing the legacy of slave trade links between Brazil and Africa. Set against this, an unexpected unaccompanied version of The Rovin' Ploughboy, perfectly sung by Shona Donaldson, somehow encapsulates the aching soul of the NE bothy ballad while Steve Brown's pipes on Farewell To The Creeks sit well in natural sound effects.
CEILIDHCATU
NordEste/NorthEast (Deveron Arts)