Britt Pernille Frøholm is touring the UK this Autumn and will play three venues here in the North East, including a fund raising concert at 7.30pm on Saturday 19th November 2011 at The Howe Trinity Church, Alford, in aid of The Alford Heritage Centre and Museum. Jim Talbot encourages Aberdeen Voice readers to attend.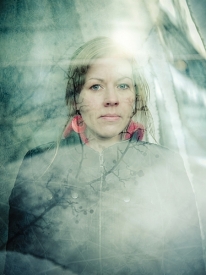 Britt is a leading hardanger fiddle player from Hornindal on the west coast of Norway.
She has a MA degree in Traditional Arts from 2006 where she worked with contemporary music and researched new techniques for the hardanger fiddle.
She is a versatile musician who has released several critically acclaimed cd's in a number of genres, ranging from traditional folk music to free improvisation with jazz musicians.
The concert will include Christmas music from Norway and will be a showcase for this talented musician and her beautiful instrument.
In  addition to her solo projects, she plays in the groups LuckyLoop, Friensemblet,  Ensemble Epoché, arcticaEclectica, Frøholm/Tillung, BOREAS (Scotland/Norway),  FACE THE BEAR (Norway/Sweden), and  the Talay&Knutsson Project-Nye Toner i Nord (Norway/Sweden/Denmark).  Currently she's also collaborating with the Indian fiddle player Sharat Chandra Srivastava.
Discography:
Busi Ncube-Salulandela, (Etnisk Musikklubb 2010)
Frøholm/Tillung, "EINS", (Ta:lik 2009)
Friensemblet, "Come Closer", (Giraffa Records 2009)
LuckyLoop, "Big, Fat and Beautiful", (Grappa Musikkforlag 2008)
Britt Pernille Frøholm, "For Allje Dei", (Ta:lik 2008)
Folkelarm promo cd, (Etnisk Musikklubb 2008)
Christian Borlaug, "Austmannsspel- slåtter under Norefjell, (Etnisk Musikklubb 2008)
Ramstadlaget, "I gamle spor", (Lærdal Musikkproduksjon AS 2008)
Honndalstausene, "Frie Former", (Grappa Musikkforlag 2000)
Websites:
http://froholm.com
http://reverbnation.com/brittpernillefrø…
http://soundcloud.com/brittpernille
http://last.fm/music/Britt+Pernille+Frøh…
http://reverbnation.com/boreasband
http://myspace.com/boreasband
http://myspace.com/facethebearmusic
http://myspace.com/froholmtillung
http://myspace.com/arcticaeclectica
http://reverbnation.com/luckyloop