On a whim and a wave of memories of his love for his childhood bike, Gary Sutherland calls his younger brother Stewart and proposes that they go for a wee run, just like they did as bairns. This time it's not a Christmas morning 5-mile round trip to Duffus from their home village of Hopeman on brand new bikes. This time it's around Scotland. Despite neither having been astride a bike for years, the response is, 'Yeah, OK'. And so it begins. David Innes reviews.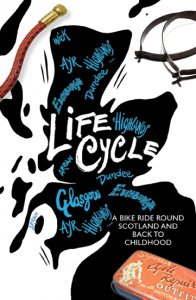 Part travelogue, part buddy movie storyboard, Life Cycle celebrates the simple pleasures and sense of achievement to be had by travelling, seeing the world from a different perspective and all via self-generated pedal power.
Sutherland's narrative captures the joys of achievement, cholesterol-stuffed Scottish breakfasts, pints and companionship, even when he and Stewart are struggling with the gradients between Ullapool and Durness.
He dislikes hills. He grimaces at headwinds. He detours miles to visit a good coffee shop. He's a proper cyclist all right.
Although sometimes the in-family anecdotes and snatches of conversation veer into 'you had to be there' territory, there are some gems.
Gary and Stewart have found a Callander bakery selling butteries. Yes, civilisation and Ambrosian lard-laden soul food that far south.
'Do you think butteries are good for you?' asked Stewart
'Oh aye,' I said, even though they're nothing but butter and salt, 'I reckon you could power your way round Scotland on butteries alone'.
'I'd like to see you give it a go'.
'I reckon I'd be able to do 10 miles to the buttery'.
'That's pretty impressive'.
'It's also a lot of butteries'.
Although two-wheeled trainspotterly stattoes like me would love to have had daily progress charts, tables of averages and maps of the journey included as an illustration of the tour, that isn't the purpose of Life Cycle. In some places it's almost cathartic as the struggle to self-motivate each morning and the mental and physical anguish of tortuous hill climbs are described.
Life Cycle is a tale of a couple of weeks one summer re-affirming life's simplicity and familial ties. No more, no less. This is encapsulated in the description of a long and welcome descent after a day of excruciating climbing in Sutherland.
'My eyes were fixed on my wee brother, flying free amid this majestic landscape. It was one of the finest sights I'd ever seen. It was all worth it for this.'
Now and again there can be too much seemingly-anodyne detail given, but on publication of A Journal Of The Plague Year and Robinson Crusoe, Daniel Defoe was acclaimed for bringing journalistic verisimilitude to the fledgling novel genre. Gary Sutherland is in good company.
So, as we cyclists feel winter on the back of some chillier September mornings, as the shorts are consigned to the back of the drawer and the winter gloves are looked out, what better time to reflect on the pleasures of summer cycling and take inspiration for one's own road trip once the days lengthen again? You may find it between the easily-read pages of Life Cycle.
Life Cycle: A Bike Ride Round Scotland and Back to Childhood. Gary Sutherland.
Birlinn Books. 214pp. £9.99