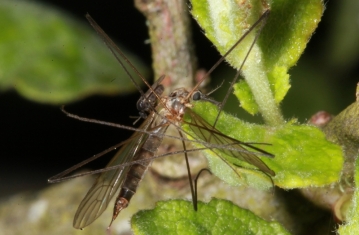 With thanks to
Richard Bunting.
Biodiversity surveys in 2012 at Trees for Life's Dundreggan Estate near Loch Ness revealed eight new species never recorded before in the United Kingdom, and brought the total number of species recorded on the forest restoration site to over 2,800, it was announced today.
New species for the UK discovered at the 10,000-acre site in Glen Moriston, Inverness-shire are a sawfly (Nematus pravus), an aphid (Cinara smolandiae), two species of aphid parasitoids (Ephedrus helleni, Praon cavariellae), three species of fungus gnats (Brevicornu parafennicum, Mycomya disa, Sceptonia longisetosa), and a species of mite (Ceratozetella thienemanni).
Another key discovery, made by Trees for Life's Executive Director Alan Watson Featherstone, included the first record in Europe of a biting midge in the genus Atrichopogon feeding on a cranefly (Helius longirostris). Although known in the tropics, this behaviour has never been observed in Europe before.
Alan Watson Featherstone said:
"The surprisingly rich variety of life at Dundreggan highlights the vital importance of conservation work, and of protecting and enhancing habitats across the Highlands. The discoveries are not only demonstrating that the estate is a special site for biological diversity – they are also revealing that there is still much to learn about Scotland's biodiversity."
The 2012 surveys revealed a significant and diverse range of organisms, including sawflies, aphids, fungus gnats, slime moulds and mites. The findings, together with those of previous surveys, bring the total number of species recorded on Dundreggan to 2,815. This wealth of biodiversity includes at least 269 plants, 341 lichens, 92 birds, 20 mammals, 354 beetles, 207 moths and 125 sawflies.
A species of note discovered last year is the rare Lapland marsh-orchid (Dactylorhiza traunsteinerioides subsp. francis-drucei), never found in this area of Scotland before and described by the Highland Biodiversity Recording Group as a "botanical gem".
2012 was the third year of a sawfly study on the estate that is being carried out by a team from Liverpool Museums. The total known sawfly species recorded on Dundreggan has now reached 125. The discovery of Nematus pravus means that there are two 'new to the UK' sawflies feeding on the dwarf birch at Dundreggan, with a third species previously unrecorded in Britain found feeding on the downy birches on the Estate.
In another project, Steve and Sarah Burchett from PlymouthUniversity spent two weeks with a team of students, carrying out pioneering research into the biodiversity of Dundreggan's forest canopy. This included new techniques to survey for lichens, mosses and invertebrates that live in the treetops and the upper branches of oaks, birches and Scots pines, in what is believed to be the first study of its kind in Scotland.
At least 67 priority species for conservation have now been identified on Dundreggan, which has been described as a Highlands 'lost world'. The 2012 discoveries add to a remarkable range of rare and endangered species found on the Estate – some of which were previously unknown in Scotland, or which were feared to be extinct there.
Previous discoveries include the second-ever British record of a waxfly species; a golden horsefly (Atylotus fulvus) only seen once before in Scotland since 1923; the juniper shieldbug (Cyphostethus tristriatus), thought to be the first Highlands record; and species of spider, cranefly and dragonfly all listed in the UK's Red Data Book of endangered species.
Other species include black grouse, pine marten, water vole, lesser butterfly orchid, lichen running spider, and small pearl-bordered butterfly. On-going research aims to establish whether the Scottish wildcat is present.
Dundreggan, purchased by Trees for Life in 2008, is also home to some of the best stands of juniper – a priority species for conservation – in the Highlands, and what may be the most extensive distribution of dwarf birch in the country.
Trees for Life is planting half a million trees on the estate as part of its award-winning restoration of the Caledonian Forest to a spectacular wilderness region of 1,000 square miles in the Highlands, to the west of Loch Ness and Inverness.
The conservation charity is also working for the return of rare woodland wildlife, plants and insects, and is conducting scientific research and education programmes. Volunteers are carrying out much of the forest restoration work. For more information, see www.treesforlife.org.uk or call 0845 458 3505.
Comments enabled – see comments box below. Note, all comments will be moderated.