With thanks to Richard Bunting.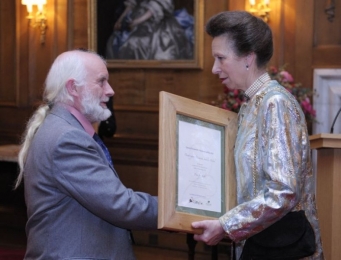 Trees for Life has been honoured with a commemorative plaque from HRH The Princess Royal to mark its creation of a Diamond Wood in Inverness-shire to celebrate The Queen's Diamond Jubilee in 2012.
The conservation charity is planting the 60-acre Jubilee woodland of native trees at its Dundreggan Estate, to the west of Loch Ness in Glen Moriston.
The initiative is part of a Woodland Trust project to create 60 new Diamond Woods across the UK, each at least 60 acres in size, to symbolise the 60 years of The Queen's reign.
The commemorative plaque was presented to Trees for Life's founder and executive director Alan Watson Featherstone at a special reception at the Palace of Holyrood house in Edinburgh on 22 October 2012.
Alan said:
"We are delighted to be working with the Woodland Trust on this inspiring project. Our Diamond Wood at Dundreggan will be a natural and beautiful tribute to Her Majesty The Queen. It will last for hundreds of years and be enjoyed by many generations of people, as well as providing an important habitat for wildlife in the Highlands."
The charity's work at Dundreggan is a key part of its restoration of Scotland's ancient Caledonian Forest to a spectacular wilderness region of 1,000 square miles to the west of Loch Ness and Inverness. Although only a fraction of the original forest survives, Trees for Life has now created almost 10,000 acres of new Caledonian Forest at 45 different locations in the Highlands. It has planted more than one million trees, with a million more pledged for the next five years.
Surveys on Dundreggan have revealed over 60 species that are priorities for conservation in the UK's Biodiversity Action Plan. The discovery of rare, endangered and presumed extinct species have established the estate's reputation as a 'lost world' for the Highlands.
People can support Trees for Life's award-winning work by purchasing dedicated trees to celebrate special occasions. A tree will also be planted for every recipient of a new 'plant a tree' winter gift card this Christmas and winter. The charity's acclaimed volunteer Conservation Weeks offer opportunities to gain practical conservation experience in spectacular surroundings.
For information, see www.treesforlife.org.uk or call 0845 458 3505.
 Comments enabled – see comments box below. Note, all comments will be moderated.