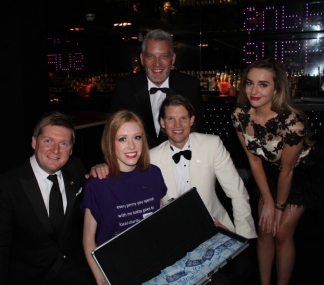 With thanks to
Claire McBain.
Today (Friday 26 October 2012) VSA, the UK's largest city social care charity, launches its silent auction ahead of next week's VSA Diamond Ball (Saturday 3 November 2012).
The charity also hopes to raise up to £50,000 on Saturday 27th October, when loyal VSA supporter Garreth Wood will donate a full day's takings from four of his city centre bars.
For the last three years Garreth's company, The Speratus Group, has supported VSA through its Ball and associated fundraisers, as well as contributing staff time through corporate volunteering. 
Garreth traditionally marks the Ball date by donating monies from several of his Aberdeen bars and this year all four city centre hotspots – Amicus Apple, Illicit Still, Paramount and NOX – are taking part in the initiative.
As in 2010 and 2011, The Speartus Group is also the main sponsor for the VSA Ball which this year has a diamond theme to celebrate the Diamond Jubilee of Queen Elizabeth ll, the VSA's Patron.  In Her Majesty's honour, a diamond necklace, donated by Garreth and supported by Finnies the Jewellers, will be raffled at the Ball on 3rd November.
Garreth said:
"We recognise the amazing work that VSA carries out in the city and shire and are proud to be associated with them.  We look forward to a strong continued relationship with VSA and supporting the tremendous work they carry out every day."
Karen Barlow, director of fundraising and communications, said:
"We're so grateful for Garreth's generous commitment to VSA, raising hundreds of thousands of pounds in the past few years.  I'm delighted to have him and his team on board.  This weekend's fundraiser will be their biggest yet.  I urge as many people as possible to support it." 
Items in the online silent auction, which concludes during the VSA Ball on Saturday 3rd November, can be viewed, and bids made, by texting DIAMOND to 88850 and following the instructions, or by registering at www.diamond.auction-bid.org
 Comments enabled – see comments box below. Note, all comments will be moderated.