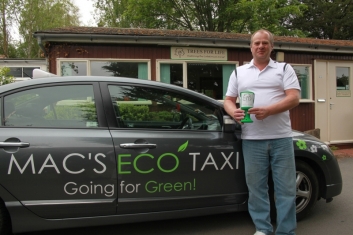 With thanks to
Richard
Bunting.
Forres taxi operator David Macpherson is helping to bring Scotland's Caledonian Forest back from the brink by supporting the Findhorn based conservation charity Trees for Life, which aims to restore the forest to an area of over 2,500 square kilometres in the Scottish Highlands.
David's firm, Mac's Eco Taxi, donates 20 pence to the award winning charity for every journey that picks up, or drops off, at the Findhorn Eco village in Findhorn Bay, Moray.
The scheme has already notched up more than £150, which David presented to Trees for Life recently.  The green-minded taxi operator also has plans to fund a grove of trees through the charity.
David, who has run a taxi business for five years, decided to give his business a green boost in late 2010 by investing in a state of the art hybrid Honda Civic which runs on electricity as well as petrol.  The car is able to recharge itself while being driven so has no need to be plugged in.
In addition to purchasing the first such car to be operated by a taxi firm in the area, David also decided to make a difference to the environment by supporting Trees for Life's forest restoration work.
David said:
"I'd noticed Trees for Life's vehicles and office on many trips to Findhorn, but it was buying the charity's calendar with its stunning photographs of the Caledonian Forest that really inspired me.  Our customers know that we are being doubly carbon conscious – with low emissions from our car and with donations supporting the reforestation of the Highlands."
Since planting its first trees in Glen Affric in 1991, Trees for Life has planted over one million trees and has received a number of awards including the 1991 UK Conservation Project of the Year, the Millennium Marque in 2000 and Top 10 Conservation Holidays worldwide in 2009.
Alan Watson Featherstone, executive director at Trees for Life, said:
"This is an excellent project that is good news for the climate as well as Scotland's biodiversity and wild landscapes.  
"Simple yet positive schemes like this make a big difference to our work.  Every £5 allows us to plant a tree and every £50 enables us to restore 50 square metres of native woodland."
People can support Trees for Life's restoration of the Caledonian Forest by funding dedicated trees and groves, while the charity's Conservation Holiday Weeks allow people to gain practical conservation experience in beautiful locations.
Comments enabled – see comments box below. Note, all comments will be moderated.