Founder and executive director of conservation charity Trees for Life,  Alan Watson Featherstone, has triumphed in the Environment category of the prestigious Glenfiddich Spirit of Scotland Awards 2012, announced at a ceremony in Edinburgh on 29 November.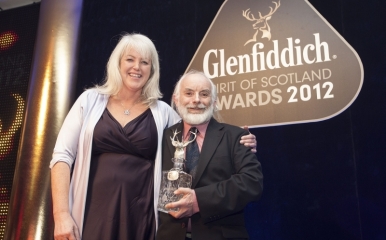 The awards mark outstanding individual contributions to Scottish cultural life which inspire others.
Categories commemorate all that is great about Scotland, including Art, Business, Food, Music, Screen, Sport and Writing as well as the Environment.
The recipient declared:
"As the winners of these awards are decided by public vote in the UK, this is an inspiring, national recognition of Trees for Life's restoration of the Caledonian Forest. I'm very grateful to everyone who voted. It's an honour that shows how deeply people care about conserving Scotland's world-class wild landscapes, and about protecting our stunning biodiversity and wildlife."
The charity has already planted more than a million trees at dozens of locations in the Highlands, creating ten thousand acres of Caledonian Forest, and has pledged to establish a million more trees through planting and natural regeneration within the next five years.
Today, only a fraction of the original forest survives, but Trees for Life is restoring it and its unique wildlife to an inspiring, spectacular wilderness region of a thousand square miles to the west of Loch Ness and Inverness.
In his acceptance speech, Featherstone acknowledged the support he's received from current and past staff of Trees for Life, and the thousands of volunteers who have worked on the project since 1989. He dedicated the award to everyone who's been inspired by, and cares about, the Caledonian Forest, which he described as 'a Scottish national treasure'.
His wide-ranging, long-term work to change humanity's impact on nature and the planet has provided inspiration for ecological restoration projects in the Borders, Dartmoor and the endangered Parana pine forest in south-east Brazil.
People can support Trees for Life's work by purchasing dedicated trees to celebrate births, weddings and special occasions. A tree will also be planted for every recipient of a new Plant a Tree winter gift card this Christmas.
Meanwhile, the charity's acclaimed volunteer Conservation Weeks offer opportunities to gain practical conservation experience in spectacular surroundings.
Telephone: 0845 458 3505
More on Trees For Life
Trees for Life's story began at a major environmental conference at Findhorn in October 1986 when Alan, who at that time had no experience of conservation work, no funding and no access to land, made a commitment to delegates to launch a project to restore the Caledonian Forest.
The forest had once covered much of the highlands, with native pinewoods encompassing 1.5m hectares at their maximum extent in a wild landscape of mountains, lochs and rivers. Largely a result of land clearance, wood use and farming, centuries of deforestation had taken a huge toll by the 1980s, with only a tiny percentage of the former forest remaining.
Practical conservation work began in June 1989, when Alan took a team of volunteers to place tree guards around Scots Pine seedlings in Glen Cannich, to protect them from deer. By 1991, Trees for Life had begun to plant a new generation of trees, some of which were the first to grow in the Caledonian Forest for 150 years.
Trees for Life's vision includes reintroduction of the forest's wildlife and plants to form a fully-functioning ecosystem. It has developed as an award-winning charity with a dedicated staff team, hundreds of volunteers and thousands of supporters.
In 2008, it bought the 10,000-acre Dundreggan Estate west of Loch Ness, one of the largest areas of land in the UK ever purchased for forest restoration.
The charity's awards include UK Conservation Project of the Year 1991, the Millennium Marque in 2000 and Top Ten Conservation Holidays worldwide in 2009. In addition, Alan received the prestigious Schumacher Award in 2001 for his 'inspirational and practical work on conserving and restoring degraded ecosystems'.
Comments enabled – see comments box below. Note, all comments will be moderated.