By Mike Shepherd.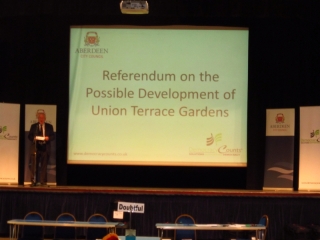 "History repeats itself, first as tragedy, second as farce."  So said Karl Marx.
The Scottish press has recently been full of echoes of the City Garden Project. First up was Dundee's unfortunate Victoria & Albert Museum project, where a shortfall in funds has caused serious delays in its completion.
And what do we read in the Guardian this week?
"When the V&A at Dundee project was unveiled in January 2010 the promoters claimed they could quickly raise more than £45m – divided into three £15m chunks to come from the Scottish government, national bodies such as the Heritage Lottery Fund, and wealthy private philanthropists and corporate donors. Two of these have not materialised: the scheme's only financial backer at present is the Scottish government …. But no generous private donor or cash-rich corporation has yet committed money."
http://www.guardian.co.uk/artanddesign/2013/jan/08/v-and-a-scottish-project-delayed
Aberdeen's City Garden Project was also £15 million short of private funding, and was also looking for support from the Lottery Fund to the tune of £20 million. The financing for the City Garden was based more on hope than reality and had the project been approved, it would very likely have run into to the same difficulties as Dundee.
Next up is Glasgow. The Council want to revamp George Square. A short list of six designs from international architects has been drawn up à la City Garden Project and one looks remarkably similar to an early design, the one with glaikit people walking aimlessly across a vast expanse of city square.
http://www.bbc.co.uk/news/uk-scotland-glasgow-west-20948763
The language coming out of Glasgow is very similar to the tired clichés that were inflicted on the Aberdeen public for the last four years:
International hoohah… "Glasgow City Council say the project has 'caught the imagination' of the international design community."
Overblown hyperbole… "This redevelopment is a hugely exciting moment in the growth of the city as Glasgow strives to forge ahead and meet its future challenges."
Iconic… "The prestige of the companies competing to redevelop George Square is a clear indication of just how iconic it is around the world."
– and horror of horrors: "Funding of up to £5m from the overall investment programme will enable early delivery of phase one of the George Square redevelopment with an additional £10m assumed within the Buchanan Quarter TIF Business Case."   Oh dear, TIF…
http://www.scotsman.com/news/george-square-designs-are-unveiled-1-2726634
And as if that wasn't enough, take a breath before reading this one:
"A leading figure in Glasgow's SNP group has called for a speedy poll on the plans to help decide the fate of the city's George Square… 'I'm calling for a city-wide referendum on the George Square proposals, similar to the vote last year in Aberdeen.'"
http://www.heraldscotland.com/demand-for-public-vote-on-future-of-george-square
And finally, one of the Glaswegian activists involved in the campaign (and organising a demo against the plans next month) wrote on Facebook:
"This is a topic of sometimes heated debate, but it seriously doesn't need to be. We can all be mature and listen to the opinions of others without resorting to personal comments. It's important that this page gives a good, positive message about what we want for George Square – there are obviously others that disagree with us and that is their democratic right in this country! 

"So let's all keep the level of debate to a high standard here! Otherwise, we'll never be taken seriously enough to gain any substantial political support!"
Good luck with that, then…
Comments enabled – see comments box below. Note, all comments will be moderated.