"Politics for beginners…with a green edge". As a 'young person'…this expression I always feel is a little condescending but nevertheless…as a 'young person' the world of politics can seem both inaccessible and unapproachable. So I was pleasantly surprised this weekend when I made the effort to go along to the Scottish Green Party conference which was held at the University of Aberdeen. Bex Holmes reports.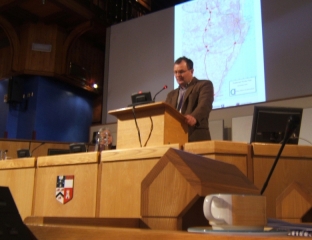 So, what was this conference all about, you maybe asking?
Well every year like most political parties', the Scottish Greens hold an annual conference in which members can get together and have a good old natter about the world's pressing issues including those happening locally.
There is of course a bit more to it than that, such as getting your head around voting for new policy motions and various other in-house processes. Most of which baffled me, but I'm 'young' so I can get away with being a bit clueless now and again!
Aside from all these formalities however Patrick Harvie MSP gave a keynote speech which really made me stop and think. Everything he said reminded me of why I had not only sought to become more active in politics in the first place but why I choose to join to the Scottish Greens over all others.
He highlighted the Scottish Government's contradictory policies on energy and climate change. Yes, our climate change targets are awesome and a step in the right direction. But (and that's a big but) they are completely undermined by our continued support of the fossil fuel industry. Simple as!
More eloquently put of course by Mr Harvie:
"Alex Salmond now has a very clear and simple choice – he must either fail on Scotland's much-vaunted climate change targets, or he must drop his unconditional support for the fossil fuel industries…First, the new coal-fired power station at Hunterston must be blocked. Then he must rule out shale gas extraction, which his Energy Minister has refused to do.
"Then, because CCS can never be applied to most uses of oil anyway, he must drop his support for dangerous deepwater oil drilling in Scottish waters…The challenge with fossil fuels is not to burn all the reserves we already know about, let alone to go looking for more. The priority has to be energy efficiency and renewables."
Basically, it's a bit loony of the SNP to think that they can run a high-carbon and low-carbon economy at the same time. They have to choose.
You maybe thinking at this point…ah what does she know? She's young and evidently a bit naive. Well, I maybe naive in the ins and outs of politics but I know enough as an Environmental Scientist that Scotland has a responsibility to curb our emissions. Both for the sake of those in developing countries who unfortunately will bare the brunt of climate change but also our children, and our children's children.
We need to take action now which must be integrated into the whole of society including our financial system. This brings me onto another thing that reiterated my choice in the Scottish Greens. I was delighted that an emergency motion was passed supporting the Occupy movement.
Speaking at the conference and representing Edinburgh's Green Councillors Cllr Steve Burgess said;
"Greens support Occupy Edinburgh in their call for a new economic system that will reduce inequality and protect the planet's shared resources that we all depend on.  It's early days for this movement but this up welling of dissatisfaction is a welcome indication that even people in democratic countries are feeling disenfranchised."
Yes indeed, there are load of us 'young people' out there who are disenfranchised. I dare say maybe 'young people' have always been disenfranchised but with few job prospects and soaring higher education fees, is it any wonder that we tend to be a grumpy bunch?! So I was also glad there was a fringe event with the 'young greens' whose main aim is to support members between the ages of 13-30 and discuss their problems and concerns.
Having a network of 'young people' across the country will help enable us to raise the profile of issues which disproportionately effect young people, including social housing, jobs and education. As well as the dire state of our health as a nation…there's that big 'A' word that just won't go away…alcohol.
Other activities included workshops on canvassing, which basically means being very smiley, saying hello and actually talking to you out there…the voters.
To sum up my experience of the Scottish Greens conference as a 'young person' and political novice – it was fun!
I learnt a lot and more importantly it has motivated me to become even more involved with politics. To these ends I will endeavour to stop hiding behind my veil of cluelessness and get savvy about things because frankly, there's a lot of stuff that affects me and my future which I think most politicians completely miss.
Not because they don't care but because they are privileged having never come across these issues in their own lives.
So this is my small call to arms. 'Young people' we do actually need you! You can actually make a difference! Register to vote. Do a little reading on political parties…as a member of the Scottish Greens of course I will be biased here but seriously look at what the parties are actually saying in their manifestos. How will it affect you?
Most importantly, VOTE. And if one day you're wondering what more you can do, why not join a political party and become actively involved? I took that leap and for me it was well worth the effort. 
 For further info, contact: Scottish Greens Aberdeen And Aberdeenshire Working Group