Last week in the first of this two part investigation, Suzanne Kelly described how The City Council and its officials were dealing with the Tullos Hill roe deer cull and tree-planting issues. Part 1 also covered the decades of arson on 'The Gramps', the excellent quality of Tullos Hill as it is, local community councils' opposition to the cull, and the considerable public anger at the City's refusal to even consider modifying its plans.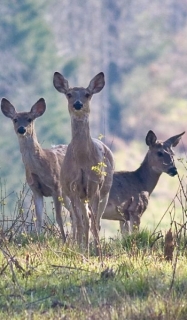 The hill itself is a wildlife haven; the very important gorse providing homes to bees and birds.  There are fields of wildflowers (the spectacular Dame's Violets for instance), and it is a recreation area.
This is why our City Council – as a LibDem election pledge – want to turn it into some gargantuan 40,000-tree profit-making (ie lumber-producing) forest.
We now look at other important aspects of this issue, challenge the government to comment, and propose some actions.
The Gorse is always Greener
'Kissing is out of fashion when the gorse is not in bloom' goes an old saying – based on the fact gorse virtually always has blossoms.  This is an extremely useful plant for bees.  If you've not been made aware, bee populations around the world are in serious trouble.
As long as we still want our plants to be pollinated so we keep eating, we are well advised to do all we can to encourage bees.  My research leads me to conclude that gorse is far better for bees and several other species than trees are (particularly trees which will be cut down for profit when the Council chooses).
Don't take my word for the importance of gorse.  Do take Dr. Ian Rotherham's word:-
"Gorse is an incredibly valuable habitat for wildlife – supporting a diversity of invertebrates and many birds and mammals. It provides dense cover plus abundant nesting sites, invertebrate food associated with the gorse, and of course the blaze of flowers during much of the year. Butterflies, bees, hoverflies, spiders, badgers, whinchats, stonechats, yellowhammers, chaffinches, linnets, greenfinches, meadow pipits and skylarks for example, all thrive in gorse-rich areas.
"As the biomass of gorse builds up it loses vigour and beings to die back. If there is a fire then the gorse is reduced to ground level and will quickly regenerate for the next 30-40 years or so. Clearly fire risk can be a problem but not for the gorse or the associated wildlife (except at the immediate time of a conflagration).
"Cyclical cutting of gorse, grazing, and cutting of fire-breaks are positive ways to reduce risk and damage but to maintain what is a rich but often unappreciated wildlife habitat. The establishment of a friends group to watch over the area would also help reduce risk. The gorse in bloom is also a wonderful landscape feature. A plantation wood does not provide a biodiversity resource or a landscape feature to match this. Trees are often planted at the expense of the wildlife habitats and landscape features because of the misconception that they are inherently better for wildlife – which they are not – and because money is available as grants to do this."
(  Dr  Rotherham is a Professor of Environmental Geography, Reader in Tourism & Environmental Change, International Research Coordinator, associated with universities around the world. He is editor of several important academic publications including International Journal of Urban Forestry, Journal of Practical Ecology & Conservation, and International Urban Ecology Review )
I would be interested to hear from any City Council officer, ranger or pro -Tullos Hill tree plantation consultant wishing to comment on Dr Rotherham's statement. 
In the meantime, Ian Talboys, Countryside Ranger for Aberdeen wrote to me on 6 June:-
"The amount of gorse on the site will be substantially reduced to make way for the tree planting
which again reduces the risk of wilful fires".
Why should a countryside ranger particularly be keen to change an ecosystem such as  Tullos to a profit-making, lumber-producing forest?  Where is the evidence that replacing gorse with saplings and trees will reduce wilful fire risk?
City  Council 'austerity' and 'budget' cuts
I spoke to a person connected to the countryside services for the Council.  They advised me that like virtually every branch of our local government, they are now expected to find income streams and do all they can to make money.
It is not enough that our environment is under threat from over-development, pollution and loss of biodiversity – our environmental conservation activities are supposed to make money for the City.  Would our rangers' time be better served in patrolling the fire-prone areas, educating people and engaging in active conservation, or are we asking them to look for grants such as the tree-planting ones and to make money at all costs?
If I get an answer to this question, I will share it with you.  Again, I invite comment from the City.
I still await a reply as to how this timber business is going to be set up, and for a copy of the business plan.  Should any of this information ever be forthcoming from our elected officials, I will share it with you.  Again, should any City proponents of the scheme like to come forward and (finally) explain how the timber business will work, I invite them to do so.
It has just been announced that despite negotiations with Unions being incomplete, the City has signed an agreement with external consultants to make £120 million worth of budget savings over a five-year period (cost of these consultants has been estimated at between £500k to £600k).  Perhaps they will have their own opinion as to the viability of a timber business venture on an arson hotspot which has already resulted in the City returning £43,800 to the Forestry Commission…
Failed Tree Planting, Failed Open Government, Failed Freedom of Information Requests
In a ten-point complaint I clearly asked for clarification of a £44,000 debt for a failed tree plantation which I had heard of.  The City's Chief Executive Valerie Watts wrote in early June to deny any money was owed.
Proof that this payment was made was given to me almost immediately  after Watts' denial – but as of 21 July,Wattshas not explained the failure to disclose the repayment.
The proof is a letter the Forestry Commission sent to the City earlier this year which was copied to Ian Talboys.  The question is whether Watts knew of the letter when she wrote to me or not.  Until she explains her answer, the whole planting programme should be put on hold.  It is not just returning money for the past failure (we had to pay interest) but the implications for this new planting that need to be considered, which could be significant for the cash-strapped council's taxpayers.
Watts was made aware of this repayment by me, and possibly earlier by others.  What is beyond the pale is that Freedom of information Officers continued for some weeks afterward to advise that no debt was owed.  All of the requests I have seen referenced the £44k figure; mine specifically asked for clarification of the matter.
If the City tries to use the excuse that since the debt was paid in March and the questions arrived in June, then that would be the most disingenuous logic coming from Town Hall in memory.  I am sure it is beyond the Council's lowest standard to try and make pretence of using such a childish defence.  When we will get the truth is crucial – they must not be allowed to stall this matter until cull season opens.  If anyone trying to prevent the cull could ask their elected officials to have these issues addressed and investigated fully as an urgent matter, it will help.  I have asked the FOI office to explain whether or not it discovered this letter in its search to answer my question.  I have asked it to advise whether or not it made a deliberate decision to not disclose this letter.  I await the outcome of the investigation.
Yet another Freedom of Information anomaly exists regarding Grampian Fire.
Fire power
The previous article covered the problems of arson.  Confusion emerges as to the number of fires.  There was a FOI request response from Grampian Fire which shows a nominal number of deliberate fires.  At the time of writing I await permission to share or reproduce these figures, as they are apparently 'copyright'.  I have officially applied to print them, but cannot do so until Grampian Fire's officials approve my written request.
However I came across an internet document which shows a rather different, substantially higher number of fires than the FOI request revealed, entitled  'Grampian Fire and Rescue Service Category 2 – Advancing Community and Citizen Well-being' .  This document states there were over 70 fires for 2006, and claims the figures were going down; it had partial 2008 figures and said only 11 fires started that year.  It is worth mentioning that there have been at least half a dozen fires in the Gramps since May of this year.  In any event, the paper's numbers are not the same as the recently supplied figures, which are lower.
I will try to discover an explanation for the discrepancy, and will cover whatever explanation Grampian Fire sends in another article. Both email addresses for the FOI officer and the above paper's writer are at the address '@grampianfrs.org.uk', which leads me to conclude the same organisation might be responsible for distributing contradictory figures.
I add this to the ever growing list of things I am trying to discover, and yet all the while a cull remains the City's goal, and the clock is ticking.
SNH – Natural Heritage as long as it's not inconvenient
Scottish Natural History have been taking great pains to gain media coverage recently (BBC and local press), saying in effect that deer are great, but to stop them being killed in road accidents and over-populating, they have to be 'managed.'  They launched a consultation, which many animal groups felt had a strong bias towards hunting and culling red deer and roe deer equally.  First, what kind of animal are we talking about exactly?
What are roe deer?
Recognition: Small deer, reddish brown in summer, grey in winter. Males have short antlers, erect with no more than three points.
Height: Average height at shoulder 60-75cm (that is less than 3 foot tall). Males slightly larger than females.
Weight: Adults 10-25kg
Lifespan: The maximum age recorded for wild roe is 16 years, but most die before 7 years.
Diet: Their diet is varied and includes buds and leaves of deciduous trees and shrubs, bramble, rose, ivy, herbs, conifers, ferns, heather and grasses.
By permission, the Mammal Society,
http://www.mammal.org.uk/index.php?option=com_content&id=228
So in short these tiny creatures, of which we seemingly have 30 on Tullos Hill alone jeopardise a 40,00 tree plantation.  (The Council has made absolutely no mention of how they will tackle the weed problem cited by the Forestry Commission as a partial reason for the previous expensive failure – again, I have asked for this information with no reply).
Glasgow has made a strong statement against these types of culls which can be found at:
http://www.scotland.gov.uk/Resource/Doc/291204/0089678.pdf  and the relevant section starts on page 5."
Here are some relevant extracts:-
"….collaborative deer management is not necessary for Roe deer in urban environments as there is no scientific justification for this.
2.4 There is no mention of the positive role of wild deer on natural habitats. Large herbivores help to create and retain glades and rides within woodlands, which provide habitat for a range of other species.
2.5 This section of the Bill has the potential to perpetuate and reinforce the perception of deer as pest species. Whilst this will promote the interests of a minority who have a vested interest in deer management principally through culling, it goes against the reason for the inclusion of native wild deer on the Scottish Biodiversity List, Le. the appreciation of these animals by the general public who wish to see them left unharmed.
2.6 Glasgow City Council believes that this section in its present form promotes an unbalanced view of the rationale behind deer management, whilst acknowledging that there is scientific justification for the management of red deer in parts of the Highlands.
Deer in Scotland – General Comments.
2.7 GCC object to the blanket statement that 'Deer therefore need to be managed … ' for the following reasons:
• The terms manage/managed/management are not defined but appear to relate to culling deer, which is not the usual definition of management. This needs to be clarified.
• If the above is the case, then deer do not always require to be culled because in some areas an increase in population size could be beneficial.
•Red Deer and Roe Deer are quite different animals not only in size but also in habits etc. Why are they covered by one piece of legislation and why do they both have to be managed?"
The various animal charities I've communicated with all remain against this cull and have their own experts who explain the flaws in the entire premise.
Can we have some urban trees please?
A personal observation.  The section of Aberdeen I live in, Torry, has fewer trees on its main streets than any other part of the world I've lived in, city or suburb.  The streets are however covered with cars and trucks 24/7, and the exhaust fumes have air quality implications.
A few trees would do a good deal to clean the air.  It would be costly and difficult to plant and protect them.  But it would not be impossible.  We know from the Council's websites that parts of Aberdeen (Wellington Road in particular) have serious air pollution issues.  We also know trees help reduce vehicular pollution.  In the course of my research I learned that the indigenous fir trees for the Grampian area have been greatly depleted over time – yet there is no plan to replace these native species.
Conclusion:  Stop this destructive, unwanted plan now and cancel any deer cull.  Plant fewer trees.  Plant in other locations
Unanswered questions
Regarding the business plan for the proposed forest.  How much will it make?  How disruptive would this plantation be to the area residents and businesses? 

Why does the City insist only a 'minority' of people are against this cull when elected bodies have objected on behalf of their communities?   If the Community Councils are lining up against this scheme – which started life as a Liberal Democrat election pledge – is it not just time to dump it?

Why didn't the City disclose the £43,800 failure when asked to clarify whether a £44,000 debt existed?  

As the failure was due to deer and weeds – what are we doing about the weeds?  What kinds of pesticides will be used?  What are the risks and implications?

If the scheme is 'cost neutral' – who exactly pays the (low-seeming) estimate of some £2,500 per year for ten years to shoot the deer?

Have council employees been discouraged from expressing opinions against the cull? (My sources tell me this is the case).

Why take the scheme up at all if it must be done at the lowest cost – which is shooting the deer?  Who is hold a gun to the City's head and forcing it to change Tullos Hill into something it is not?  What is the reluctance to just stop this scheme now?  Has the City made any effort at all to get sponsors to pay for the non-lethal options?  (Note: BAA and Wood Group have contributed for the phase 1 scheme – neither seem keen to be associated with this deer-culling phase 2.  Concerned people may wish to contact these and other companies to state opposition to phase 2).

What are the real arson risks once a forest is established on this windy hill (if indeed it is not too windy for trees to be established in great number)?   Is it possible the situation could be as severe a problem as the forest fires that plague the US and Europe?  What are the correct figures for the arson attacks?
A final summary
Last week a media contact asked me to supply the statement below, which sums up my conclusions and reflects the opinions of the vast majority of the people I have spoken with:-
The public have in no way given up on stopping the deer cull on Tullos Hill. Tullos is an important and beautiful ecosystem as it is, and the deer population has been stable for many years.   
Putting up signs to warn motorists that deer are in the area is sensible; putting 40,000 trees on this arson hotspot is not sensible.  Four Community Councils have told the Council they do not want the trees if it means a cull – these elected councils represent thousands of people. 
The City had to repay £43,800 for a planting on Tullos that failed due to deer browsing AND weeds.  The City initially omitted this when I asked for clarification- and I patiently await sensible answers to this and other questions. The tree planting was a Liberal Democrat election promise – it is amusing that it is this unpopular promise they are so stubborn about keeping. 
Finally, Peter Leonard has written to say that the Community Councils don't understand the issues and they only know what they got from the media.  I find his remarks unbelievably patronising and insulting, particularly when it was down to the Council to communicate the details of its scheme in the first place. 
The Council kept the deer cull out of the phase 2 public consultation and is now claiming people don't have the facts.  This is wholly unacceptable, and I am pleased that my sources tell me there is a great deal of unrest, with an official calling the situation 'a hot potato'. 
Unfortunately the lack of timely, sensible answers looks to many people as if the City is stalling and hopes to get away with a cull.  There will be no cull without repercussions at the ballot box in May.
I am creating a presentation to give to any community council that wants it, particularly aimed at those councils which will have the City's experts present their side.  Direct action is being considered by some animal rights/concern groups.
If you have any feelings one way or the other, then I urge you to contact your elected representatives (you may also wish to contact Scottish Representatives Roseanna Cunningham and Stewart Stevenson who are backing the proposal). 
Good luck to the roe deer and the wishes of the people of Aberdeen in the face of our government.
 Image Credit: Roe Deer Standing Still © Catalin Pobega | Dreamstime.com