In the first of two parts, Suzanne Kelly offers an update into what is and is not happening on the hill.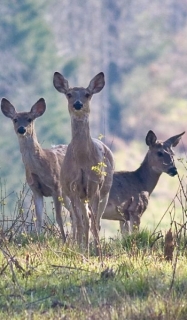 There may have not been much about the controversial Tullos Hill Roe Deer Cull in the media of late; therefore it's time for an update.
The relative quiet in the media is not for lack of investigation, protest and anger on the community's part.
As for the City and its LibDem councillors and officials, they are either spreading incorrect information (denying the past failure and £44k debt which resulted), or not answering questions at all (I eagerly await overdue answers on a number of fronts).
The question is:  are they trying to stall a proper investigation until they start shooting in September?  It looks as if stalling might indeed be their strategy.
There are so many outstanding issues, questions and problems with the Tullos Hill deer cull that this article needs to be split into two parts.  This part will look at the location chosen for the trees, Community Council's stances and the small matter of arson.
Next week will cover issues including the SNH, the unanswered Freedom of Information requests and formal complaints, the importance of the gorse-covered hill as it exists (an expert writes), and the curious case of the £43,800 Forestry Commission 'repayment.'  This repayment  Ms Watts either forgot about or didn't know about when last she wrote to me.
Interestingly, Freedom of Information requests on this point are still being answered that no such debt exists. 
Either the council is being very very accurate (the debt was repaid late this March, but it most definitely existed), or someone was keen to keep the repayment quiet.  If so, they failed just as they failed in their bid to keep the cull quiet).
Before we get into the details, a small ray of hope: unnamed sources confirm that there is unease within the corridors of power over this ridiculous plan, with officials calling the situation 'a hot potato' and a 'can of worms'.  Take heart from that, but please continue reading this article.
If at the end of it you decide you don't want the cull, then write to your elected officials and Aberdeen City Chief Executive Valerie Watts, making it clear you will vote against anyone in May who has voted for this cull.
See: http://committees.aberdeencity.gov.uk/mgMemberIndex.aspx?bcr=1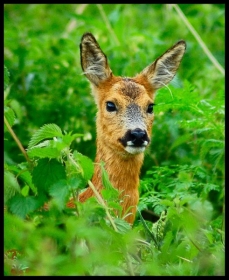 Deer have lived in relative security (bar the arsonists and Aileen Malone) on Tullos Hill for many decades; they delight the residents of Torry and Kincorth as well as people visiting from further afield. 
The hill is a wildlife haven as it is with the very important gorse providing homes to bees and birds, fields of wildflowers (the spectacular Dame's Violets for instance).
It has bronze age cairns set dramatically on its summit (currently un-obscured by trees), and it is a recreation area.  This is why our City Council – as a LibDem election pledge – want to turn it into some gargantuan 40,000-tree profit-making (i.e. lumber-producing) forest.
Of all the Liberal Democrat promises, killing the deer and planting the trees is about the only one in the UK they are adamant about sticking to.
They told the community councils and the public at large what a great thing this forest would be – but as previously demonstrated, they and SNH deliberately sought to keep a cull of the Tullos Hill roe deer secret.  Without a cull, there is no money for planting all these trees (although we could have had experts advising us – for free – how to plant trees without culling deer:  it just would have cost money).  Why then we are insisting on a forest of this size or a forest at all, and why on Tullos Hill?
Location, Location, Location
If we accept without question that trees must be planted because we can get grants for doing so as long as they reach growth targets, then where to put them? 
The easily-accessible Loirston Loch greenbelt area has several young trees on it – all in tree protector sleeves (the same sleeves which the SNH November letter tells us are rejected because they have 'visual impact' among other reasons – someone at ACC took this decision to reject tree protectors for us all with no recourse to the public or local councils).  There was a splendidly suitable area for these trees – but we are putting a football / community stadium on this piece of ground now.
This virtually flat land is easily reached by car (Tullos at present has no parking and is mainly reached by several footpaths), is not on a windswept hill, and is not as remote as Tullos – therefore less desirable to arsonists.  It is a largely open field with grasses and some vegetation in very moist, nearly marshy ground.
Loirston was not the only option either.  But this is Aberdeen:   Tullos Hill is apparently the only choice we have, according to our Council.  They are happy to sacrifice greenbelt at Loirston and elsewhere for stadiums, offices and housing – but are adamant that an existing, stable ecosystem must become a forest:  and they will not answer us why.
Fire on the Mountain
For all the City rangers' and Grampian Fire's attempts to be 'down with the kids', the arson issue remains the burning question:  why put 40,000  young trees on a windswept hill with access issues which is next to settlements and industry when we can't keep the arsonists out?
Ranger Ian Talboys is at pains to play down the arson issue.   In an email to myself, 6 June 2011 he states:
"As the trees to be planted are mainly broadleaved species which do not readily burn in the way gorse does the risk of fire is reduced.   The conifers in the scheme will be mixed in with the broadleaved species again reducing the risk of large scale fire damage….. The recent statistics have shown a substantial reduction in wilful fire raising on the site, despite the recent incidents.
"It is however encouraging that the Police have charged a number of youths in connection with these fires as a result of intelligence gained from the local community and following the work we have been doing with the local schools over the last 5 years.  In the last couple of years there have been very few fires on Tullos Hill, a total of some 11 fires were reported for 2010 on Kincorth Hill and Tullos Hill combined…."
Mr Talboys also talks about getting rid of the gorse, which:
"reduces the risk of wilful fires"
Gorse is a vital part of the ecosystem, particularly on Tullos Hill which we will look at later.  However it is disappointing that the attitude is to get rid of a natural feature which supports wildlife because it is more flammable (allegedly) than trees – rather than to simply stop the arsonists.
Who are the arsonists, and is Talboys right that the fires are decreasing?  So far this year there have been at least a dozen fires.  Two men aged 27 and 23 are being charged with starting fires on 3 July:  so much for the idea of stopping the schoolchildren starting fires, which is the strategy Talboys promotes.
American studies identify half a dozen types of arsonists; these two would fit into the 'excitement-motivated' arson category, often men between 18-30.  Blaming children was the favourite option; it is now discredited.  The Council may wish to do more research on this one.
You may be interested to know that Talboy's figures are slightly at odds with figures supplied by Grampian Fire.  Then again, media reports would seem to say there have been more fires than either of these sources.  I would love to tell you what Grampian Fire had to say:  but they have qualified that their statistics are subject to copyright and are for personal use and not publication!  I await clarification and will report once they explain themselves.
At least someone in power loves Tullos.  When the fires were blazing in May of this year, Fraser Burr of Grampian Fire (Risk Reduction) told the BBC:
"It would be a shame to see such a beautiful area of the city, enjoyed by hundreds throughout the year, ruined by wilful fire raising". – (BBC News 22 May 2011)
I spoke to a New York-based former fire department captain; he seriously disputes Talboy's contention that young or mature trees are relatively safe from fire. California for one example habitually fights forest fires that are vast in area; the size of the trees makes the fire considerably more dangerous than a few burning gorse bushes.  Wind makes the problem far worse.
Fact:  Tullos Hill is extremely windy at times.  People often need to be evacuated from their homes when the fires rage (also seen in Europe) – who will promise this will not happen here with 40,000 trees virtually on top of residential and industrial areas as Tullos is?  My fire-fighter source said 'there is no magic plant that doesn't burn'.
He also posed a hypothetical question and asked me why these people are so fixed on planting these trees in this location.  I have asked, but I have no answer.  He then jokingly said 'who's getting kickback?'  We both laughed.
Your Community Councils at work
When the truth came out about the secret cull plans, community councils and citizens (in their thousands) condemned the plan and the way the City handled the public 'phase 2' consultation.  How did your local community council react?
I am writing this piece on the 13th of July.  The Minute of the Housing & Environment Committee meeting of May 10 is still not available on the Council's website a mere 2 months after the fact.  It was at this meeting that Andy Finlayson and I had both put in delegations to speak about the deer cull and Tullos Hill, for all the reasons that had emerged since the cull was first brought up.
It was because there was no written report on the deer – only a verbal one which had been requested by Malone – that we were not automatically allowed to speak.  Abuse of process springs to mind.  In the event, the matter of our delegations was put to a vote and only a handful of councillors supported letting the truth be heard.
I have been waiting to check the accuracy of these Minutes; for one thing I admit I got confused as to whether Andy Finlayson was from Nigg or rather from Cove (which I now understand to be the truth).  Finlayson was the other would-be speaker.  Maybe after another two months have passed, the Minutes will be published and I can double-check this point.
But take note:  in another two months it will be the season for the cull:  could our City be deliberately stalling us until it is too late for the deer?
Community Councils are your elected local representatives.  The City has a duty to consult with them on local issues – something sadly lacking on this issue, let alone the massive Loirston AFC football ground which will fragment the greenbelt.  Nigg CC is very busy with this important issue.
The City is not consulting, and it is certainly not listening.  Here are what the Councils are saying – how did yours react?
Kincorth (population 8,300) –  'Abhorrence'
Kincorth Community Council resolved at its May 2011 meeting:
"Item 10.1 The City Council has agreed to the killing of the deer on Tullos Hill but have stated it will be done as humanely as possible. The Chair asked the Secretary to write indication our abhorrence at this decision".
Kincorth spokesperson Graham Bennett, quoted in the Press & Journal, 13 May:
"We are all united.  We deplore the willingness of the City Council to cull the deer.  We all agreed we didn't want a tree planted for every citizen.  These are defenceless animals.  We would rather do without the trees and have the deer."
I spoke to a member of Kincorth CC; they are all outraged and want the hill to remain as it is, with the deer continuing to live there.  My contact cites the fact that the 'phase 2 consultation' said nothing about the deer cull, yet mentioned rabbit fencing.
This is one of the strongest points of contention – the public and community councils were deliberately kept in the dark about the deer cull.  This is proved clearly in the 25 November letter the SNH sent to the City Council, stating the need to 'manage' the public over the cull.
It seems SNH are fully aware that culling these animals in general is an issue – but to kill animals in order to protect non-existent trees is 'abhorrent'.  (More about the SNH and its recent deer consultation next week).  The word 'abhorrent' is also how the Scottish Society for the Protection of Animals and Kincorth Community Council describe this LibDem plan.
Torry  (population c 9,400) –  Unanimous condemnation of the cull
Torry Community Council allowed me to speak at its meeting in May on the cull; they had been informed about the trees in some detail – minus the crucial detail of the deer cull.  
The 14 members present voted unanimously to condemn the cull and to write to the City to protest the cull and the lack of consultation.  Talboys specifically communicated with Torry about the trees, without ever mentioning a deer cull.
To put it mildly, the Council and the residents of Torry are Not Happy.
Cove & Altens (population 7,100) –  Chairman gagged by Malone
On 10th May Cove's Chairman Andy Finlayson attempted to address the Housing & Environment Committee over the cull and all the issues which had arisen (lack of consultation with CCs, no reference made in the public consultation documents, etc.).
Aileen Malone initially referred to him as the 'gentleman from Cove Community Centre' as opposed to his status as duly-elected Council member.  On the technicality of there being no written report on the deer – only a verbal one – Cove's representative was unable to raise the many points which the Council had kept out of the public domain which were relevant to the tree scheme.
"We are totally against it, basically… the community council is unanimous and everyone in the area we speak to is against it…the message is, stuff the trees – we would rather have the deer." – Andy Finlayson, Chair, Cove & Altens CC, Press & Journal 13 May 2011
Nigg  (population 8,200)  – a history of concern for animal welfare
"I think the majority of the Community Council are against it (the cull)" – James Brownhill, Nigg CC – Press & Journal, 13 May 2011
Nigg is committed to preserving its greenbelt land as its actions and its website attest.  It is doing all it can to stop the ridiculous AFC stadium plans which will see a 21,000 seat stadium plunked in the middle of the greenbelt to its permanent injury.  A year ago, the Nigg Community Council April Minutes had this entry:
"Lochinch Visitors Centre Deer-  thanks to activity of Cllr Cooney, Nigg CC, Jenny Gall and Vivienne McCulloch, deer had been saved from culling and will live out their lives in their current (but reduced) enclosure."
Before the furore broke out over Tullos Hill, Councillor Neil Cooney and others from Nigg were already going to bat against needless slaughter of our indigenous animals when tame deer were earmarked for needless slaughter.
One year later at its 14 April 2011 meeting, Nigg CC resolved:
"Proposed Deer Cull Tullos Hill – Majority against proposal. Lack of deer management policy holding up planting of trees under 'tree for every citizen' scheme."
Nigg's Council met again on 12 May 2011 after the Housing Committee's undemocratic debacle over the deer and would-be speakers.  Nigg's minutes read:
"Proposed Deer Cull Tullos Hill. Decision to cull deer city-wide approved by ACC Councillors. SNH recommended cull to save deer from starvation. Nigg CC still not happy with this decision".
I disagree with the comment about starvation, and wonder if SNH have actually said the deer at Tullos will starve – they are in no present danger of that as things stand.  But this is a very minor point concerning the minutes.  When it comes to accuracy in Minute taking, Cults has managed to create an interesting document indeed.
Cults:  (population 10,824)  – An important debate with Cllr Aileen Malone
I spoke to Cults Bieldside Milltimber Community Council on 26 May where Aileen Malone and I finally had the debate she had so far resisted (again, she would not let me speak to the Housing committee which she convenes; and she was too busy one Sunday morning in May to spare 20 minutes to debate the issue with me on Northsound).
In my initial request to speak to Cults, I sent them newspaper cuttings that Torry, Kincorth, Nigg and Cove & Altens Community Councils were opposed to the scheme, as well as the Scottish SPCA.  I sent them articles on the SNH letter which shows the City wanted to keep the cull quiet.  In these circumstances I was asking Cults CC to let me address its May meeting and specifically to follow suit.
The community council meeting that ensued was interesting (and heated) on several points.  Mike Shepherd of Friends of Union Terrace Gardens was there to discuss the future of the gardens, and Aileen Malone stated that there would definitely be a public vote on whether to go ahead with any scheme for Union Terrace Gardens.
At my request she repeated this was the truth, and that the only question unresolved was whether residents in the shire as well as the city would get a vote.
I wrote an article on this Cults BM CC meeting.  I wrote it that night and the next day with my own shorthand notes taken on the night (amongst other things, I have been a secretary minuting meetings for some 25 years, and like to think I have some skill and experience in this area).
My notes reflect that Cults BM CC was going to write to Aberdeen City Council to express a position opposed to the Tullos Cull; I asked the secretary on the night if I could have a copy of any letter they sent; the secretary agreed.
See: you're-shooting-yourself-in-the-foot-cults-cc-tells-malone

This is what came out in the Cults BM CC Minutes for that meeting:
"Tullos Hill Deer Cull (Peter Reiss)
The Community Council had been made aware of resentment in parts of the city towards the plans to cull some of the local roe deer, seemingly triggered by the need to limit damage to new trees to be planted on Tullos Hill. Suzanne Kelly a Torry resident had written to CBMCC to ask if the CC would take a position on this matter.
In discussion the following points were made:
– The tree planting drive is an election commitment of the current LibDem administration
– Funding from EU and other sources requires best practice and best value for money.
– Due to problems with earlier plantings, City will not get any more funding for tree planting unless a robust roe deer management programme is in place,
– Deer have no natural predators in Scotland. Aberdeenshire, Moray and private estates have a deer cull policy in place. Aberdeen City has management programmes for several other wild animals – e.g., rabbits – but not one for deer.
– A management programme that includes an annual deer cull of about 30 animals has been agreed recently by the City's Environment Committee. This is a city wide programme but will help to reduce damage to new plantings in Tullos  where some 10 to 15 deer will be culled.
– Objectors say that there has been insufficient consultation on this programme. They would prefer fencing or other positive tree protection rather than killing deer. They are extremely unhappy about the Committee's request to them to raise £225 000 for 10 years deer fencing as there is no council money to pay for that alternative.
The CC resolved that the deer culling policy appears to be a separate issue not just related to the planting of trees.
Post –meeting note: City tree specialists have been invited to speak in the next community council meeting."
(Cults Bieldside Milltimber Community Council Minute 26 May 2011)
I have added italics to the excerpt above where the minutes have gone back to repeating verbatim the City Council's double-speak, sweeping statements about deer culls in general.  Readers of previous stories or Council documents will find a familiar ring to the Cults minutes.
General tree planting issues aside, the Tullos Hill deer have survived in the existing ecosystem – an ecosystem enjoyed by the public as well which the neighbouring Community Councils have clearly said they want kept as is.
I have  also italicised the 'post meeting note' wherein someone has invited tree specialists to speak at the June meeting (I would have gone to that had I been informed or had I seen these May minutes in time).  So, without any counterpoint some 'tree experts' were called in to explain the City's perspective on killing deer and planting trees.  Again, who was there to explain all of the issues specific to Tullos?
I will look at those minutes when they are issued.   
It now transpires that Peter Leonard, council officer, is deploying council tree experts to speak to the community councils.  This is what Leonard has to say (I have put the particularly objectionable phrases in bold) in a Freedom of Information Request answer:
"The Community Councils who have objected have not been in possession of the full picture of the project, some who have no planting areas within their areas will have had no information about the project from the team delivering the project as there was no requirement to consult on a project that was not within their area.
"Officers from Housing and Environment have offered to attend the community councils who have written in opposing the cull (Kincorth & Leggart and Cults Bieldside and Milltimber, Cove and Altens Community Councils) to present the full picture about The Tree for Every Citizen Project including the deer management proposals so they can make an informed decision.
"To date any decision they will have made will have been based on the information published in the media which has not given the full and balanced picture. Officers will be prepared to undertake similar presentations to other community councils covering areas where there are sites proposed for tree planting if invited."
Personally, I find his comments about the community councils' decision-making process extremely patronising: how does he know where these elected groups got information from and why does he assume it is only from the media? If people are not in full possession of all the facts this is the Council's fault – they launched the 'phase 2 consultation' over six months ago, and it was a very flawed document. I certainly have been asking for information since then, largely without any real answer.
There is currently no plantation of young trees on Tullos requiring a cull.  The whole point is that there do not need to be this number of trees there, and the local community councils representing some 25,000 people said they do not want the trees.
Attention city officials and councillors:
These two reasons alone should be enough to stop your plans.  But if this is not enough for you, then we will examine your past planting failure and your cavalier attitude towards facts as well as other issues next week. 
Do feel free to weigh in – remember, Aberdeen Voice wants articles from all points of view.  Nothing is stopping you from making your point.