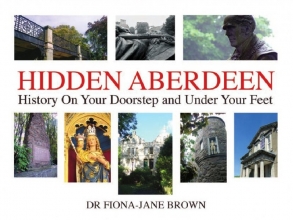 David Innes reviews Dr Fiona-Jane Brown's new book which is published this month.
This eagerly-awaited book has been trailed for quite a while, but at last Hidden Aberdeen is unveiled, in more ways than one.
First impressions are quite surprising.
Although written by an academic, Hidden Aberdeen is no wordy narrative; neither is it a history text.  It's not even published in portrait, all of which gives it a welcome air of informality.
The cover is attractive – plain white with colour thumbnail photos of several of the mysteries on which the author sheds light inside.  It almost demands to be opened.
Dr Brown employs no stuffy language, neither does she let her explanations of each of the city's historical and cultural features stretch to over 500 words.  Call that a page and a half.
Yet, the economy of language deployed and the open writing style will give readers enough insight to the subjects featured to encourage them to find out more for themselves.
Further research is made easier by the provision of a detailed and comprehensive bibliography.
So, this is more a guidebook than an in-depth investigation into hidden Aberdeen, structured geographically to allow its users to walk easily and quickly between the city's mysterious but often highly-visible landmarks.
Anyone working in the city centre, or Old Aberdeen, for example, will be able to explore more than one nearby attraction and still have time for a lunchtime snack.
It would spoil the fun of exploration to list here the features Dr Brown enthusiastically introduces.
An idle half hour's stroll, with a copy of Hidden Aberdeen tucked into a handbag or pocket to discover the city's little-known physical history, will be time well spent by anyone with a sense of heritage and civic pride.
As has been demonstrated in the past couple of years, there are many around who have passion enough for their city to want to fight to retain its character.  For them, and for those just keen to broaden their knowledge, Hidden Aberdeen is an indispensable resource.
You can meet Dr Brown and have a copy of Hidden Aberdeen signed, at WH Smith, St. Nicholas Centre, at 13:00 on Saturday 8th June, or at Waterstones, Union Bridge (Trinity Centre) at 18:30 on Tuesday 18th June.
Hidden Aberdeen – History On Your Doorstep and Under Your Feet is published in hardback by Black and White Publishing and costs £9.99 from all good bookshops.
Comments enabled – see comments box below. Note, all comments will be moderated.