Local folklore will tell you of a night, some years ago, of Antarctic-proportion blizzards and mini-Himalayan snow drifts, somewhere on the A9 between Inverness and Wick. To help assure the well-being of travellers, locals being far too sensible to venture out on 'sic a nicht', the local police had a patrol out at the start of the affected area, preventing would-be Ice Road Truckers from venturing into the blin drift. 
One traveller was determined that he had to get through. The cops were equally adamant that he should turn around and seek shelter for the night away from the freezing trunk road hell beyond the road block. As he pleaded his case, from nowhere came a vehicle, lights ablaze and wipers working double time, before disappearing into the whiteout ahead. The traveller's protests that this vehicle had been allowed to venture beyond the official barrier was waved away by the bobby, "That, sir, was the P&J van."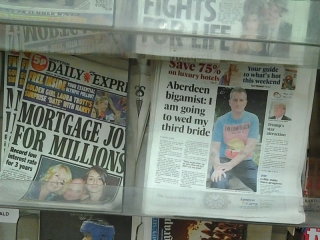 News has broken this week that the twin local institutions of
The Press & Journal
and
Evening Express
have entered consultation with 59 transport, circulation and finance staff in Aberdeen and Inverness over redundancy, writes our Business Correspondent.
Ellis Watson, CEO of DC Thomson Publishing commented on the BBC News website,
"We have been working hard to assess how our business can meet the challenges of the dramatic changes in the publishing industry and the turbulent economy.
"We are one of the last publishers in the country still distributing our own titles. The cost of producing and distributing to market is ever-increasing, which is why we've had to make this decision to outsource, rather than to see our business decline.
"We are working with our affected staff members to ensure the best possible outcome for each individual during this difficult period.
"By facing the challenges head-on and investing for a new era, we will maintain a strong position on the news stands and continue our important role as an employer for the future."
In the P&J's own Business supplement, Mr Watson was more forthcoming,
"We are actively considering the option of outsourcing to a third-party provider for the distribution of our Aberdeen titles".
The piece credited to Ian Forsyth reveals,
"Newspapers would be delivered and collected by an external provider; likely to be John Menzies."
Voice contacted a staff member likely to be affected by the outcome of the consultation who said,
"Alarm bells rang when The Courier and Telegraph distribution was outsourced to Menzies. When we asked them, managers said there were no plans at that time for Lang Stracht. That would have been late last year, or early in 2012. In fact, we had understood that when the costs of keeping distribution in-house were compared with the costs of outsourcing, our own transport was the cheaper option.
"The Dundee outsourcing started in July. Staff were asked if they wanted to move to Menzies under TUPE, but enhanced redundancy terms were attractive to them which meant that most left.
"We expected this, but thought that we would have had longer notice. The Dundee staff were given three months, but because there are under a hundred of us, only a month needs to be given.
"We've been told that the company wasn't in a position to comment on enhanced redundancy terms just now, but that if there was no rocking of the boat, the company would consider enhancing the conditions."
This will inevitably mean that Aberdeen Journals' most visible presence in local communities, the ubiquitous (once red, now blue) transit van will disappear as the distribution service is outsourced.
No more ducking in Northern Road in Kintore as a tightly-rolled consignment of the latest edition is flung expertly on to the newsagent's doorstep by a passing, yes passing, P&J van and consigned to the past will be stories such as that featured in our opening paragraphs.
Comments enabled – See comments box below. Note, all comments will be moderated.