Upcoming Exhibitions:
Migrate, Replicate // Natalie McIlroy
Preview Friday 15 July | 6 – 8pm | all welcome!  
Natalie McIlroy presents Migrate, Replicate, combining large-scale video projections of Scottish landscapes, ephemeral architectural interventions and an intriguing soundscape of the Pied Butcherbird.
Exhibition runs 16 – 30 July 2011    
Drawing Connections // Hannah Redpath
Preview Friday 15 July, 6 – 8pm, all welcome!   
A new series of prints by Hannah Redpath produced during a one-year residency in the printmaking department at Gray's School of Art. Exhibition runs 16 – 30 July 2011
EAF – Katri Walker // North-West
Opening Saturday 6 August | 3 – 6pm | Old Ambulance Depot, 77 Brunswick Street Edinburgh
As part of the Edinburgh Art Festival 2011, Peacock Visual Arts presents North West by Katri Walker. First exhibited at Peacock in March 2011, the audio-visual installation explores Scotland's historic and contemporary relationship with Wild West visual culture.
Opening Saturday 6th August, 3-6pm with a BBQ & live performances by experimental musician Wounded Knee.
Exhibition runs 7 August – 4 September 2011,   Tue – Sun, 12 – 6pm.
VOLUNTEERS NEEDED for NORTH WEST at the Edinburgh Art Festival
Peacock is seeking enthusiastic and friendly volunteers to join us for the Edinburgh Art Festival where we will be presenting North West by Katri Walker in the Old Ambulance Depot (just off Leith Walk). You will be an integral part of the festival team responsible for invigilation of the exhibition and general gallery duties.
All applicants are asked to work a minimum of six hours per week and must be able to commit to volunteering with us for the duration of the festival, 6 Aug – 4 Sep 2011.
Please note, all volunteer posts are unpaid. To find out more and how to apply please contact Angela Lennon on 01224 639539 or email: angela@peacockvisualarts.co.uk
Deadline for application is Friday 29th July 2011.
Events:
Hurricane Lamb at Duff House
Ongoing until  31 October at Duff House, Banff.
Hurricane Lamb is a collaborative project from Gray's School of Art (RGU) and Peacock Visual Arts. Inspired by Duff House and its history, the exhibition features new work by Michael Agnew, Andrew Cranston, David McCracken, Georgia Russell, Lennox Dunbar, Paul Housley, and Donald Urquhart.
Exhibition runs until 31 October 2011  
Peacock At The Aberdeen Art Fair
13 + 14 August | 10 – 4pm | AberdeenMusic Hall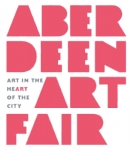 Peacock is partaking in the inaugural year of the
Aberdeen Art Fair
– which promises to become an annual showcase event for the Scottish arts scene.
Exhibiting work by renowned artists including Frances Walker, Toby Paterson, John McLean, James Furneaux and Barbara Rae and a selection of handprinted posters from the Peacock archive – there's sure to be something for everyone's taste and budget!
Get Creative:
Collagraph Weekend Workshop
23 + 24 July| 10 – 4.30pm | £130/95 conc.
An exciting introduction to the printmaking process of Collography. Using thick card as a base, textures are glued to the block to build up and create an image before inking it up and then printing it using the etching press.
Call 01224 639539 for more information or to book a place.

Peacock VIsual Arts – Summer Animation Classes
July  20, 27 + October 12, 19 | 10 – 4pm | age 10+ | £35/session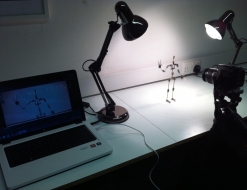 Ever wondered how Wallace and Gromit move? Or what makes Pingu go?
Well this summer we're planning some animation workshops to show you just that! Each class is £35 and a one off – but if you're keen to keep coming back, you're more than welcome to book on as many as you like!

Call 01224 639539 for more information or to book a place.
Peacock VIsual Arts – Monster Making Fun // Kids Screenprinting
2 + 9 August| 10 – 4pm | age 8 – 12 | £35/class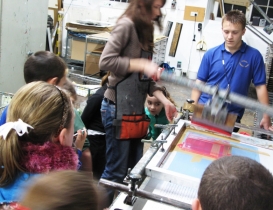 Get your little monsters to create their own little monster!
We'll spend the morning drawing all the different body parts of a monster before learning how to transform them into colourful screenprints.
We'll then use all the different parts to build lots of  monster designs…scary monster, happy monsters, mad monsters – whatever you decide!
Call 01224 639539 for more information or to book a place.
Screenprinting Weekend Workshop

20 + 21 August | 10 – 4.30pm | £130/95 conc.
Explore the creative possibilities of this colourful, graphic and immediate approach to making repeat prints. No experience necessary – just a few images and a bit of creativity.
Call 01224 639539 for more information or to book a place.

Peacock Visual Arts

21 Castle Street

Aberdeen

AB11 5BQ
Tel: 01224 639539

Mob: 07947 490626