We continue our serialisation of David Innes' interview with author Maggie Craig. Her two books on the Jacobite Rebellion, the evocatively-titled 'Damn' Rebel Bitches: The Women of the '45', and 'Bare-Arsed Banditti: The Men of the '45' are critically-lauded. She explains why she looks at that fractious period of our heritage from a different angle to that usually taken by historians.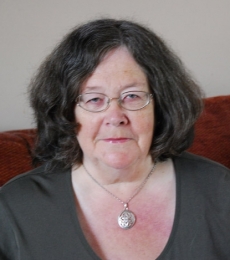 You've written two books on the Jacobites – where did that inspiration come from?
That came from a novel called The Flight of the Heron by DK Broster which an uncle gave to me. I loved it, and it's my Fahrenheit 451 book, the one I'd save from the flames.
But like an awful lot of Scots, what I knew about the Jacobites is from that novel, a high romance about friendship and so on.
And although the folk songs are great, they sometimes get things a bit mixed up. Then, when it was the 250th anniversary of Culloden in 1995, I'd started to write a novel set in that period and I needed a baddie, so I went looking for a Campbell. I found a Macdonald saying, "We'll surrender, but only to a Campbell".
That was a light bulb moment when you think, "History's not as simple as you're taught it is". Why were they prepared to surrender to a Campbell? They must have respected that guy or thought that he'd give them a better deal, so I started researching it and I got interested in the women because, well, Flora bloody Macdonald is all you're presented with. I didn't try to debunk her but she's such an unacceptable kind of female, standing there while the Prince kisses her hand and I think, "Nah, there must have been women doing different things from that" so I went looking for the women first of all.
They're attached to their men, of course, so you get a lot of stories about the men too, including the Jacobites of Aberdeenshire and Banffshire. There was a huge amount of Jacobite support in this area. They called them the Lowland regiments, but there were a lot of Episcopalians in Aberdeenshire who would tend to fight for the Jacobites because they were persecuted for supporting the Stuart cause. They couldn't meet for a proper service, only in twos or threes.
There was a lot going on around Banff and Duff House. The Duffs, of course, were on whichever side was winning as they've tended to be. You can't blame those who hedged their bets. If you had a farm or an estate and you had tenants, and there would have been people who cared about their tenants, you had to be cagey because you didn't know which way it was going to go – and the consequences of failure were horrendous.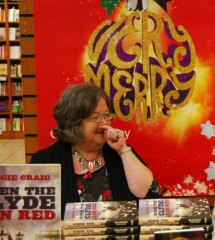 About eighty people were hanged. A lot of Aberdeenshire was laid waste. I've quoted that,
"the people of Strathbogie were back in their fields but they're as inclined to rebellion as ever".
I thought
"Wow".
You don't get that impression nowadays, where people keep their heads down and don't say much about getting involved in politics.
Although when I went to speak to kids in Ellon about 'When The Clyde Ran Red',  I said, "It's harder to be a radical on a farm, isn't it?". When you're working for a farmer and you don't have your comrades about you then it's harder to stand up and say, "I don't think this is right".
I think there's a kind of hidden history of Aberdeenshire. The anniversary of the Battle of Harlaw was a huge missed opportunity to help tell it.
So you feel that Jacobitism and the Rebellion needs to be re-evaluated as a radical movement.
It's said that history is written by the winners, but to a large extent that history has been written by the losers and the greatest losers, you could say, have been the West Highlands. That's fair enough – the devastation, the burnings, the rapes, the murders, shooting the boys and shooting the old men and all that stuff, but I think that has skewed our vision of it. It's dangerous, because you always see it through your own perspective.
I'm a Scottish nationalist (with a small n) and having read a lot about the Rebellion, I think a huge amount of it was about wanting to reverse the Act of Union. There was no democracy in those days and the only focus for discontent was Charlie, so he funnelled in a lot of different people.
There was a lot of criticism of him because he could be very high-handed, but he was the only way they were going to get regime change, so my take on it is that it was a kind of Rainbow Coalition. It brought in a lot of people and it was kind of before its time. We've got the Enlightenment in Glasgow and Edinburgh and probably Aberdeen – I don't know and it's something people need to research – but this was still pre-Industrial Revolution where the weavers and the like became radicalised. I think if it had happened fifty years later, things could have turned out differently.
When you read about the eighteenth century, you always hear about the power of the mob which would gather together in whatever town. I think that's radicalism, but they're always presented as a bunch of drunken yobs. If you look at the 1730s Porteous Riot about the Malt Tax, people are asking, "Why is London taxing us and why are they taxing us so severely?" After the '45 they didn't try any of the leaders in Scotland because they didn't think a Scottish jury would convict. I think because the whole North British project took off after that.
 people say that it's sentimentality. It's not. It's love. It's death and feeling.
There couldn't be a rocking of the boat in North Britain and some Scots became very successful. I see someone like Andrew Marr as being very like an eighteenth century Scot – he's gone to London and sort of sold out, hasn't he? I like his programmes, but he's sold out his Scottishness.
We can get caught both ways. If you say that the Scots have always had a great sense of justice you're told that you're just being sentimental, or that you're looking at the world through rose-coloured spectacles, but then there's the 'Jock Tamson's bairns' thing which does unite us. I think there's almost a natural democracy, a collective "That's no fair, you've got to do something about it" attitude that unites us, and it's not a bad battle cry!
My daughter and I came back from Switzerland via Paris a couple of weeks ago and there were eight London lawyers, all about 40, on the Eurostar. Now there's nothing wrong with having a wee refreshment but they got more and more offensive about the working classes who "couldn't get up off their arses and do anything" and they said, "Let's get some fizz" and bought three bottles of champagne and they got worse and worse. Of course the rest of us just sat and did nothing, but they were such a stereotype of that 'I'm alright Jack' attitude. One said, "Why should we care about healthcare for poor people?"
We Scots can be our own worst enemies, though. We've got someone like Robert Burns, who's world class and who unites the North East and Ayrshire, but people say that it's sentimentality. It's not. It's love. It's death and feeling.
A local Rotary Club thought it was being radical when I was the first woman to propose the Immortal Memory at their Burns Supper. I said that Burns slept around and that if I'd been married to him I'd have slapped him into the middle of next week. Even saying that raised a few eyebrows. I wasn't saying anything that isn't known and I still admire him for his humanity. We need to reclaim him for the radical he was.
I looked briefly at Thomas Muir of Huntershill, a radical. We don't look back to the friends of the people. In the 1790s these men and girls were totally admirable and put their lives on the line to say that workers ought to have rights. There's so much of our history that we aren't taught.
I was delighted to see that Red Clydeside is now in the Higher curriculum but in history classes the '45 is viewed as a crowd of misguided romantic people. That's a very narrow point of view and it's time we opened it up. Sometimes the way they treat Red Clydeside is as dry as dust. The history's got to be about the people and those people were fallible, they made mistakes – and sometimes you point out that someone regarded as a hero was rotten to his wife.
That's where we leave this part of the interview, but of course this led to discussion of the current political situation, which we'll carry in the next issue.
Those of you who want to meet Maggie and hear a bit more about her influences have the opportunity on Saturday 21 January when she and fellow writer Kenneth Steven will be at The Central Library, Aberdeen at 11.00 to talk about their love of books.