As part of Edinburgh Folk Club's Carrying Stream Festival, an annual celebration of Hamish Henderson's life and legacy, Will Kaufman brought Hard Times and Hard Travellin' – The Songs of Woody Guthrie to the Pleasance Cabaret Bar. Fittingly, this was on Remembrance Day. Voice's David Innes attended and reports in.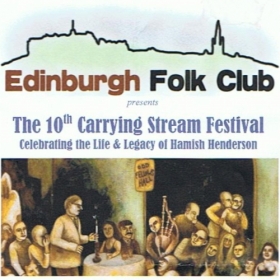 Joe Klein's masterly Woody Guthrie biography and John Steinbeck's
Grapes of Wrath
set the benchmark, as far as this reviewer is concerned, in documenting the US Dustbowl phenomenon, its resulting human tragedies, scar tissue which continues to disfigure the increasingly-hollow American Dream.
There is now, however, a new source of information, a 21st century interpretation of those hardest of times and of the hushed-up and damped-down radicalism which ensued.
Will Kaufman, a New Yorker who enjoys professorial status in American Literature and Culture at the University of Central Lancashire, has published Woody Guthrie, American Radical, in which he focuses on Guthrie's radicalism and political activity, reclaiming this wiry, uncompromising American cultural icon as a champion of the oppressed, from the sanitised public romantic notion of Guthrie as a hick Dustbowl minstrel.
Kaufman is no stuffy, dusty, robed academic though. His love of Guthrie's song canon and keen appreciation of Woody's entertaining establishment-baiting writing and broadcasting has seen him take to the road and publicise his book and interpret Woody's songs through live documentary.
Live documentary? A Macbook, an open-tuned Martin guitar allied to Kaufman's expansive knowledge, dazzling digital fingerboard dexterity and sonorous singing voice made his visit to Edinburgh Folk Club a mesmerizing experience. Bringing a Macbook into a folk club shows that Kaufman himself is as radical as the subject of his show.
He describes Woody's timeline, fleshing out this skeletal summary with contemporary 1920s and 30s pictures and social and political history of those times. Guthrie's songs are the backbone of the performance but Kaufman draws on other songs of the era to illuminate further the hardship and hostility endured by Dustbowl refugees and those radicalised by inequality and authoritarian brutality. He encored not with a Guthrie song, but Steve Earle's Stetson-doffing Christmas In Washington: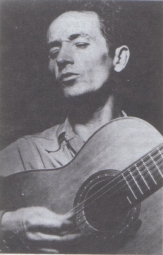 So come back Woody Guthrie
Come back to us now
Tear your eyes from paradise
And rise again somehow
If you run into Jesus
Maybe he can help you out
Come back Woody Guthrie to us now
The presentation is not without criticism of Guthrie, however. Kaufman counsels those who have yet to read his subject's autobiographical Bound For Glory to "set the bullshit detectors to maximum" and ensures that Woody's less-savoury proclivities are not ignored in a haze of hero homage.
To be as academically and musically gifted as Kaufman demonstrates he is, yet to remain as honest and true and entertaining as evidenced by the live setting, are comradely qualities that Woody Guthrie himself would surely have appreciated.
Woody Guthrie, American Radical by Will Kaufman is published by The University of Illinois Press and is available by contacting nickesson@combinedacademic.co.uk or by telephoning 01494 581601. We'll see what we can do about reviewing it in Voice.