The Duke of Rothesay attended a ceremony on Sunday in the Lower Cabrach, one of Scotland's most remote communities. He had come to lay a wreath at newly-constructed memorial cairn. Suzanne Kelly attended.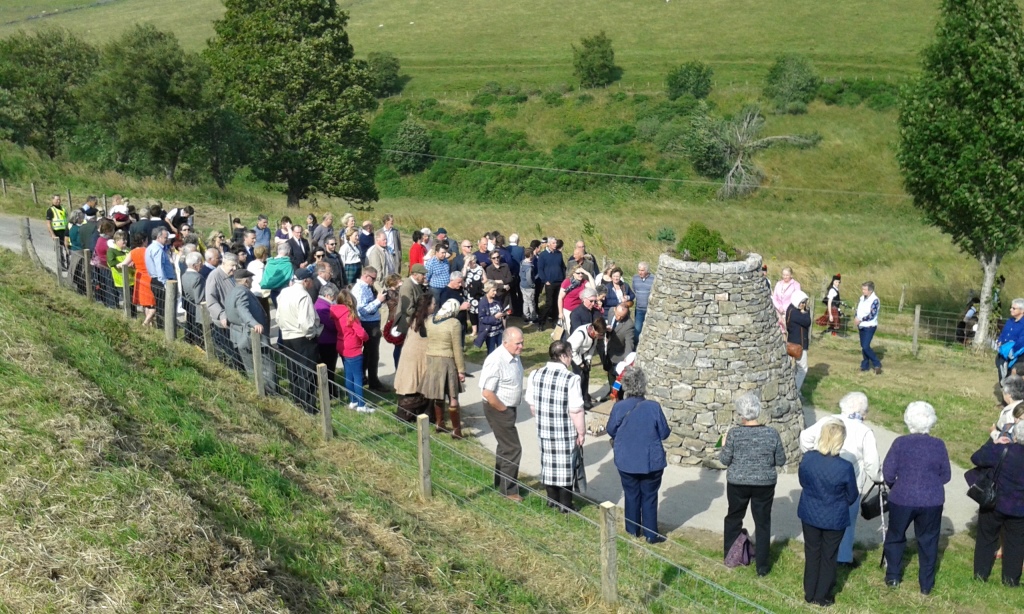 The Cabrach is perhaps best known for its dramatic, beautiful scenery and for being the home of whisky.
The Gordon family residence is here in the sparsely-populated area, home to generations of Scotland's first family of whisky.
The Cabrach cairn, in the Lower Cabrach area, is a new, beautiful dry stone monument to those from the area who fell not only in World War I, but in all subsequent conflicts.

Until recent research revealed the truth, it was thought that the number of those from the Cabrach who fell in the Great War was far less than one hundred. The truth emerged that perhaps some 300 lives were lost.
This was mainly to illness. When the recruits left the area to go to war, they had little in the way of natural immunity, and many were tragically killed by disease.
Prince Charles – the Duke of Rothesay as he is known in Scotland – laid a wreath and talked to an assembly of residents. This wreath was red poppies with three white feathers with a card which read:
"In special memory of those from the Cabrach, and the parishes of Rhynie, Lumsden and Dufftown who lost their lives during the First World War. Charles"
One of those present was John Gordon. As a young man of 16 in World War II, he was kept in the area to do essential agricultural work and to serve on the Home Guard. He told Aberdeen Voice:
"I joined the Home Guard; I got my medal about 10 year ago. This medal is the Royal Observer Corps. I was in and saw the bombing that happened in Aberdeen. The Germans flew over here too; they dropped a bomb on the Upper Cabrach. Aye, they put a bomb up there in the Upper Cabrach."
After the Duke left, a second ceremony was held for the entire community with music and the Lonach Pipe Band and a huge spread of food. Photographs of the cairn in progress over the months adorned the community centre walls.
Marc Ellington spearheaded the project; funding for which mainly came from the Gordon family.
Ellington said:
"Each and every aspect of the construction of the cairn has involved members, both young and old, of the Cabrach Community working closely with master craftsman Euan Thompson, a specialist in traditional dry stone construction.
"As well as being one of the finest memorial cairns to be built in Scotland in recent years, this is an outstanding example of what a local community, working together with energy and determination, can achieve."
Both Ellington and community leader Patti Nelson gave speeches and thanked everyone who assisted and who attended. Marc was assisted on the day by Gemma Louise Cook.
Comments enabled – see comments box below. Note, all comments will be moderated.