In these bleak and pessimistic economic times, it's always heartening to hear of a thriving business looking to expand. All the better when its success is built on an alternative business model which genuinely appreciates its staff, rewards and motivates them appropriately,and involves them at the core of decision-making. Surely this can't work in the cut-throat commercial world? Jeremy Miles, MD of the Edinburgh Bicycle Co-operative has proved it can. David Innes cruised alongside him in high gear (definitely NO Lycra though) to ask him how it works.
Expanding? In the current economic climate? 
What looks like a sudden announcement of expansion is really a plan we have been quietly executing for just over ten years. For 25 years we only operated in Edinburgh where we built up a £3m store. We decided to expand in 2001 and acquired Cycling World in Aberdeen's George Street.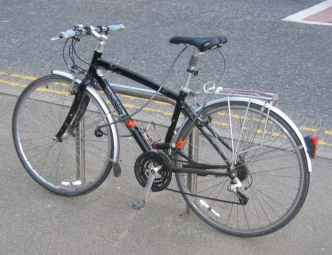 By 2011, turnover increased to £12m, with stores operating in Newcastle, Leeds, Manchester and Sheffield. We were developing our online presence at the same time. Our aim was to double in size in each of the two five-year periods – every self-respecting socialist-minded business has to have a five-year plan!  These are among the most challenging times traders have ever faced. Our business is no different. Customer spending on discretionary items is down, on bicycles as much as sofas and flat screen TVs. We're seeing growth, but its hard work to keep that going, although it's very positive in current conditions.
Our optimism and our ambitions are based of a number of factors. Cycling is enjoying a very positive momentum at present with concerns over health, transport costs, congestion and the environment all helping the industry to grow. We also feel that our co-operative structure presents an alternative to discerning customers who want to spend with a company with real values as well as a genuine focus on high levels of service delivered by owners of the business.
  we work within our general vision of doubling turnover every five years.
Look how the Co-op has positioned itself against the corporate strength of the major supermarkets. The Co-op has heavily engaged with its local communities to help fund projects. It projects an image of being off the beaten track in terms of their offer.
Since we face similar challenges as our competitors become more organised and supported financially by private equity, we must also target a particular market where the growth in cycling is focused – in family leisure cycling and commuting.
Our previous expansion plans were about big stores in big cities with the right demographic spread; a fairly rigid plan which worked well for us in good times. The bike market is changing, however, with the development of some huge internet players in Wiggle and Chain Reaction Cycles. Significant retail chains like Evans and Cyclesurgery are expanding rapidly and bicycle retail is very different from even five years ago. We're also seeing more established brands such as Specialized and Giant opening branded stores, whilst the government-driven Cycle to Work initiative has also helped change the landscape.
Expansion opportunities are broader and more flexible as the customer base widens. Business-to-business relationships develop through government-funded initiatives and the internet offers new ways to market and support the bricks and mortar business. We look to capitalise on these opportunities when they emerge. We don't have plans for x stores in y years, but we work within our general vision of doubling turnover every five years.
This co-operative structure – how does that work?
Within the spectrum of employee-owned businesses we are a traditional workers' co-operative, so as hardline as it gets!
We have around 180 employees, full-time and part-time, of whom 135 are co-operative members. Members are invited to join after 12 months service by purchasing a single £2.75 business share. Around 75% of our workforce are owners of the business.
Having secured membership, they're entitled to receive a share of profits, free shares awarded annually, a single vote on issues put to the membership and the opportunity to be elected to the Board. They have access to communication mechanisms allowing information to move freely from top to bottom and vice versa, ensuring that opinions and ideas are fully utilised. It's an open and consultative approach to management and operations.
Aside from the ownership model, our business structure is fairly traditional with a board of directors, including an executive management team where I am MD, a group of elected employee directors to represent the membership, and an external non-executive director to provide guidance and expertise. I manage the staff in a conventional manner via Divisional and Department Managers.
This obviously works – tell me why
We've always been structured this way. We started out in 1977; seven hippies fixing bikes in a small repair centre in Edinburgh. Two of these hippies are still with us today!
The central philosophy was always to have an alternative view of how a business was structured, but I don't suppose your readership is all that interested in very deep philosophical musings about the prevailing mood of the 1970s and detailed Marxist rhetoric!
We are very much a business which values its people. We see them as the key asset of the business, so it makes sense that they control the business.
We spend 10% of our targeted profit every year on supporting grass-roots cycling projects
A prime retail challenge is delivering an all-round quality customer experience. To be effective at this, you must ensure that customer-facing staff are heavily engaged with your business. Many retailers struggle, paying minimum wage rates and providing a fairly uninteresting working environment.  They turn staff over very regularly.
As a co-operative, we put owners in front of customers in most instances. This makes it much more likely that customers are speaking to someone with a deeply-vested interest in making sure the experience is positive. The fact they are almost always very passionate about the product they are selling helps too!
We see ourselves as much more than just a shop selling bikes and bits. We're all about added value and the wider customer experience. Promoting cycling as a leisure activity and a genuine alternative mode of transport is at the heart of our vision and mission. We spend 10% of our targeted profit every year on supporting grass-roots cycling projects, from school fairs to individual charity rides through Vietnam. We support key charity-focused cycling events which also promote cycling, for example the Edinburgh to St Andrews Ride and the Great North Ride in Newcastle.
We don't just write a cheque. We're hands-on involved, with starting line presence, repair services en route, food stops, and finish line presentation. We've run a range of hugely-successful maintenance and training skills classes for customers for years, and have a real commitment to providing repairs services to a high level. Our workshops are prominent in our stores rather than tucked away in a back room.
We see our engagement with customers as a vital part of the character of our business and put huge effort into getting feedback from them. Customers contribute to the content of our catalogues with family photos, and will soon be helping with blogs and social media content.
We have a very loyal base who are genuinely interested in our values and want to be part of our success as a genuine community co-operative.