Aberdeen 3 – East Fife 3 – East Fife win 4-3 on penalties –  20/9/11
This latest embarrassment will not be altogether unfamiliar to those who sat through similar capitulations against Queen of the South, Queens Park, Dunfermline and Raith Rovers, or even the European humblings against Bohemians and Sigma Olomouc.  Philip Sim reports.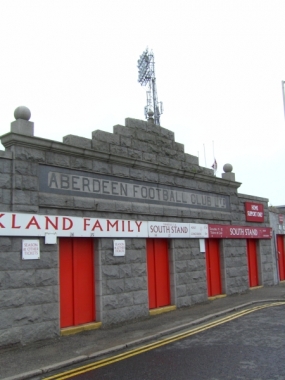 It's got to the point where it's not even surprising any more. On each occasion Aberdeen appear poised to take a step forward, they take two backward.
No matter how many times it happens, it still hurts. So what went wrong?  There was a lot more to this result than East Fife's goalkeeper saving more penalties than Gonzalez for Aberdeen.
One attempt at an excuse is that it was a weakened Aberdeen team. Craig Brown has apologised for making wholesale changes to a side that played relatively well at the weekend – but many of them actually made sense.
David Gonzalez returned to the side after missing the weekend encounter with Kilmarnock due to his wife going into labour, and the return of the first-choice goalkeeper can hardly be said to have weakened the team.
That said, he looked distinctly flat footed at East Fife's second goal although some would argue that Jason Brown would not have been tall enough to reach Matthew Park's lob in any case.
Scott Vernon and Darren Mackie were partnered in attack – Brown's tried and tested front duo – and while it's debatable whether they have passed that test at least both of them have scored this season. By contrast, Mohamed Chalali has not scored at club level.
Indeed, after Vernon and Mackie were withdrawn for Chalali and Rory Fallon, the Dons seemed to struggle even more to find the way to goal. Only Josh Magennis looked lively – if not particularly dangerous. He found shooting space quite often but invariably shot straight at Mark Ridgers in the visitors goal.
Of the other changes, only Youl Mawene and Isaac Osbourne were missed as Rob Milsom's recent form, Saturday's game against Kilmarnock in particular, scarcely merited him a place in the side.
In any case, shouldn't any eleven players on the first team books at Pittodrie be able to dispatch a side bottom of the second division?
Does this mean that Aberdeen's second string players are not even second division standard?
To be fair, the Dons did fairly batter the Fifers' goal. The home side recorded 25 shots on goal. However, too many were driven straight into Ridgers' arms or sent tamely wide or over the bar. The Dons showed a complete inability to break their opponents down, often shooting from outside the box or even further afield.
Fair play to East Fife. They capitalised on the only three chances they had in the match. That Aberdeen scored the same number of goals from more than eight times the chances is testament to how poor the Dons' finishing is at the moment.
Almost as much of a worry is the defence, a supposedly SPL standard defence which shipped three goals to a second division side. Oddly enough, Andrew Considine actually had a pretty good game at centre half, and while Rory McArdle didn't look quite as composed, especially with the ball at his feet, he at least popped up with a goal. Aberdeen's problems were at full-back.
Strangely this was the first game of the season that Aberdeen have started with two recognised full-backs in that position, rather than having midfielders or centre-backs fill in at one or both. Chris Clark played the majority of his games at Plymouth as a right-back, while left back is Ricky Foster's strongest position – although Foster himself might argue otherwise. Despite this, the two looked completely and utterly clueless in defence.
Perhaps they were too focussed on going forward – both spent much of the game in the opposition half, swinging in crosses which never quite reached anyone. Whatever the reason, they provided absolutely no defensive cover. Foster usually bails out the centre-backs with his pace – against East Fife, Considine actually had to come to his captain's rescue on several occasions. Clark  looked weak. He dithered pathetically while the Fifers scored their third, and while he thumped into one or two tackles impressively he wimped out of far more.
After a similarly hopeless displays against Hibs and Kilmarnock, the Red Army will be beginning to wonder what happened to Clark while he was in England – and precisely why he's been signed to a three year contract. It was no surprise to anyone in the stadium when it was he who missed the final fatal penalty.
The biggest failure was one of belief. As the second half wore on it became increasingly clear that the heads had gone down, and that the Aberdeen players simply did not believe they could win the game back. They were out fought and out thought by a team which lost 6-0 at home to Dumbarton a few weeks previously.
Maybe sometimes there has to be a shock result – a giant-killing – as these things simply happen in football. But why do they always seem to happen to Aberdeen?
Another year, another humiliation, and once again the Red Army are left with more questions than answers about just where their club is headed.