Stonewalling Appendix: Council report timeline
This is part of the CHI/17/241 report that is meant to have closed the book on Wallgate. Risibly, the city refused a FOI request to release Appendix 1 of this report unredacted, claiming it did not hold the document (a document used as a part of its own report). The FOI in question can be found here:
Here is the city's timeline, with a few annotations from Suzanne Kelly, red letters refer: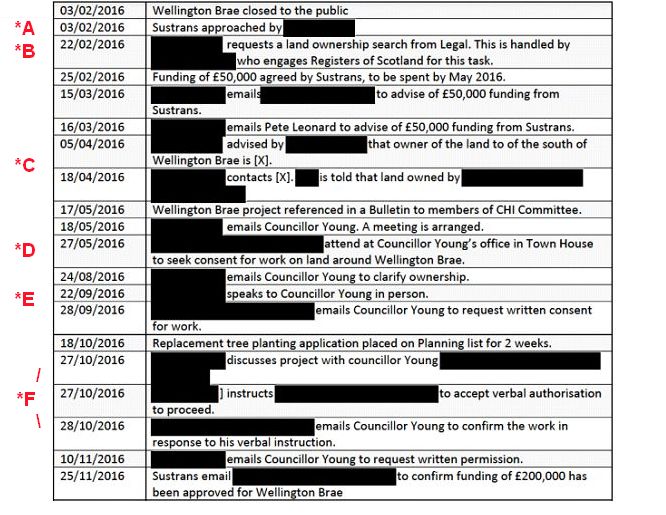 The FOI release of this report demonstrates two things in Suzanne Kelly's opinion:
1. That ACC cannot be trusted to thoroughly, objectively investigate itself, and
2. Transparency is as bad as ever it was (she once received from ACC on a FOI request an email that was redacted so that only the word 'Dear' appeared). Below is a section of the report the city (eventually) released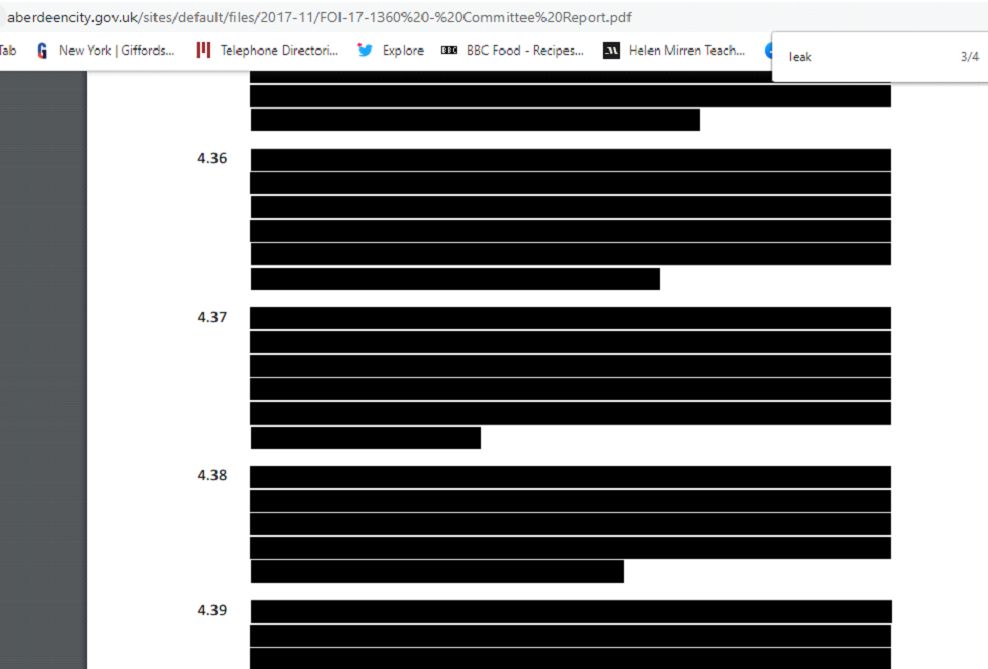 A) Who has authority to approach SUSTRANS for £200k, not least without knowing whether it is ACC's responsibility to fix or not?
B) Either Land Registry (which I find to be helpful, proactive when I deal with them) told whose name was on the title deed (and ACC should have bought a copy), or they said it was unclear.
If they knew who owned it – that party should have been hit with a repairs notice. If they didn't know who owned it, they should have immediately told SUSTRANS the fact. They should have not done anything but close the path until they knew ownership.
C) Suddenly ACC 'knows' who owns the land – or do they…
D) Here Young's consent is being sought for the work – and yet the timeline coyly does not say 'William Young is deemed to be the owner.' at this point, 25/7/2016, Young should have said one or all of the following :
as I own the land and as my wall collapsed, I am already on the case fixing it;
ACC should not be obtaining funds through SUSTRANS to fix my wall without first clearing the conflict of interest concerns up – or maybe I should pay for my wall to be repaired myself;
I don't know if I own the land so you shouldn't be seeking my permission;
my dad owns the land since I sold it to him in 1992 and he will fix it;
it would be improper for council resources to be used to fix my or my family's private property; … or
all of my council business must be kept completely separate from my private business, so we will not meet in my office and we will not use my council email to pursue this matter.
Why did the council not issue a repairs notice? It is certainly quick enough to do that to other people. If this report fully exhausted these questions, it's hardly evident due to the redacted nature of the released report.
E) between 24/8 and 28/9 we move from questioning the ownership to seeking Willie's written consent. And yet, a year later he says he didn't own the land.
F) bearing out at least one of the leaked emails, Young is being asked for written consent. As Young is in 2020 adamant, he never contacted SUSTRANS in his life, is ACC acting as an intermediary for the entire process and if so why?
Considering how cash-strapped the city is, it has now invested time from several of its departments helping a private person (Young) to get c £200,000 from a charity.
The three parties involved in the funding are ACC, Young (who has given verbal agreement) and SUSTRANS – to insist he has never contacted them is in my opinion disingenuous, or worse: have the city's officers made a deliberate, conscious decision to be a wall between the two parties? To what end?
I could add more annotations, but it seems redundant. It is up to the reader to decide whether this is just another one of the quaint, haphazard escapades of ACC, or if this is perhaps extraordinarily sleazy – or somewhere in between.