Will a convicted sex offender hold the key vote on Aberdeen City budget cuts? Suzanne Kelly writes.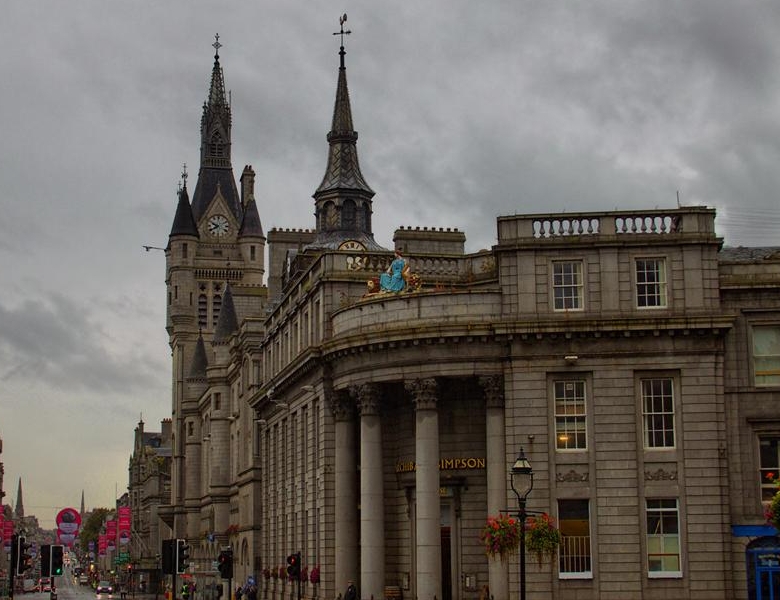 Disgraced Alan Donnelly was found guilty, in an Aberdeen Sheriff court, of sexually assaulting a waiter at a civic function.
Despite this completely contravening the Councillors Code of Conduct, he's staying in power and may hold a key vote on swinging budget cuts at the council's meeting Tuesday 3 March: and some councillors are happy with him staying put.
The council's 'Urgent Action' Committee have removed him from committees he was on, and reported him to the Commission for Ethical Standards in Public Life in Scotland (they had to really – so many people have done so, the Commission won't take more complaints).
However, it does not appear they asked the Commissioner to exercise the power and suspend Donnelly. Instead, some councillors have been making statements in their official capacity to support Donnelly. Many believe this is because his vote is needed.
Repercussions.
While publications such as Private Eye (Eye 1516) cover this scandal and, as the Commissioner confirms, it is investigating Donnelly's breaking of the code, Donnelly is still being allowed to attend civic functions and represent the city – and vote.
If he hangs on, he will be the subject of a public hearing by the Commission.
The Commission may be asked to look into what the council did to protect people from Donnelly, not least as there are reports Donnelly, who once was attached to ACC social services, bought alcohol for a sex offender in violation of protocol.
Did the city really do all it could to prevent this sexual assault? Were councillors' remarks and actions appropriate? The commission's remit is apparently widening by the day.
A petition started by Renee Slater, a former Torry Community Councillor (Donnelly's ward) has over 770 signatures asking for Donnelly's swift departure from office.
Reaction: Survivors UK say 'he should step down or be removed'
"I agree wholeheartedly that he should step down or be removed from being a Councillor," said Alex Feis-Bryce, Chief Executive Officer of SURVIVORS UK.
SURVIVORS UK helps sexually abused men as well as their friends and family, no matter when the abuse happened, and challenge the silence and attitudes.
Mr Feis-Bryce added:
"I say this as a survivor, the CEO of an organisation supporting thousands of survivors and a former Councillor."
According to the group, an estimated 12,000 men are raped in the UK every year, and more than 70,000 are sexually abused or assaulted.
Which witch hunt? What Jennifer Stewart did next.
"What I see is that there is a bit of a witch hunt to get him (Donnelly) out."
– Depute Lord Provost of Aberdeen, Jennifer Stewart
As Survivors UK's web page says:
"we know male sexual abuse has profound effects on those who experience it and can deeply affect their mental health and relationships."
Most people understand sexual assault does not have to be a penetrative rape or involve being beaten. Not Cllr Stewart.
Jennifer Stewart, now in Donnelly's former role as Depute Lord Provost went to the press in her official capacity and said:
"I would wonder if it was an attack. To me an attack is a much more physical and aggressive thing but sentence has been passed."
In other words, the Depute Lord Provost of Aberdeen went to the press to call into question the robustness of an Aberdeen Sheriff court decision and to denigrate the sexual assault victim.
She said that those seeking to get Donnelly out were on a 'witch hunt'.
Was she trying to conflate a hysterical persecution of the innocent (witch hunt) with trying to protect people from a sex offender, protect the council's reputation, and ensuring the code was adhered to by councillors? Surely she knows the definition of the phrase 'witch hunt?'
The barrage of justified criticism of her words was swift. Stewart immediately took to the press again and released a story, again in her official capacity, claiming she suffered mental health problems. These, she said, were so bad she was scared to walk down certain council corridors.
Stewart said:
"The level of pressure that was brought on me by the SNP and Liberal Democrats caused me significant mental health issues and anxiety, something I have never suffered from before.
"I have been ostracised, shunned and prevented from walking down certain corridors.
"Other councillors have no right to go on a witch-hunt to try and get rid of someone."
In her next press outing, she was praised for her work to help female victims of domestic abuse in a new initiative with the police and a charity.
(NB – The most recent figures (Scottish Government 2012a) show that in 2011/12 there were 9,569 reports to the police of a domestic abuse incident where the 'victim' was male and the perpetrator female and 659 reports where there was a male 'victim' of a male perpetrator (where the sex of the parties were recorded).
A day or two later she was portrayed in the press again sympathetically, talking about the death of a friend.
Ms Stewart was asked to comment but has not replied. If it is true, she has mental health issues which she is willing to talk to the press about while accusing political opponents of causing these problems, then the Standards Commission should be asked to investigate these as a matter of urgency.
However, if she suffers mental health problems because of bullying, perhaps she should not go around contradicting the sheriff court's finding a man was a victim of sexual assault, and in her official role telling the press 'an attack is a physical (it was) and aggressive (it was) thing'.
If, however she has cynically made a false claim of mental health problems caused by political opponents (who strenuously deny such claims – and Stewart named no names) as a means of garnering sympathy and to deflect attention from her contentious remarks over Donnelly's victim, this must be investigated.
For a woman who uses the term 'witch hunt' about those wanting Donnelly out, she has herself started a genuine witch hunt with her claim unnamed people gave her mental health problems.
She has tarnished her every opponent and by not naming anyone has made the public wonder who is harming her mental health, thereby causing people to mistrust those who would do such a thing: with absolutely no evidence for her claims.
It is understood Ms Stewart's conduct will be reported to the Standards Commission shortly too.
Reaction.
At least some members of ACC recognize the crime of sexual assault is serious. Councillor Alex Nicoll and Steve Delaney want Donnelly out now.
The calls came not long after Donnelly was seen at a Town House event to celebrate the success of local food bank (the 'oil capitol of Europe' should not need food banks, by the way).
Lord Provost Barney Crockett told the BBC the city must:
"ensure everybody is treated appropriately, and that's what I'll continue to do."
How he is treating Donnelly's victim appropriately remains to be seen.
Mr Nicoll demanded Crockett must:
"clarify why he feels the sex offender should be treated the same as everyone else."
Responsibility.
Mr Nicoll added:
"It is utterly disgraceful that Councillor Donnelly continues to attend events, by invitation, as if nothing has happened.
"I would urge the Lord Provost to ban him from civic events if he is serious about protecting the public and ensuring Aberdeen City Council is not a laughing stock."
When asked where the responsibility for protecting the public from a further Donnelly attack lies, a spokesman for Aberdeen Sheriff Court said
"This would be a matter for Aberdeen District Council."
Risible.
As things stand, Donnelly is on the council, attending events, drinking alcohol, enjoying himself, laughing with other councillors.
He is poised to vote, and may be key to getting a controversial budget passed. Depending on what ACC do over this vote, it looks as if the Standards Commission is going to be very busy with investigations indeed.
But, alas for Cllr Nicoll, Aberdeen is now a laughing stock throughout the UK and is on record as being an institution callous to sexual assault victims.
Comments enabled – see comments box below. Note, all comments will be moderated.