With thanks to Jessica Murphy, Senior Account Executive, Citrus:Mix.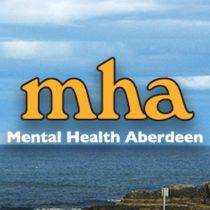 Mental Health Aberdeen (MHA) is piloting a support service within the city centre to gauge demand for a permanent drop-in presence.
The charity is providing the service, called The Club, every Friday afternoon from the Health Village in Frederick Street for an initial period of eight weeks, offering free support, information and services to anyone affected by challenges related to mental health and wellbeing.
The aim is to provide support in an accessible location for people and explore the possibility of gaining funding to make the drop-in club permanent.
Astrid Whyte, chief executive of MHA, said:
"As a charity we are always looking for the best ways to provide help and support and we have wanted to gauge demand for a drop-in style service for some time. We want to let people know that they do not have to suffer alone as help, advice and resources are available.
"Each person that reaches out to us has made a difficult first step and we want to ensure they are supported as quickly as possible. The drop-in offers us a different way of doing that and early sessions have indicated quite a high uptake which indicates the need to provide help in this way. We plan to run The Club until Christmas before moving forward and trying to gain longer term funding.
"MHA is hoping to expand our service to offer this facility on a permanent basis but that is dependent on securing enough funding. We are optimistic we can achieve this and introduce what we believe will become a hugely important means of support for people in need."
The Club runs every Friday from 1.3-pm to 4pm at the Health Village in Frederick Street.
MHA was founded in 1950 and provides support services, counselling and advice to people affected by challenges related to mental health and wellbeing. Services are available for children from the age of 12 and adults.
The organisation was among the first to provide community care – with its first residential project, a group home for discharged psychiatric patients, opened more than 35 years ago. MHA has also been providing day services continuously for over 60 years.
Comments enabled – see comments box below. Note, all comments will be moderated.