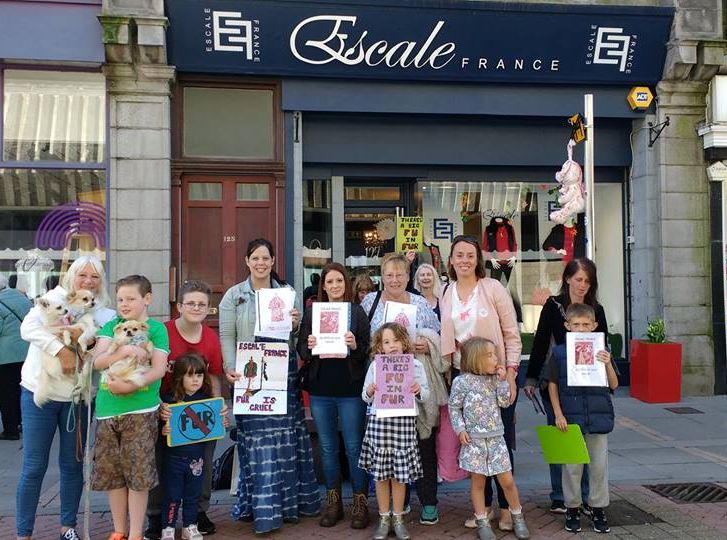 By Suz Reid.
Fur in Aberdeen is not a new thing, yet we became less aware that it was sold, even oblivious to it. Many, including myself, thought a ban on fur in the UK in the 1990s included imports. How very wrong we were.
In the last 5 years shops selling fur has increased dramatically.
Aberdeen has its own supply, quietly located in select elites shops of high end fashion.
Escale France run by Karine Franck is one shop who proudly displays her raccoon, fox, mink and rabbit fur products online and in store. Her designer is the top offender in cruelty fur Jean Paul Gaultier.
The first I saw of Escale France was on Facebook 6 months ago, sharing her new collection of fur items, thousands were up in arms.
"Fur in our area not in my name," stated some comments.
I was certainly grieved by this and felt something needed to be done. Did the owner know where her fur had come from? How it was made? I asked her face to face, her response was arrogant and unemotional
"Yes I have seen the videos, I know how they die," she stated unmoved.
A group of like minded people against the shop developed SAY NO FUR to Escale France Aberdeen UK Branch and discussed showing Karine Franck that we would not tolerate fur in her shop. We asked her to listen to her customers, many had commented on her page, disgusted at her products.
"You have such lovely items, why must you spoil it by adding real fur?" remarked one customer.
Our first three demonstration were duly noted by Karine and her male friend, who came out to give us his view which was quite frankly sickening:
" I would skin my cat and wear it, I've eaten dogs killed alive in China, what is the difference?"
Since our fourth awareness event, one of our members acted out a caged animal being electrocuted. It drew a crowd, bringing the debate on fur in fashion to the forefront. Karine Franck responded by putting more fur items on her display, allegedly claiming to a few customers it was faux fur. These claims dismissed on evidence from her online marketing and advertising.
'Yell.com; Real Fur Retailers and suppliers in Aberdeen – Escale France'
When I contacted her by email she responded:
"wearing fur is not morally worse that wearing leather or eating meat"
This I disagree with as the fur she is supplying is from China and Poland – both have little or no welfare standards. Animals are not killed straight away, often stunned before having their fur removed. In the rest of her email she deflected the subject, avoided direct questions and was not willing to continue in any discussion or debate.
Her justification for selling fur in fashion was:
"Some people watch the Peta videos showing the barbarism inflicted on some animals for the fur. Even if these are examples of bad ranches and slaughterhouses contravening codes of conduct, you can find some of them in leather and meat industries, and to compare with them, the fur production is small."
I guess that makes it okay then! Even if the videos are real, so what…? Since when did we lose our compassion, become so disassociated with what is fashion acceptable?
We banned farming in fur for one main reason, it was deemed cruel to kill an animal just for its fur…and nothing else. When we investigated Aberdeen's fur trade, I met a lovely lady Amanda who runs two fashion boutiques, one in Brighton and one in Aberdeen.
When she heard of our campaign she invited me to visit her shop. She was shocked that the public in Aberdeen would allow real fur when there are so many wonderful faux alternatives. Many of these faux items where in her store 'Sirene' in Union Street.
"It is a cruel method for a fur trim, why would you stock that when you have stunning traceable faux alternatives"
If Sirene boutique can select faux free and still satisfy her customers, why can't Escale France?
This is just the beginning with all shops and stalls in Aberdeen/shire being added to a list and working with Animal Concern, Respect for Animals, Craft in future campaigns. If you don't know what it's all about please visit the above groups, who have investigated it at length, see what the barbaric trade is all about.
For forthcoming events in Aberdeen email us at saynofur@gmail.com.We have been collecting paper petitions and have an online petition. Please sign.
Comments enabled – see comments box below. Note, all comments will be moderated.