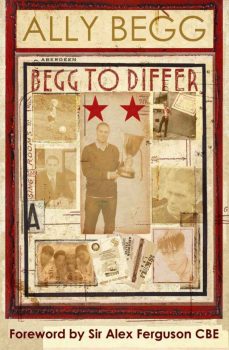 By Red Fin Hall.
What's the connection between a failed football player, a member of a successful 90s boy band and a TV presenter turned TV producer? The answer: Ally Begg.
Ally was brought up in Newburgh, had trials with Aberdeen FC, was a member of Bad Boys inc, and worked as a presenter on various sports TV channels before landing his current position as producer on beINSPORTS in Qatar.
His book, Begg To Differ, is the fascinating account of his life where everything always comes back to football.
It is an absolute fans' view of the game, albeit a fan with some notable connections. Like Sir Alex Ferguson.
It is the story of his childhood growing up in the outskirts of Aberdeen and his pestering of his father to go to watch his favourite team, a team that was always at the forefront of his mind, even when he was working for one the rival teams' television station.
He expresses his dis-satisfaction of the way his music career was handled and his decision to quit the business altogether.
How he deals with a catastrophic leg injury and its long term effect on his life, makes you cringe. Not by the writing but by the excruciating pain he has had to suffer.
The book deals with the ups and downs in his life without asking you to feel sorry for him, and subsequently his contentment in life, being married with a child.
All in all, it's a fine read, a giant step away from the usual football related tomes. Well worth investing your money in.
More comments on Begg to Differ here.
Comments enabled – see comments box below. Note, all comments will be moderated.