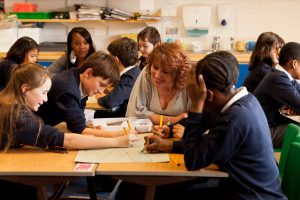 With thanks to Esther Green, Senior Account Executive, Tricker PR
A £15,000 donation from Aberdeen Asset Management is providing crucial support to extend a leading child protection charity's work in giving primary aged pupils the  knowledge and understanding they need to stay safe from abuse and neglect.
The NSPCC's Schools Service in Aberdeen sees skilled volunteers working in city schools covering the difficult subjects of abuse, neglect and bullying presented in an age appropriate way.
Through assemblies and workshops, and by using different tools such as mascots, posters and kits, they give essential safeguarding information in a lively, interactive and memorable way.
Children are taught to understand abuse in all its forms and recognise the signs of abuse, know how to protect themselves from all kinds of abuse and know how to get help, and the sources of help available to them, including the charity's Childline service.
Aberdeen Asset Management's support has covered the total cost of operating the Schools Service in Aberdeen City for a year, enabling over 1,600 children to be  informed on how to stay safe from abuse and what do do if they have a worry.
Alice Adamson, Aberdeen Area Co-ordinator for the NSPCC said:
"We are hugely grateful to Aberdeen Asset Management Charitable Foundation for supporting the expansion of our service and this funding will support our skilled volunteers in delivering a vtial service which covers the difficult topics of abuse, neglect, bullying in a child-focussed and relevant way.
"Being able to teach children at primary school about abuse enables schools and children to identify problems sooner and ultimately make sure that children with problems in this area get the help they need to have the happy childhood they deserve."
The charity offers the programme freely to schools to help ensure all children aged 5-11 learn essential safeguarding information and so that pupils feel empowered to speak out and stay safe as a result.
One Grampian volunteer who delivers the programme in schools  says that children respond well to the approach taken and the tools provided, including a mascot and a bag of worries, are essential in the delivery to children as it keeps them fully engaged throughout.
After one recent session, the volunteer was handed a note from one of the children showing they clearly knew what was inappropriate behaviour – and would know exactly what action to take if they were in that situation.
The volunteer added:
"I admit to feeling quite overwhelmed when I read the note and I was completely reassured that this child knew exactly who their 'trusted adults' were and where to seek help if they needed to. This act and many other comments from children during our deliveries, keeps me passionate in my volunteering role and further cements my belief in the importance of the NSPCC Schools Service."
Dominic Kite of Aberdeen Asset Management, said:
"This programme uses specially trained volunteers to talk to primary school children about abuse and with £15,000 from our Charitable Foundation they will be able to extend this essential work and have the materials they need to support the effective delivery of this programme in Aberdeen city schools."
The Aberdeen Asset Charitable Foundation was established in 2012 to formalise and develop the Group's charitable giving globally.
The Foundation seeks partnerships with smaller charities around the world, where funds can be seen to have a meaningful and measurable impact and the firm encourages its employees to use their time and skills to support its charitable projects.
The main focus of the Foundation is around emerging markets and local communities, reflecting the desire to give back to those areas which are a key strategic focus of the business and to build on the historic pattern of giving to communities in which Aberdeen employees live and work.
A number charities supporting children have benefitted from the Foundation recently including the Northsound Cash for Kids Bed Appeal, the National Deaf Children's Society for its work with deaf children and their families, Hopscotch which was able to provide a welcome respite holiday for vulnerable children in Middlefield, Aberdeen, and the Teapot Trust's for its art therapy work at the Royal Aberdeen Children's Hospital.
For more information visit http://www.aberdeen-asset.co.uk/aam.nsf/foundation/home
Comments enabled – see comments box below. Note, all comments will be moderated.