Neale Bothwell is one of several artists who exhibit at Under The Hammer on North Silver Street. The candlelit venue has hosted many group shows; Neale and I have been in group shows together there before, organised by local artist and WASPS studio member Keith Byers. This is Neale's most recent exhibition at UTH. Suzanne Kelly interviews the artist.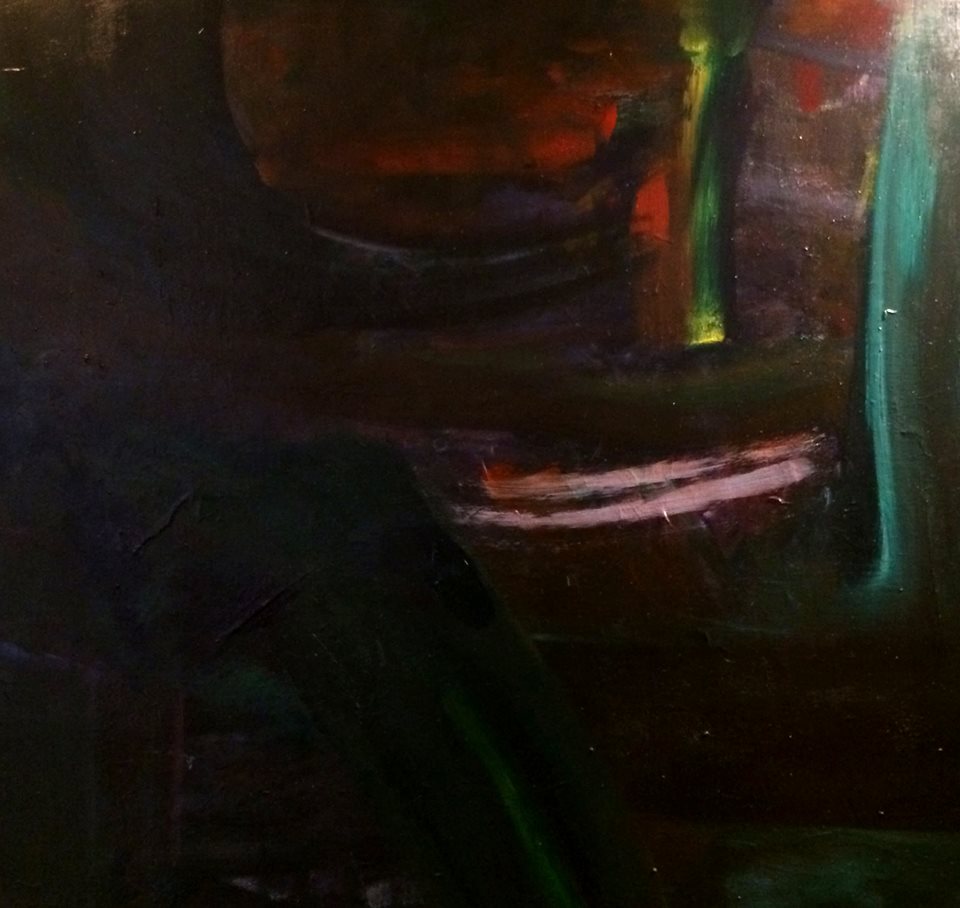 SK – 'There are 6 new pieces and one print which was exhibited in 2007. The work is abstract expressionism with bold colours dominating.'
NB – "I painted the new ones between last November and February this year. I found myself in a more workmanlike mode. A bit of discipline and structure to my approach. Normally I've tended to paint when it has felt… right like the right time. When everything is in place. 
"There was intensity to it. A more structured approach seems to have allowed me more freedom and a different kind of tension."
We talk about the colours in the paintings.
NB – "I've always been fascinated by the way certain colours act with and work upon each other. My earlier works included black & white, brown & yellow, pale blue and dark brown. and even pink, gold and black. I'm enjoying using greens, blues and browns at the moment. Whatever captures my interest really."
SK – 'I note that in some of them, faces come out after you've looked at them for a while.'
NB – "It's never intentional to begin with. If it is happening and it works, then fine. A good example of that is my piece titled "Bless My Soul" (detail, pictured). It took a long time, a lot of moving colours around the canvas. It began to feel right and start to make sense. Face, arms, all that was missing was a 'mouth'. So I quickly finished off with a smile of sorts. Luckily it didn't ruin the whole thing!
"Materials are affordable for me at present; I also got involved in situation at Market Street – a Chinese restaurant with lots of things lying about – it was the only place I could get any peace and quiet. We were trying to tart the place up. The materials were around.  I came upon a huge pile of big industrial cans of paints and some tinsel – and it just looked ready to go. I was in a basement, completely silent and bleak as hell.
"I was in a good mood to work in the silence and just went for it.  I exhibited it later; Peacock framed it for me."
We talk about the disgraceful situation Peacock Visual Arts found itself in – through no fault of its own – and we both love the place and wish it well.
NB – "I was later painting in an attic, mainly using whatever colours caught my eye. I did one with tippex – sold it – very nice people."
We talk about the print.
NB – "I was told to do collages by afriend. I thought I'd do it for a laugh but it was good advice really. I cut that image out – someone's face – and painted it over, folded it up, tied it up with string and then 5 years later opened it up. Now it looks like all this trendy phone art that's on the go now.
"I'm really enjoying just moving paint around, making something pleasing.
"The red one – I just liked the colours and that's how it turned out. 
"The green one – there was something about that one, just walking through the town – mud, rubbish, cracked pavement – passing tonnes of cranes with trucks flying about the place. 
"I went home and painted that  – I was in a punk rock kind of mood.  I put myself through the mill when I look at my own stuff.  I did one, looked at it for a couple of days, and rejected it.  But I did that one, and part of it caught my eye.  To me it's modern, it's contemporary, pleasing to the eye, but it's got something going on."
Neale talks me through more of his paintings; he painted one piece for the first time not in a silent atmosphere, but listening to music. The music impacted on how he used colour and his brush strokes. I recommend he keep using music (which I find indispensable when painting).
I keep seeing faces in these paintings.
NB – "The green one with the white bands that could look like teeth – it was a warm kind of painting going in that direction.
"What informs my work? It's colour, doing my own thing, and enjoying it. I enjoy painting; it's a lovely experience.  It's as close to a state of honesty as you can be is how I see it."
We talk about some of the more gimmicky high-profile art prizes and whether or not they have much to do with painting. I mention the Glaswegian woman who got a Creative Scotland grant for… staying in Glasgow for a year without leaving the city limits.
NB – "It's absolute rubbish; it's little narcissistic kiddies getting it wrong every time. It's like putting words in your painting. Gets my goat."
We agree that a painting that needs a long explanation can't be doing much talking itself.
NB – "The last artist in the Turner Prize nominee that I rated and thought had any gravitas was Gillian Carnegie; I remember her getting slated. Some artists lap up all the attention from the media and I don't want to be too critical – but…"
We discuss how much craftsmanship some prizes-winning artists actually personally invest in their creations; we agree that some artists either don't value craftsmanship in others – or pay others to carry out tasks they are not competent to do – yet want to put their name on a finished work they had little real hand in making.
NB – "I don't even think too much about that kind of art. The artists if they are trying to make us understand more about certain things, I think it's rather a bland way about going about it."
We talk about Keith Byers the portrait painter who arranged this exhibition.
NB – "He's a lovely guy; fantastic portrait painter. He's been a great help."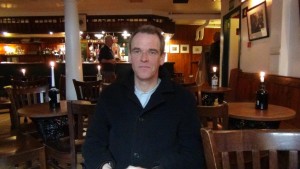 "I'm very much influenced by the punk spirit. I grew up with punk and it always stays with you. Follow your own path. And avoid people who use idiotic phrases like 'cultural strategies'.
As for painters, I very much love the work of William Gear, Joan Eardley and Anne Redpath. Whether they influence my work, I don't know, perhaps they do.
"They all manage to communicate the artist's feeling in response to their subject. I think that is the best achievement for an artist. That's what I try to do and hopefully keep it enjoyable to look at. I'd also like to thank Keith Byers and Colin at Under the Hammer for their continued support.
"I think it's very important to show how you're feeling at the time through your art. It's a sweet little landscape and it worked because it was exactly how I felt at the time. I think if you can achieve getting that feeling over to the person viewing it, then that's a success.  
"A lot of the stuff I do might be from immediate experience or some of it comes from somewhere in the past – you're not always sure where it comes out from – I take everything I see, everything I'm feeling and just try to get it out in a certain way so if I can achieve people understanding exactly how it came about and what it means.  I think that's the best intention of the whole thing."
SK – 'When you capture some kind particular feeling, some emotion and other people get it that means the art's worked.'
NB – "It's worked on a few occasions and it's always been surprising people; and they've all been nice. I've pinpointed some people immediately go for (he points to a vibrant painting in the corner in reds and black).  The last exhibition there were two very simple landscapes; it was the combination of the colours I used and 'a flick of the wrist' – and most people went for it and I kept saying 'the other one's the better painting' – people just saw it another way.
"I'm moving into more landscapes; I'm walking for miles every day with a dog; it's a lovely environment to be in – down by the river. The movement of the land; the way the little roots of trees will form a little disjointed path; the nuances that go on – the importance of the landscape."
Neale's work is up for another few weeks at Under The Hammer.
Comments enabled – see comments box below. Note, all comments will be moderated.