Aberdeen looked set for stalemate until Hearts cruelly pounced upon a rebound, says Voice reporter Andrew Watson.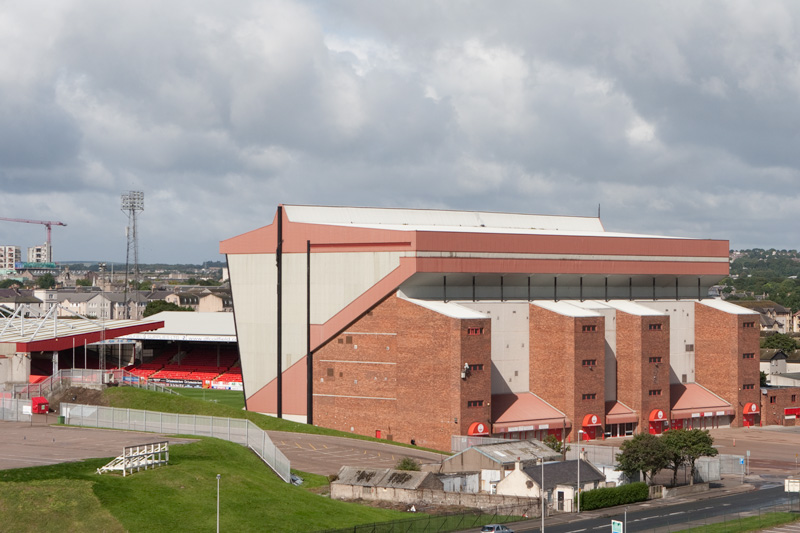 In terms of the pitch, it looked the best as it had done in a long time, it didn't even look patchy in the fine sun.
'All These Things That I've Done', by The Killers, proved a curious choice for over the tannoys. Was this conveying regret at missed chances, beating the big Bhoys twice at Pittodrie yet dropping points to minnows when least expected?
However, it was, indeed, rousing when the middle section, "I've got soul, but I'm not a soldier" kicked in. The latter, perhaps, urging to forget all that's past and finish on a high?
Late super fan, Norman Goldie, had banners unfurled for him in front of the Merkland Stand, as news was announced of his 'retired' seat in that very stand, following his death. This seat is half red, half white, like his famous odd socks, with a gold plaque of his name in the middle. The banner itself was a portrait caricature, the other stating, "Norman Goldie, R.I.P."
It was good to see Hearts fans, seemingly, applauding in tribute too. Even mascot, Angus The Bull, was wearing, in the signature style of Norman, odd red and white socks.
Onto the game proper, Aberdeen quickly won a free kick after a tussle for the ball.
A fortuitous throw was also earned in the Dick Donald Stand and South Stand corner, but this came of no consequence.
Both teams were, so far, lumping the ball into the air, perhaps not realising the advantages of keeping it on the deck.
Winger Jonny Hayes absorbed a collision and chased the ball doggedly, meting out as much as he was given.
A ball was then whipped into Heart's box, but the move was left unfinished.
Down the other end, defender Andrew Considine was urging keeper Adam Collin to calm down after the latter's distribution put the big man under pressure.
This was followed with some good link up play in the final third, instigated by captain Ryan Jack. Again, they came very close barely seconds later.
Soon after, wing back Shaleum Logan should've, opted for the headed pass back to Collin. Instead, he headed out the box, and the subsequent ball was picked up by Hearts, but nothing came of it.
Then it was the Hearts backline under the cosh, but the low delivery was swatted away.
They, in turn, raced into Aberdeen's box and were unlucky not to punish the Dons.
Logan completed a subsequent defensive mop up, as Hearts put them under pressure in their own box. Not long after, he made amends for earlier on with a headed pass back. Good call.
Opposite keeper, Jack Hamilton, was forced into a save, but it was quite a tame effort.
Hayes earned a free kick for his side, seemingly barely a yard from being a penalty. The resulting penalty went over the bar.
Niall McGinn then drove in a low effort, though nobody was there to make it pinpoint.
Hayes cropped up, again, firing into the box and earning a corner with a deflection.
Down the other end, a cruel Hayes deflection nearly gifted the Jam Tarts.
Later, newbie Scott McKenna cleared his lines well as his Hearts counterpart homed in on goal.
Logan came in, in a subsequent move, with a vital touch to a goalward ball which Collin pushed out for a corner. He stamped his authority on the set piece, rising above all to catch.
The ever present Hayes was belting into the territory of the Tynecastle men, and was, perhaps, unlucky to not force his opposite numbers into a penalty situation.
Ashton Taylor, in turn, snuffed out Hearts' advance.
McKenna then headed out a threatening ball for a throw in.
A tame effort from Logan, down the other final third, went straight into the arms of Hamilton.
Collin, meanwhile, was caught out with a bad clearance, nearly gifting the Tynecastle side a goal.
Considine, not long after, came in with an expert foot to the ball, defusing Hearts and going out for a throw.
Collin went onto spill a ball but wasn't, thankfully, in play at the time.
Halftime 0-0.
There was a really early corner for the Dons, but nothing came of it.
On the other hand, a Hearts advance appeared to get home crowd plaudits with some silky skills indeed.
McGinn then lofted a perfect ball right down to the feet of Hayes. Again, nothing came of it.
Aberdeen became very fortunate to have a clean sheet after a defensive lapse, though the attacker hit the ball sky high.
At the opposite end, there was some excellent last gasp defending from Hearts. McGinn couldn't quite beat his man for a cross into the box.
Following this was some poor link up play between Taylor and Willo Flood, gifting the ball to the Jam Tarts.
Hayes, as ever, was amidst it all with a rocket of a free kick, which deflected out for corner. Hearts came with an excellent header out and away from the box.  Barely seconds later, the ball glanced past the post, as it dipped and came down.
McKenna, in the other box, played it risky with Collin, as the latter was forced into a rash clearance.
Flood then made a similar move, but Collin had slightly more time to respond.
McGinn, in the other half, was unfortunate not to catch the Hearts keeper sleeping. The latter was being a tad lazy with the ball at his feet.
A Hearts free kick was then saved, but then the rebound went in after 64 minutes. Until then, most would've honestly thought it could only end as a stalemate, or perhaps Aberdeen maybe nicking a goal given their possession in the final third.
0-1 (Abiola Dauda).
Captain Jack, not long after, appeared to be trying to shrug off a knock, limping ever so slightly.
McKenna was taken off, with Cammy Smith coming on after 71 minutes.
As an aside, there were jeers in the Merkland Stand for a steward removing a bobbing, soccer style beach ball.
Hayes, the main man for the past few games, came in with a few balls into Hearts' box, all of which were batted away.
Graeme Shinnie in turn potentially set himself up for a goal scoring opportunity.
Juwon Oshaniwa provided another light moment when soaking up (ahem…) glory from the South and Merkland Stand corners. He'd, previously in the game, attained a reputation for dubious throw ins. At least he could laugh about it, as they say.
Joe Nuttall was then put on, in favour of Flood after 81 minutes.
Earlier substitution, McKenna, was announced over the tannoys as man of the match. There was also to be three minutes of additional play.
Logan's ball into the Hearts box defied everyone, and a shame because the delivery could've instigated a perfect equaliser.
Maybe better a better keeper would've kept a clean sheet for this one? Moments in Motherwell game seemed to attest to that. At least the Dons would've stood a chance of rewarding the Red Army with a superior points total to last season.
Final score:  0-1.