Aberdeen punished Motherwell, but the latter were nearly given an avenue back into the game, opines Voice reporter Andrew Watson.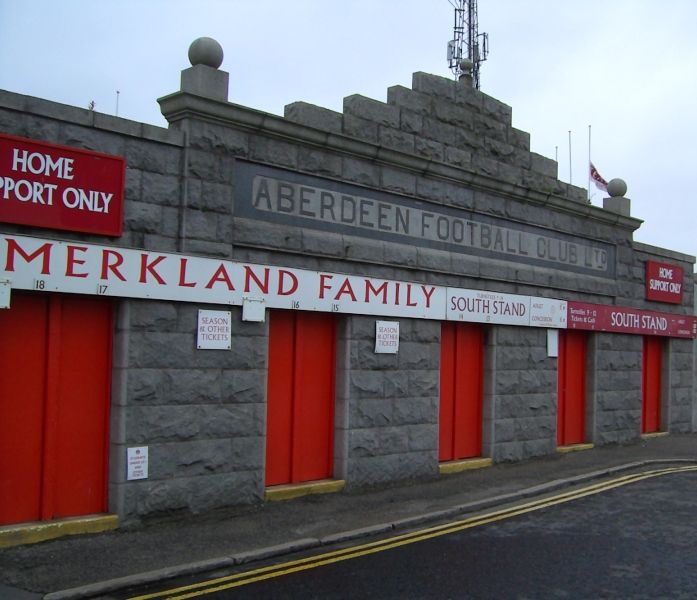 The pitch looked the best it had in a long time. Still a bit ravaged, though. Really windy, too.
'Hard To Beat' by Hard-Fi, via the tannoy, was perhaps in reference to overall form, and not recent form.  There was then 'Let's Go Crazy' by the late Prince, inciting a goal fest, perhaps.  After that, another tune from a late great, 'Heroes' by David Bowie, inspiring, urging, the Dons to triumph after so much recent disappointment.
A sense of immediacy came, though, with Fatboy Slim's 'Right Here, Right Now'.
Come the game, opening proceedings saw Aberdeen intercepting when it mattered, nullifying Motherwell.
A weak shot was then thankfully palmed out for a corner. Motherwell hit on the break from this, though.
Winger Jonny Hayes winged his way into Motherwell's box and was taken down for his troubles. Also, for his troubles, he and his team were rewarded with a penalty. Kenny McLean sent the keeper the wrong way.
1-0 Aberdeen – only 6 minutes into the game!
Soon after, Aberdeen were lucky not only to clear their lines after a corner, but that the subsequent shot went straight into the hands of debutante keeper, Adam Collin.
Defender Graeme Shinnie was also caught looking for a foul, as play continued.
Willo Flood, however, weighed in with an excellent, meaty tackle to put the ball out of play.
Collin, on the other hand, was proving to be not a particularly powerful kicker of the ball. Half way up the field half the time, and no more.
Andrew Considine then came in with a timely challenge to spare Aberdeen's blushes.
Niall McGinn, at the other end of the pitch, offered a cross-cum-shot which came close.
Aberdeen then conceded a corner in a situation where there was no real alternative.
Aberdeen, in turn came close, and were rewarded with a corner.
Captain Ryan Jack was then brought down for a free kick.
Hayes pushed his luck with his time on the ball, but eventually won a free kick.
Not long after, Aberdeen then cemented their lead with a cross courtesy of Shaleum Logan.
Niall McGinn volleyed the ball into the net, only 26 minutes into the game.
2-0!
Later McGinn again came close with a deft ball of his own in towards the goal.
Big man at the back, Ashton Taylor, had determination in spades, but perhaps too much as he put a cross well beyond the goal.
Hayes was also of a persistent nature but, again, the ball went over.
An Aberdeen man then appeared to go down near his own box, yet the home side were the ones penalised.
A Motherwell cross, not long after, was glanced beyond the goal. A second attempt was miles off, which in turn was greeted with jeers.
Just before the break, Simon Church was treated on the pitch before being taken off in favour of Adam Rooney,
A later ball defied everyone in the box, coming so close to a third goal.
Halftime 2-0. Hopefully, when KC & The Sunshine Band's 'Baby, Give It Up' blared from the Tannoy, Aberdeen wouldn't take victory for granted in the next half.
After the break, the ball bounced around in the box, with Aberdeen unlucky not to capitalise.
Motherwell, on the other hand, had a chipped effort into the box wasted with no takers.
Shinnie hopped on the back of his opponent to win a header, and cleared his team's lines for an away throw in.
Then came another seemingly weak kick from Collin. He fell on his backside as well.
Aberdeen produced some excellent passing play away from the crowd of players and danger.
Steelman between the sticks, Connor Ripley, had a superb save go to waste as the rebound came to the feet of comeback king, Rooney, who pounced after 54 minutes.
3-0!
Subsequently, Aberdeen earned a corner. Then, down the other end, Considine was forced to clear for safety.
A determined Shinnie made it first to the ball, inspiring some quick passing out of the danger zone.
A Motherwell advance, however, exploited an awry Taylor clearing header on 64 minutes.
3-1 (substitute Chris Cadden).
Logan found himself booked after a tussle at the back of the net which the Fir Park men had just found.
Aberdeen were then fortunate for an offside decision, else Motherwell would've cut the deficit by another goal.
Collin, under pressure in another instance, thankfully, and with authority, held onto the Motherwell ball.
McLean then gave away a stupid foul then appeared, strangely, to go to the ground himself shortly before Hayes thundered into the box, scoring after 78 minutes.
4-1!
Aberdeen, thereon, recovered their authority, and stamped it all over again.
Barry Robson was put on to replace Rooney  after 81 minutes.
McGinn was taken off, in favour of Scott Wright after 84 minutes.
Hayes then drove into the box, with a cross-cum-shot.
A skirmish kicked off as McLean went to the ground, for which 'Well captain, Keith Lasley, was sent off. Their manager, Mark McGhee, had one of his backroom staff sent to the stands afterwards.
Just before the end of play came an ambitious Aberdeen free kick, whipping not far from goal.
Final score:  4-1.