Aberdeen hammered three goals past a hapless Hamilton side, says Voice reporter Andrew Watson.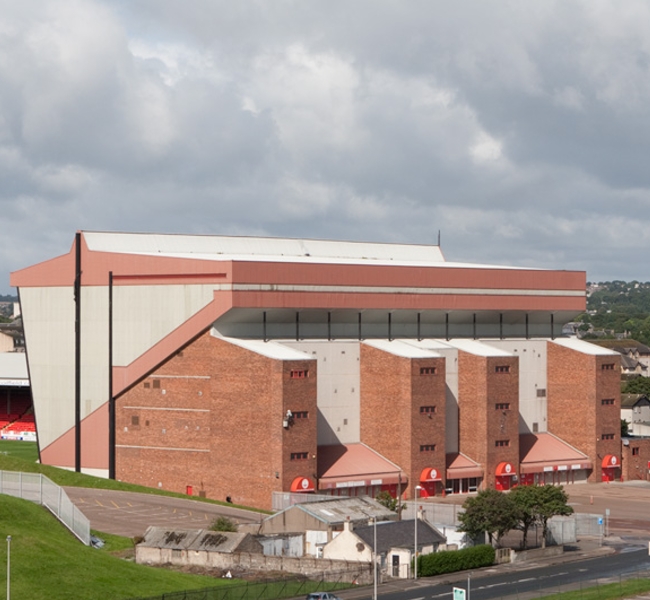 Conditions were wet, perhaps nourishing a quite ravaged pitch.
'Why Does It Always Rain Me' by Travis was an apt song given the weather prior to and during the match.
Furthermore 'I Am The Resurrection' by The Stone Roses was perhaps aimed towards a hoped resurgence in form after losing to Motherwell the other week, rising from the ashes of defeat at Fir Park.
Then came the customary blasting through the tannoys of Hard-Fi's 'Hard to Beat'; which of course was a tad ironic, given that trip to Lanarkshire. AC/DC's moody 'Thunderstruck' bizarrely seemed to be willing worse weather we were having.
Finally, just before the game kicked off, there were the strains of 'Right Here, Right Now' by Fatboy Slim. This was the Dons getting pumped, with timely urgency and an all out desire to win.
Keeper Scott Brown was forced into an early clearance, which went out for a throw in.
Down the other end, a cross only just evaded an Aberdeen attack.
Big man at the back, Ashton Taylor, made a lunging run, but a subsequent slack pass was intercepted.
Kenny McLean reached a long pass, and his cross turned into a shot hitting off the far post.
Winger, Jonny Hayes, came in with a perfect cross for Simon Church to header in.  Emphatic and powerful, a surge of passion from the Red Army as it smashed into the net.
1 – 0 Aberdeen – only 5 minutes into the game!
McLean then almost came in with a goal of this own.
Slack passing and shooting prevented a second goal for the Dons.
Pocket rocket at the back, Shaleum Logan, was unfortunate with a chipped ball which put Church offside.
Hayes then won a free kick after a deft, long ball.
Willo Flood came in with a timely challenge to deny Hamilton, the ball going out for a throw.
Hayes found fruitful play for his team, after being taken down twice and earning a free kick in the second instance. McLean seemed to be going for a shot with the resulting set piece.
Logan, however, was appearing to go for a cross later, but turned into a shot.
There was then applause for a recent bereavement in the Aberdeen community, and this was followed promptly with a second goal.
2-0!  Niall McGinn stroked it into the net, only 15 minutes into the game.
There was a subsequent attempt, a low one, just wide of the post.  Aberdeen were definitely stamping their authority on the game.
Hamilton once again cleared their lines, preventing a third goal. They suffered an onslaught with their keeper parrying away a low header into the corner.
On the other hand, down the other end of the pitch, Aberdeen were a tad lucky not to concede.
McGinn, though, was unlucky later trying to receive Logan's cross.
Then, with Aberdeen slightly under the cosh, Flood cleared the box and made an expert pass to create another Aberdeen advance.
Hamilton's Kemy Agustien was booked for challenge on Graeme Shinnie. They then cleared their box for an Aberdeen corner.
Flood reared his head, again, this time beating his man to instigate an attack, one which somehow was absorbed by Hamilton.
Logan came in with a deflected low drive, but subsequently won a corner.
McGinn put corner into six yard box, an ideal location, but nobody was there.
Church was then penalised contesting the ball, perhaps unfairly.
Shinnie came in with an excellent sliding challenge, snuffing out what seemed a dangerous Hamilton advance.
An Aberdeen advance, however, cut in and McLean pounced after 33 minutes.
3-0!
Another header, like Church's earlier, but from a free kick, went wide.
Hamilton stopper, Michael McGovern put himself in harm's way to reduce space Aberdeen had for a potential fourth goal and Aberdeen were snuffed.
Kemy Agustien, not long after, was on the deck. Cue cynical cries from Pittodrie faithful.
McGinn came in with an ambitious shot, and was applauded rather than jeered. After all, Aberdeen can't pass it into the net all the time.
Taylor was then found playing dangerously, down the other end. He was lucky to have Brown to rely on as an option to pass back to.
Logan took a tumble, his subsequent throw in was poor.
One minute additional play for first half.
Halftime 3-0.
Taylor was taken off, in favour of Andrew Considine after the break.
Brown then mopped up low shot from Dougie Imrie.
McLean, up the other end, came into the box and his advance went out for a corner. Then on followed a flurry chances for Aberdeen.
Hayes was flat out on his back. He got up, eventually.
Aberdeen almost came unstuck, though the rather negative attack by Hamilton was very much to the Dons benefit.
Hamilton then won a corner. The taker came up for some stick:
"Imrie, you're shite!"
A subsequent Aberdeen shot was definitely going for glory, parried away for corner. There was then a tussle in the box, resulting in a ball that almost bobbled over the line.
Hayes came in with a clever chip. Caught easily by the keeper, though.
Mark Reynolds went for a curling long ball, but the execution was too slack.
McLean found himself on the ground, later, but this went on unnoticed.  Boos from the home support.
After some good linkup play, McGinn floating a shot of little threat.
Considine was in with a timely slide to deny Hamilton credible pop at goal.
Not long after was a pass across goal, almost not picked up by the sleeping Accies.
McGinn danced past a few players, shifting into another gear as he homed in on goal. He rocketed a shot barely over the top of the crossbar. Again, plaudits for taking initiative from distance, something Aberdeen don't do a lot and, arguably, enough.
Action aplenty and another attempt went in the side netting, although Aberdeen really were fortunate not to have lost at least one goal.
Again, there was plenty of action around the Hamilton goal, going wide but never in.
Hamilton, though, forced themselves a corner.
Flood was taken off, in favour of Craig Storie after 78 minutes. Power of work by the former, determined as ever.
Then yet another corner. The fans were desperate for another goal. Then another, absolute bombardment.
Shinnie was proving to be as vital as ever. The defensive stalwart. Hamilton did, though, get a corner later on.
Hayes displayed some absolute class to get ball out of his half.
Frank Ross came on, in favour of Ryan Jack, after 85 minutes.
Prior substitute, Storie, found himself booked.
Final score:  3-0.