Aberdeen worried their supporters when Kilmarnock levelled, but went on to win the game, opines Voice reporter Andrew Watson.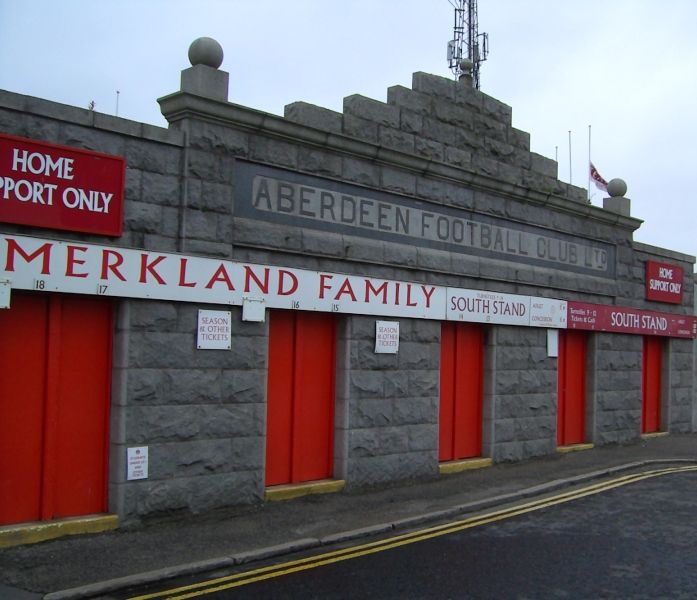 Drizzling rain left the pitch at Pittodrie a touch wet. Hard-Fi's 'Hard to Beat' blasting out the tannoy perhaps a fair assessment of the current situation, as Aberdeen are now only a point behind league leaders Celtic.
Having said that, Celtic still have a game in hand. Aberdeen, with AC/DC's 'Thunderstruck' also blaring trough the tannoy, perhaps looking to rock Celtic's title chances.
Surprisingly enough, when ex-Don Josh Magennis was announced to start for Kilmarnock it incurred no response whatsoever. 
More bizarre was the non response from the Aberdeen faithful when ex-Ger Kris Boyd was announced as on the bench for Killie.
Come the start of the game, Shaleum Logan came in with a key interception, but his team soon lost the ball.
Barry Robson then lofted the ball, but his receiver came in with a heavy touch that ultimately ended up in the keeper's hands.
The aforementioned Magennis was bounding at former teammates guarding home goal.
Kenny McLean then came in with a low drive that smacked off the far post which was closest chance of the game so far.
The Dons gave away throw in in key area of danger for Kilmarnock. Thankfully, nothing came of it.
Robson's free kick was caught by the keeper, right at the far post.
McLean's subsequent linkup play went out for a throw.
Jonny Hayes then instigated some good forward play, and Niall McGinn deflected the ball for a corner. Robson's delivery was then headed over the bar.
McGinn later ran down the flank to make a cross that went straight into the keeper's arms.
Aberdeen, at the other end, headed out a threatening Kilmarnock ball.
Magennis then found the back of the net, but play had already been halted by the referee.
The Dons' seemingly poor defending was, thankfully, rewarded by an offside decision in their favour.
Hayes was then unfortunate with ball across the box, as the keeper happened to be there to mop it up.
McGinn came in with his own ball into the box, but this was mopped up by the Killie back four. He also had a one on one opportunity, but maybe a tad too close to their stopper to knock it past him.
Graeme Shinnie then came into a more forward position, helping the attack. His pass almost unlocked the Rugby Park defence, but their keeper was there to sweep it up.
Aberdeen subsequently came very close to scoring, but were rightfully declared offside.
Aberdeen keeper Scott Brown, down the other end, came with a shaky pass, finding himself under pressure. Eventually though, this was successfully dealt with.
Another wave of attack, instigated by McGinn, was swatted away, as was a subsequent Hayes advance.
Captain Ryan Jack almost had the perfect ball to the other end of the pitch. Kilmarnock rose to see it off though.
Aberdeen then threatened yet again, but no incision or final touch to see it off.
Kilmarnock then, again, had a throw in a key area, followed by a corner. Brown came in with a commanding catch.
Logan then appeared, after much deliberation, to squander a Dons throw straight to a Killie opposite number.
Ashton Taylor was then caught by a slack pass, his control hindering him as he was tackled. The ball found its way to Brown though.
Aberdeen almost, after, found the back of the net. Although it hit the side netting, they found another opportunity to score, via a corner. Robson put it in the mix, and Taylor made up for his slackness with a precise, powerful and emphatic header into the net.
1-0 Aberdeen 37 minutes into the game!
Following this, there was some deft passing, really putting Aberdeen in the driving seat, but they were stopped by a well timed sliding tackle.
Simon Church then came in with an acrobatic diving headed effort.
Brown was then caught trying to clear his lines far too late, but a lucky deflection off an enquiring Killie forward put the ball back in his hands.
McLean, at the other end, found some space but made a tame effort on goal.
Not long after, Hayes was on the floor and was taken off.
'Get Lucky' by Daft Punk was playing though the speakers at Pittodrie. Hopefully, with Aberdeen's numerous forward advances at play, Lady Luck wouldn't be a requirement for a Dons victory.
Halftime 1-0.
The second half had barely started, two minutes in fact, when Magennis scored against his former team. This was amidst confusion stemming from a Brown slip up. Magennis bundled it over the line.
1-1.
Robson's subsequent free kick lofts itself into the keeper's hands.
Brown then fumbled a shot, but is safe to get hold of the spilt ball.
Robson put a ball in the box, but it bobbled awkwardly, too awkwardly for his teammates to capitalise on.
Andrew Considine, down the other end, headed an incoming ball back out with some authority.
The Red Army were going bananas at the histrionics of one of the Killie men.
Church clashed heads with his opposite number, but found himself eventually back on the pitch. Cue more boos for referee not clocking the situation and stopping play.
Magennis was then unlucky not to put his team ahead. Considine handled the situation badly.
Aberdeen put one in the box, but nobody was there to finish the move.
Back in their own half, Brown made a diving effort. The save was a comfortable one, though.
There was a flurry of action in the other box, but the keeper eventually got hold of the ball.
Killie keeper, Jamie MacDonald, jumped at full height to mop up an Aberdeen skirmish.
There was then a penalty claim as Hayes was downed as he homed in. Instead, the Dons were awarded a corner.
A diving header from Logan 71 minutes into the game restored the Dons' lead.
2-1 Aberdeen
Brown came with a vital save after a corner, helping Aberdeen maintain their newly acquired lead.
Niall McGinn was taken off, in favour of Mark Reynolds after 80 minutes. Eighteen minutes prior, Cammy Smith replaced veteran Barry Robson.
Mass boos ensued as Boyd came off the bench to play for Killie.
Aberdeen then found themselves under intense pressure, despite their latest substitution to shore up the defence. There was some action down other end, though.
Three minutes of additional play were then announced.
Boyd had a chance, but really should've been adjudged offside. Later he got abuse from the Red Army for assuming he was fouled, and grabbing ball to take a free kick.
With a little perseverance, Aberdeen made it over the line.
Final score: 2-1.