Aberdeen Voice's Old Susannah has something of an identity crisis as her mortgage company rebrands her as 'Elizabeth' in a paperwork snafu. As such, we welcome Old Elizabeth's Dictionary Corner this week. By Suzanne (?) Kelly.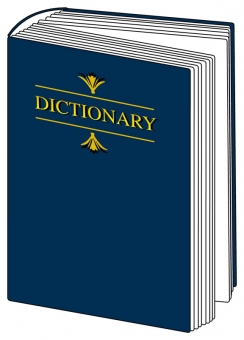 Tally ho! The banks have decided that my first name isn't Suzanne, it's Elizabeth. That's what the records show, so I have to prove them wrong. This error was only picked up a week ago, so I don't expect it to be fixed any time soon.
Past signatures on mortgage papers, name on my bank account and payslips, my passport – none of this is good enough just yet for the powers that be. I may change my name; it might be easier. You're probably as shocked to hear of a bank making any kind of mistake as I am, but apparently it does happen.
I'm beginning to think that I must be in the wrong, not them, and am going to double-check with my parents.
This past week a Florida woman who tried to teach her four year old child how to shoot a gun has been shot. Bet no one saw that coming.
This is an intolerable state of affairs; what kind of mother is this? Perhaps if she'd started him earlier, he'd have acquired more gun handling experience by now. It's never too early to start learning to hurt or kill, is it? Call me old-fashioned, but every time I give a toddler who can't really walk or talk a .45 six-shooter, I usually leave only one or two bullets in.
As to Mother of the Year, you'll be happy to know that she is said to be in a stable condition. She sounds very stable to me. Of course junior might have killed himself or any surviving siblings. In the US nearly 10,000 minors are killed or injured by guns every year But that's a small price to pay for freedom, I say.
No word on whether she'll face any charges; hardly likely I'd think. Elsewhere in the US, if your child is stillborn, or has birth defects, you might just well find yourself in prison for murder. Oh, lest I forget – happy International Women's Day everyone.
Closer to home, all's well as we continue with our vibrant, dynamic public relations activities, showing the rest of the world how wonderful we are. Now that a new flight route has opened to Iceland, Visit Scotland is out there flying the Satire, waving our tax money around, and giving the VIP treatment to Icelandic Journalists. (Thank you Iain Richardson for sharing this story on Facebook).
As part of their packed itinerary, Visit Aberdeen will ensure the group enjoys '… a show round of Macleod House and Trump International Golf Links in Balmedie'. Now you might think that someone somewhere at Visit Scotland would think twice about promoting this particular golf course, but you'd be wrong.
Perhaps a few relevant definitions might help.
Visit Scotland: (Modern English compound noun) a Smart Successful Scotland's Tourist arm; another unelected quango.
In the dark ages, no one came to look at Scotland's landscapes, castles, coasts or cities. Then, we created Visit Scotland. What do they do?
"Visit Scotland works in partnership to exceed visitor expectations. Its mission is to contribute significantly to the advancement of Scottish tourism by giving it real presence in the global marketplace, benefiting the whole of Scotland.
"We've a wide range of stakeholders, but our activities are defined by visitors' requirements. Everything we do is based on sound research to make sure that we stay ahead of consumers' ever-changing needs.
"We work closely with tourism businesses and other partners to make sure that their activities are aligned with the national strategy, and that we're all working towards a common goal." 
It's good to know that everything they do is based on sound research. Otherwise, locally anyway, it might look like they keep using the same venues over and over. We'll soon find out how much money they've spent at Trump; I'm sure that they use all of our local hotels and golf courses on a rotational basis. After all, they are bound to be fair with the taxpayer pound.
They claim that for every pound we spend – of the $50,000,000 million pounds' budget they have – £20 is spent on tourism in Scotland. Yes, I'm sure they are fully responsible for all tourism in the country. If not for VS, who'd have come to Edinburgh, Glasgow, The Granite City, the islands, the lochs. Well done you!
The fact that there's a national strategy is comforting. I suppose spending our money at a venue run by arguably the West's biggest bigot sends the message the national strategy wants to convey.
So, it's time to round up the Icelandic journalists and show them Scotland. By going to the placid haven that is Trump's Balmedie course. Will they stop and point out the bunds put up to try and ruin Susie Munro's views, gardens and spirit? Will they point out where the water mains, electric and telephone services have been 'accidentally' cut by the Trump construction crews?
Will they discuss how this successful venue has posted a financial loss? Should be very entertaining. Perhaps the sound research needs a dusting off, as does those ever-changing needs of visitors.
Tacit Endorsement: (Compound English noun) – to imply support for a person, cause or thing by actions rather than words.
I asked Visit Scotland why they'd chosen to go with the Trump property for this visit. They replied:
"Hi Suzanne. Our work with the Trump Organisation is solely in its role as an operator of premium golf resorts in Scotland and as such we would not comment on Mr Trump's personal or political agenda. Thanks for your FOI request which we have received. A member of our corporate team will contact you directly about this in due course. Many thanks."
I like the use of the word 'premium.' Well, you pay a premium for lunch there, anyway. I suggested:
"Very interesting. Visit Scotland doesn't distinguish between Trump's very public remarks and giving taxpayer money to his concerns, yet he's been stripped of being a Global Scot for these remarks, as well as losing his RGU honorary degree. Perhaps time you rethink your ethics? You are of course condoning and encouraging him every time you give him our tax money, you do see that, don't you."
We mustn't rush to conclusions though. Just because Visit Scotland takes people to Trump properties, spends taxpayer money at Trump properties, and endorses Trump properties is no reason to think that they are happy to have Scotland aligned with the Trump brand. Let's wait and see if the next visiting dignitaries from the Middle East get taken to Drumpf Golf International.
I'm sure they'll love meeting Mrs Bates to the extent that all the talk of banning Muslims and making then wear badges in the US will pass once she flashes those pearly whites.
Sure the guy wants to ban Muslims from entering the USA (Muslim American citizen population 3 to 7 million). Sure, he's verbally waging war on Mexico, wants to bring back water boarding (nothing quite like it you'll agree), and a bag of vipers would be kinder and more logical. But there's money at stake. Besides which, VS would have to admit that endorsing him is a mistake.
In December last year, VS said:
"…that it has no plans to stop working with Donald Trump, despite a campaign to ban him from entering Britain because of his comments about Muslim immigration. Visit Scotland said that the tycoon's two Scottish golf resorts were a valuable asset and attracted thousands of visitors from around the world as well as multimillion-pound investment." 
The welfare of Scottish citizens living under the whims of Trump at Menie? Who cares? Not Visit Scotland.
Iceland Press Council: (Proper noun – er, Icelandic I guess) – a body governing principles and ethics of reporting in Iceland
This press junket whereby Icelandic writers come to Aberdeen will, I sincerely hope, involve their talking to Aberdeen Journals Ltd's big wheels like Damian Bates. This is almost inevitable, as Sara Mrs Malone Face of Aberdeen Bates will be showing them round the Trump course. There's just one problem.
Cultures vary widely from country to country. While we've gone all smart and successful here, not every country is up to our own standards. Covering up stories inconvenient to top advertisers, pushing the wife's business interests, embellishing or suppressing stories to suit the powers that be: Iceland's not got wise to any of these modern journalistic techniques at all.
They actually have a paper, Rules of Ethics in Journalism; it goes back to 1988. Thought I'd share some of it with you. Press and Journal; Evening Express writers may wish to look away now (if you're still with me that is). Sorry, but I thought I'd put most of the clauses into this piece, just to show how much more advanced we are here than these idealistic Icelanders.
I've made a comment or two in square brackets in bold for the benefit of our local reporters, who probably need a laugh.
Clause 1. A journalist aims to do nothing which may bring his profession or professional organisation, newspaper or newsroom into disrepute. [OOPS!] He must avoid anything, which may be deleterious to public opinion of the journalist's work, or damage the interests of the profession [OOPS!]. A journalist must always be honourable in his dealings with colleagues. [OOPS!]
Clause 3. A journalist observes the highest possible standards in gathering information, processing this information , and in presentation, and shows the utmost fact in sensitive cases [UNLESS THERE'S A GRANITE WEB, OR THE NEEDS OF AN ACSEF MEMBER AT STAKE ]. He avoids all that may cause unnecessary pain or humiliation to the innocent, or those who have suffered.
Clause 5. A journalist must do his best to avoid conflicts of interest, for instance by reporting on companies or interest groups in which he himself is involved [OOPS! – DAMIAN – ANY COMMENT?]. He must primarily serve the interests of the reader [DAMIAN?], and the honour of the journalistic profession in all that undertakes under the aegis of his job. [IS THIS OK WITH THE MISSUS' BOSS?]
A journalist writes always on the basis of his convictions [OOPS!]. He makes sure not to confuse editorial material of clear informative and educational value, with advertising in pictorial and / or written form. [HA HA HA!] This code of ethics does not limit the freedom of expression of journalists who write, under their full name, clearly defined items in newspapers, e.g. criticism, where the writer's personal views are of the essence. [IS THAT WHY SO MANY P&J / EE PIECES DON'T HAVE A BYLINE?]
Clause 6. Any person who believes that a journalist has offended against the above code, and whose interests are at stake, can make a complaint to the Ethics Committee of the Icelandic Union of Journalists within two months of publication, provided the item published is not the subject of court action at the same time. [REMINDS ME OF WHEN I COMPLAINED ABOUT A P&J PIECE. A FRONT PAGE AREA LABELLED 'FACTS' IN A HEAVY OUTLINE, CONTAINED OPINIONS. THE RELEVANT PRESS REGULATORS DECIDED THAT ANYONE WHO READ THE ENTIRE ARTICLE WOULD HAVE REALISED THAT THEY BOX LABELLED 'FACTS' WEREN'T FACTS AFTER ALL. FAIR ENOUGH]
So there you have it. Despite First Minister Nicola Sturgeon taking away Donald Drumpf's Global Scot status, despite the Open saying that they don't want anything to do with Drumpf, Visit Scotland's going to plough ahead promoting the Donald's 'premium' clubs. I guess that national strategy they talk about doesn't give our Nicola a look-in.
On that note, I'll take a minute to say goodbye to one of Aberdeen Voice's founders, David R Guthrie. He passed away after illness and a wake was held on Tuesday. A colourful writer, musician, wit, and all-round good guy, he had his reasons for helping to found Aberdeen Voice. One of those reasons was assuredly Aberdeen Journals Ltd. In lieu of flowers, feel free to donate to Aberdeen Voice.
One of the things I liked about him was his love of Union Terrace Gardens. Another thing I liked: the man was not for sale or for rent. He never got a Maserati, but he had things that were actually valuable. Good night Dave, and thanks.
You might not like Aberdeen Voice – but we've exposed untruths. We've covered important stories the local press wouldn't touch. We've spoken out against people like Trump, and we're going to keep going.
PS – I asked MP Paul Flynn how he felt now about Trump, who continues to gain in the polls, and might wind up being President. Flynn of course was on the Petitions Committee, and opened the Parliamentary debate on banning Trump. He'd taken that extra step of going to the press some 9 hours before the debate to say he didn't believe in banning Trump for hate speech.
No, let's just take him round my constituency, show him how multiculturalism is working, and then he'll instantly change his way of thinking – that was Flynn's master plan. Doesn't seem to be working that well.
Here's what he wrote back to me:
"There are still e-mails coming in from the US on Trump. His fans are happy but they all seem pretty stupid. Sensible Republicans are in despair. They believe that he has shamed their party. They believe that If he is the candidate, Hilary will win. I persist in the belief that a country wise enough to elect Obama twice, would be foolish enough to elect Trump once. At the moment I am very much involved in other things. Any contributions I could make in Trump's downfall would be insignificant." 
Well, perhaps anything he could do now would be insignificant. But when he led that debate, had he brought up all the relevant facts (including actual US violence caused by Trump's words), and done the petition justice, I wonder where things would stand now.
Comments enabled – see comments box below. Note, all comments will be moderated.
[Aberdeen Voice accepts and welcomes contributions from all sides/angles pertaining to any issue. Views and opinions expressed in any article are entirely those of the writer/contributor, and inclusion in our publication does not constitute support or endorsement of these by Aberdeen Voice as an organisation or any of its team members.]