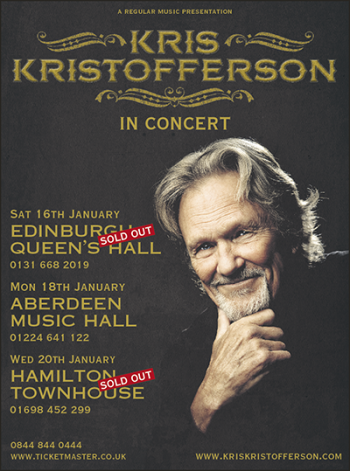 By Brian Keely.
The last time I had seen Kris Kristofferson live was at the now demolished Capitol in Aberdeen, in 1996.
Even twenty years ago he was a veteran of the American country music scene, and now as he is approaching eighty years old he is surely in the twilight of his career.
Kristofferson is widely regarded as one of the finest songwriters in the tradition of country and popular music. His output over decades has produced some real classics among his 28 albums. 
'Help me Make it Through the Night', 'Me & Bobby McGee', 'Sunday Morning Coming Down', and 'For The Good Times' are among those most well-known to the wider public.
His vast body of work, however, includes countless songs which resonate with the listener in ways which distinguish the truly great songwriter. His songs often have that unmistakable stamp of authenticity, and his universal topics of love, guilt, regret, anger, etc. are clearly written from his own personal experiences. Alcohol, drugs, women, have all featured heavily in Kristofferson's life, and he always managed to capture the good, the bad and the ugly times in his lyrics.
It is impossible to detach the performance from the songs themselves. Kristofferson inhabits these songs, carrying them around in his soul to share with us. They tell his life story and, like all the great country songs, the words are both down-to-earth and deeply poetic at the same time. Kristofferson was an unusually 'intellectual' contributor to the country music scene in the early 'sixties, having once been a postgraduate student of English Literature at Oxford University.
The way his lyrics pull into sharp focus our personal dramas and emotions surely comes from his love of Shakespeare and Hank Williams in equal measure.
On a chilly January night in Aberdeen, Kris Kristofferson took the stage unassumingly, and began his set with 'Shipwrecked in the Eighties', which seemed to sum up where he finds himself in the latter stages of his life. Perhaps that was the time when he felt the world was starting to pass him by.
"…The truth slowly dawns that you're lost and alone in deep water
and you don't even know how much longer there is to go on…"
– (Shipwrecked in the Eighties)
He is thinner and frail-looking, these days, and did indeed cut a lonely figure on stage. He is alone on stage without a band – and not even a roadie to swap his out-of-tune guitar. It was something of a mystery why he persisted playing his entire set without tuning or swapping his guitar. Even if his own hearing is not what it was, surely his tour manager could have an electronic tuner or a roadie to hand to keep things in tune.
Nevertheless, he carried on through the set, delivering raw, stripped-down versions of songs from his repertoire: Darby's Castle, Me & Bobby McGee, Here Comes That Rainbow Again, Best of All Possible Worlds, Help Me Make It Through The Night, Casey's Last Ride, and Nobody Wins. When he sang the title track of his 2012 album, Feeling Mortal, he is talking to the mirror and recognises his own limited time here on the planet.
"I've begun to soon descend
Like the sun into the sea
And I thank my lucky stars
From here to eternity
For the artist that you are
And the man you made of me…"
– (Feeling Mortal)
This reflective mood continued with From Here to Forever and Loving Her Was Easier, and somehow he invests a fresh mixture of resignation and sadness into these songs. It is as close to an autobiography as a bunch of songs sung from the heart can be. And when he then sings Billy Dee, Kristofferson seems to be talking about his tortured younger self, and how he might well have ended up.
"…He had to try to satisfy a thirst he couldn't name
Driven toward the darkness by the devils in his veins…
All around the honky-tonks, searching for a sign
Gettin' by on gettin' high on women, words and wine…
"Yesterday they found him on the floor of his hotel
Reachin' toward the needle, Lord, that drove him down to hell…"
– (Billy Dee)
The anger of his personal commitment to civil rights still comes across in They Killed Him as powerfully as when he wrote more than thirty years ago.
Jodie And The Kid is a poignant song about growing old, and how children grow up and replace their parents. This was the cue for Kristofferson's daughter Kelly to join him on stage for
Good Love Shouldn't Feel So Bad, Between Heaven and Here, The Pilgrim: Chapter 33, and The Wonder. Kelly is at best an average singer, and was certainly not singing with her father on merit. Their duets were under-rehearsed and their two vocal ranges didn't really click.
Kristofferson went on to relate further autobiographical tales of the hard-drinking guitar pickin' songwriter with Beat The Devil, Sunday Morning Coming Down, and The Silver Tongued Devil.
"I ain't sayin' I beat the devil,
but I drank his beer for nothing.
Then I stole his song.
And you still can hear me singin' to the people who don't listen,
To the things that I am sayin', prayin' someone's gonna hear."
– (Beat The Devil)
"…as I was searching from bottle to bottle
for somethin' unfoolish to say
That silver tongued devil just
slipped from the shadows…"
– (The Silver Tongued Devil
The mood became almost unbearably sentimental with For The Good Times, but he lightened the tone when he hits a bum note (his pickin' fingers are noticeably slower and less nimble than they once were) and shouts "Ain't old age a bitch!" 
"Let's just be glad we had some time to spend together
There's no need to watch the bridges that we're burning…"
– (For The Good Times)
The set began to draw to a close with A Moment of Forever, and Please Don't Tell Me How The Story Ends. The latter he had originally recorded with his then wife Rita Coolidge in 1978. Although it is actually a song from the early days (1970), when Kristofferson's own success story was just starting, it already nails that deep sense of mortality, and how fleeting are the moments in which we live.
"This could be our last good night together
We may never pass this way again.
Just let me enjoy it 'til it's over, or forever
Please don't tell me how the story ends."
– (Please Don't Tell Me How The Story Ends)
The story of the evening did end, however, with another duet, as daughter Kelly joined Kris on a truncated version of Why Me. This song feels now more than ever like Kristofferson's last farewell. It is in the form of a prayer by a sinner, who is preparing to meet his maker, and who feels guilty for a life lived to the full.
"Why me Lord? What have I ever done
to deserve even one of the pleasures I've known…"
– (Why Me)
And then he was gone. The voice may be past its best and the pickin' may be more difficult for the old fingers, but the audience at the Music Hall in Aberdeen was generous enough to cut him some slack on this occasion. He may not pass this way again, but the songs of Kris Kristofferson will be around for a very long time, and it felt like a privilege to hear them live one more time… for the good times.
Watch Steve Earle's excellent 2008 documentary film ' For The Good Times – The Kris Kristofferson Story.'