With thanks to Martin Ford.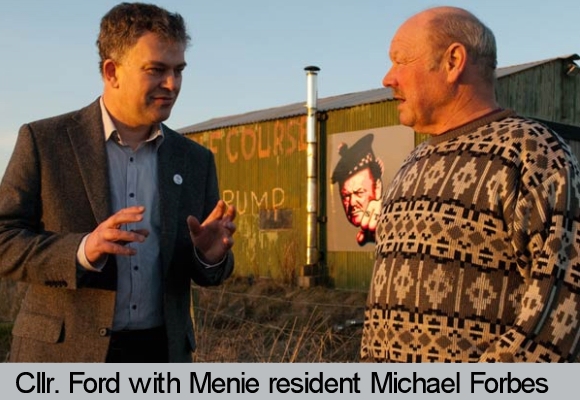 Two Aberdeenshire councillors have welcomed the decisions to strip businessman Donald J. Trump of an honorary degree and his 'Global Scot' status.
Following intense public pressure, the Scottish Government has agreed to revoke Mr Trump's appointment as a 'Global Scot' business ambassador.
Meanwhile, Robert Gordon University has taken back the honorary degree it awarded to Mr Trump in 2010.
Aberdeenshire councillor Martin Ford said:
"I welcome the long overdue decisions to revoke Mr Trump's honorary degree and Global Scot appointment.
"He should never have been considered appropriate for either of these things.
"Mr Trump's behaviour in Aberdeenshire has been appalling ever since he announced his plans for a development here. Mr Trump is neither an appropriate role model for students, nor a suitable person to represent Scotland – or the USA."
Cllr Nan Cullinane said:
"I am relieved the university has revoked his honorary degree. It was a mistake to give it to him in the first place.
"I hope the UK Government bans him from the country for his shocking comments."
Martin Ford joined the thousands who signed the petitions to block Donald J. Trump from UK entry and to ask Robert Gordon University to revoke the honorary degree it awarded to Mr Trump in 2010.
Both petitions were initiated by Aberdeen resident Suzanne Kelly.
Cllr Ford is the councillor whose casting vote saw Aberdeenshire Council decide to refuse planning permission for Donald Trump's proposed golf resort at Menie in 2007.
Comments enabled – see comments box below. Note, all comments will be moderated.