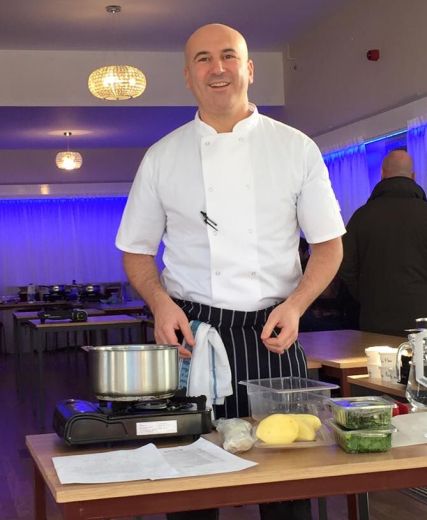 With thanks to Phil Moar, Account Manager, Citrus:Mix.
A north-east chef and restaurant owner's Cullen Skink with a twist has been crowned as the best in the world.
Alex Grahame, co-owner of Hornblower's seafood restaurant and takeaway in Gourdon, scooped the title after impressing judges with his own unique take on the traditional dish at yesterday's (Sunday, November 22) Cullen Skink World Championships at the Cullen Bay Hotel.
Coming out on top in a five-way cook-off, Alex's recipe, entitled 'The Bon Accord', was praised for its texture, flavour, colour and appearance with a unique French twist – a dash of Noilly Prat – helping convince judges it was a winner.
Alex's recipe is influenced by his own French cooking training and his wife Ruth's Aberdonian heritage, with the addition of the Noilly Prat paying homage to the area of France that the pair were married in.
The popular competition is in its second year and is organised by the Cullen Bay Hotel and the Cullen Voluntary Tourist Initiative. A traditional Cullen Skink competition was also held on the day.
Alex Grahame said:
"To have my take on Cullen Skink recognised in this way is a fantastic feeling and I'm thrilled to have been crowned as a world champion; I never once imagined when I started cooking that I'd be able to say something like that!
"The competition itself was an intense, full-on hour as there is so much to do in such a tight time frame. The other five versions of Cullen Skink looked fantastic, with some unique recipes being used so I'm delighted to have come out top.
"Cullen Skink is an important dish here in Scotland and it is loved by many throughout the world so there is always pressure when cooking it. We've had it on the menu at Hornblower's for some time now, so I've had plenty practice; it's always been a favourite with our loyal customer base.
"From a personal point of view, the competition itself was a fantastic event and I can't stress enough just how great it has been to be involved with. This sort of competition is exactly what the food scene here in the north-east needs and it has been a perfect way of shining the spotlight on one of the nation's most-loved and revered dishes."
For more information on Hornblower's seafood restaurant and takeaway, please visit its dedicated social media channels or www.gourdonview.wordpress.com
Comments enabled – see comments box below. Note, all comments will be moderated.