With thanks to Eoin Smith.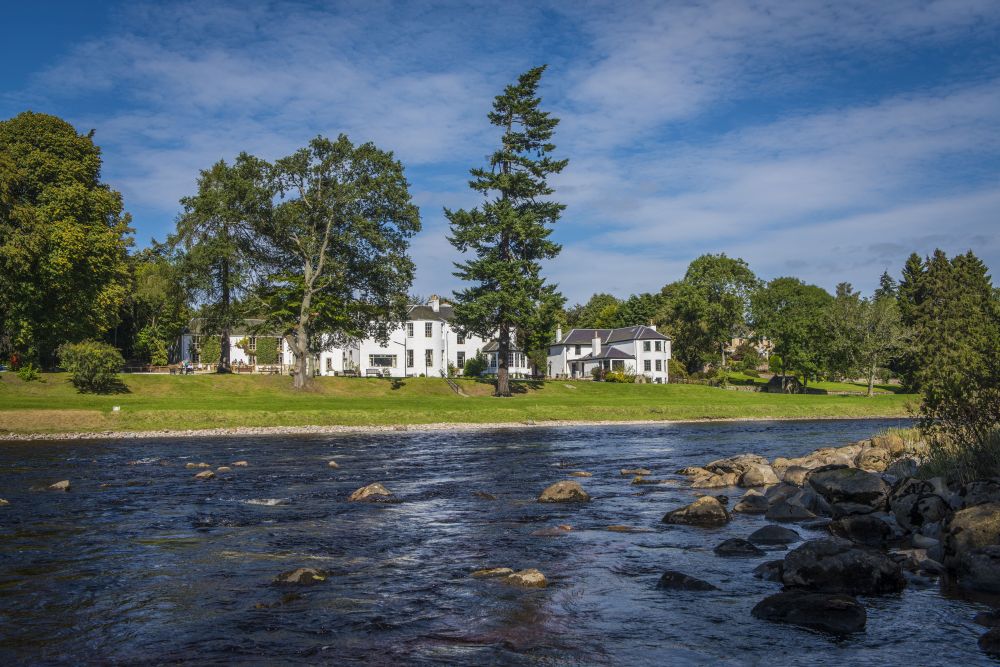 When the current owners of the Banchory Lodge  bought the Hotel three years ago, it was their dream to turn the stunning property into one of the region's top hotels and restaurants. There would be no better way for the business partners to celebrate their third anniversary later this month than by picking up one the area's top tourism accolades.
Banchory Lodge Hotel has been shortlisted for the title of best restaurant experience at the Aberdeen City and Shire Tourism Awards, which will be announced at the end of this month.
Situated on the outskirts of the town, the hotel – a white Georgian mansion – first opened its doors to the public as a hotel in 1936. Almost 80 years later, it continues to operate as a hotel and has carved out a reputation as a top eatery.
Business has almost tripled since it was taken over by the consortium, and that is in no small part down their investment into a major refurbishment which has seen the hotel mix its classic Georgian features with well-placed modern touches.
Director Carol Fowler explains,
"When we first started the refurbishment nearly three years ago, we knew that regardless of our vision, we wanted to respect the original features of the Georgian house. We have managed to do exactly that while still giving the mansion a more contemporary touch. 
"Although we are set in the countryside, we wanted to give the restaurant a city feel. In order to do this we travelled to some of the UK's biggest cities including London and Edinburgh to get a feel for what makes a good city dining experience.
"All of our menus include quirky hand-drawn cartoons that represent the surrounding Deeside area and have proved a real hit with customers. We have a variety of menus to suit the particular type of dining experience that our customers are after, which include brunch, lunch, afternoon tea and dinner menus. 
"Working in partnership with local suppliers and ensuring food is fresh and of high quality is extremely important to us and allows us to create dishes that will have customers wanting to come back for more.
"The end of January will mark three years since we bought the hotel and I cannot think of a better way to celebrate the occasion than with an Aberdeen City and Shire Tourism award win – it would be great recognition for our entire team at Banchory Lodge who have helped our vision become a reality."
To entice the younger generation to visit the restaurant, the hotel has extended its bar and transformed it into a funky area where customers can enjoy a drink before dinner or dine from the main menu in slightly less formal surroundings.
In the main dining area, customers can also enjoy the main menu which has everything from a sharing platter of Cotê de Beouf to a classic beer battered haddock. The hotel has embraced the recent popularity of afternoon tea, but has added a touch that nowhere else can provide. Served between two and four, tea, sandwiches and cakes can be enjoyed on the terrace or down by the river.
Banchory Lodge Hotel faces competition from Ardoe House Hotel and Spa, situated in Blair's, and Atlantis Restaurant housed in The Mariner hotel, located in Aberdeen City Centre, in the best restaurant experience category in the 2015 Aberdeen City and Shire Tourism Awards (ACSTA).
Finalists will have to wait until January 30th to find out who the winners are. This will be revealed at a ceremony at Ardoe House Hotel and Spa in Aberdeen by the host for the evening, broadcaster & radio host, Tam Cowan. Further information about the awards is available at www.acsta.co.uk