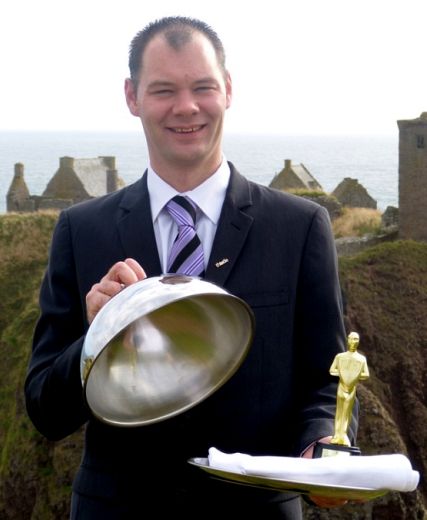 With thanks to Eoin Smith, Senior Account Executive, Tricker PR.
Dunnottar Castle, the spectacular medieval ruin in Aberdeenshire, continues to enthral audiences around the globe after an array of Hollywood film appearances. In 1990 the castle played a starring role in the film 'Hamlet' featuring Mel Gibson.
More recently it provided inspiration for the castle in Disney Pixar's 'Brave' and this December Dunnottar will feature in 'Victor Frankenstein', a remake of the horror classic Frankenstein, starring James McAvoy and Daniel Radcliffe.
Last year Dunnottar was awarded seventh place out of over 200 entrants in a competition to find the 8th Wonder of the World, an incredible accomplishment for the small team of staff who are all passionate about showcasing Dunnottar to the world.
Their dedication appears to have paid off, as footfall to the castle more than doubled from 35,000 in 2009 to just under 89,000 in 2014.
These recent achievements for the team have resulted in Dunnottar Castle being shortlisted for Best Visitor Attraction in the Aberdeen City and Shire Tourism Awards (ACSTA). The Best Visitor Attraction award celebrates Scottish attractions which are dedicated to providing excellent customer service to visitors.
Jim Wands, Custodian of Dunnottar Castle who recently took over from Wendy Sylvester, says,
"The ACSTA nomination continues an extremely successful few years for the team at Dunnottar. It is a fantastic feeling to receive recognition for all our hard work and commitment towards improving the castle and the overall visitor experience.
"We want visitors to enjoy the magnificence of Dunnottar as much as we do, so visitor satisfaction, the preservation of the castle and its environment are our main priorities. We have people visiting daily from all corners of the globe and we aim to provide them with the best memories of the North-east of Scotland.
"The castle now has a prominent social media presence which has created a loyal and interactive following from around the world. We have also received a Tripadvisor Certificate of Excellence for three consecutive years. I firmly believe these achievements have been made possible by the dedication and persistence of the staff at Dunnottar."
As well as working exceptionally hard to enhance the overall experience for both domestic and foreign visitors, the team of staff at Dunnottar Castle works very closely with local businesses and attractions in their local town of Stonehaven.
Jim explains,
"We have built strong connections within Stonehaven as we realise the mutually beneficial roles we both play in attracting visitors to the area. We have helped to support and implement projects such as information boards, granting land for projects and regular donations to local charities via our wishing well fund. With each other's help, businesses in Stonehaven and Dunnottar Castle have continued to flourish together, bringing in a larger number of visitors each year."
Dunnottar Castle was once considered significant enough to house the Scottish crown jewels, or the 'Honours of Scotland', during Oliver Cromwell's invasion of Scotland in the 17th century. The Honours were smuggled out of the castle during a siege by Cromwell's army. For 11 years they were buried in nearby Kinneff Church, until they were finally returned back to Edinburgh Castle.
Dunnottar Castle is nominated for the Best Visitor Attraction in the 2015 Aberdeen City and Shire Tourism Awards and will be up against Macduff Marine Aquarium and Drum Castle.
The winners of each category will be announced at an award ceremony on Friday November 27, 2015 at Ardoe House Hotel and Spa, and the winners will then go on to represent the region at the national Thistle Awards.
For more information about the Aberdeen City and Shire Tourism Awards, visit www.acsta.co.uk
Comments enabled – see comments box below. Note, all comments will be moderated.