Trail to Tranquility and Trouble Again in Tranquility are to premier on 14 November at Aberdeen's Belmont Cinema. Suzanne Kelly, who played a role in Trail to Tranquility, reports.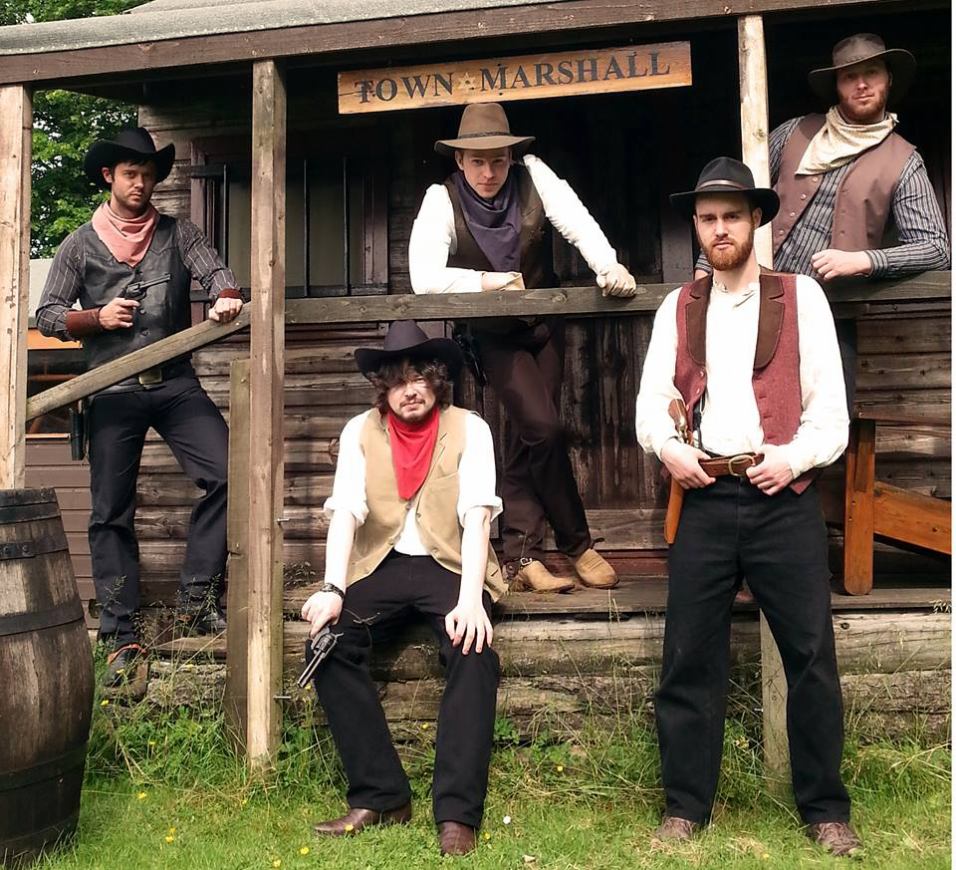 Trail to Tranquility was written by and produced by Alistair Baranowski and directed by Paul Vernon.  Trouble Again in Tranquility was written by Stewart Walker. They were shot on location at the Tranquility Wild West Town in Huntly.
Located near the Glendronach Distillery in Aberdeenshire, Tranquility was begun in 2005 and is a reconstruction of a small frontier town in the old American West.
Award-winning director Paul Vernon said:
"Trail to Tranquility has been very well received at some exclusive previews, so I know you are all in for a fun treat in the old Western tradition of good guys vs bad guys."
Also appearing on the same programme is another short western – Trouble Again In Tranquility – which is a follow-up to last year's short Trouble In Tranquility.
Of Trail to Tranquility, Alistair Baranowski said:
"I think the making of this film has been a labour of love by everyone involved in front & behind the cameras. We were extremely lucky to have some great young & talented local actors on board helping us out. There's plenty of action throughout the film to satisfy all western fans & there's some fantastic cinematic work from our award winning director, Paul Vernon."
Acctor Karl F Hiemeyer who played the US Deputy Marshal said:
"It was a lot of fun working with director Paul Vernon, Mikey Mcallen and the rest of the cast and crew for TTT.  It was a great experience for me and memories for a lifetime.  The makeup crew did a fantastic job throughout."
Paul Vernon added:
"With some enthusiastic new talent from the south, some lively returnees from last year's 'Return of a Son' and a few firm loyal favourites from the Town itself, we hit the 'Trail To Tranquility' running. We had two and a half days to shoot a 30 minute film – no mean feat. However with the whole team totally committed to the project, working hard and pulling in the same direction we managed to pull off a great looking film.
"With plenty of action, fist fights, gun play and plain old skullduggery this is a romping western in the good old tradition of the Wild West."
Mikey McAllen, who plays outlaw Kelly, said:
"Working on Trail to Tranquility was something really different for me.  I really enjoyed portraying the outlaw Kelly – this is a guy who doesn't care about anything other than himself.
"This is my first western and playing this cowboy villain was a great new experience for me.  It has now made me want to push myself more in taking on a variety of different roles for future projects.  Not only did I get to neet and work with some fantastic actors but having the chance to work with an amazing and creative director Paul Vernon as well, made it a very positive experience.  It was a big shame the production had to come to an end as I had so much fun.
"I can't wait to see the finished piece of Trail to Tranquility." 
Tranquility Wild West Town is open to the public only on our "Open Days" or "Round Ups".
Ticket Hotline –  from Ally on tranquility_town@hotmail.co.uk
Comments enabled – see comments box below. Note, all comments will be moderated.