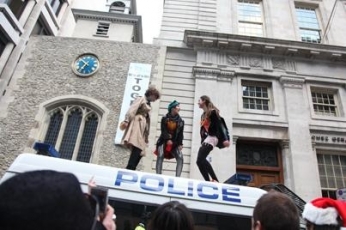 JUST DO IT – Documentary
United Kingdom 2011,
90 mins
Director: Emily James
Starring: James Leadbitter and Lauren Simpson
12 August ,6:30pm
Belmont Cinema
The world of environmental direct action has been a secretive one, until now.
With unprecedented access, Emily James spent over a year embedded in activist groups such as Climate Camp and Plane Stupid and documented their clandestine activities.
Torpedoing the tired clichés of the environmental movement, JUST DO IT introduces you to a powerful cast of mischievous and inspiring characters who put their bodies in the way.
They super-glue themselves to bank trading floors, blockade factories and attack coal power stations en-masse, all despite the very real threat of arrest. Their adventures will entertain, illuminate and inspire.
JUST DO IT is a totally independent project made possible by the generosity of over 100 volunteers and 447 crowd funders. www.justdoitfilm.com.
Suzanne Kelly of Aberdeen Voice will introduce the film and host a Question & Answer session after the film,
The Discussion panel will be made up of:
Emily James

, Director, 'Just Do It'

Robin Parker

, NUS Scotland President

David Milne

, Campaign against the Trump golf resort

Suzanne Kelly

(Chair), Aberdeen Voice 
See Link for more info: /Just_Do_It_A_Tale_Of_Modern_Day_Outlaws/