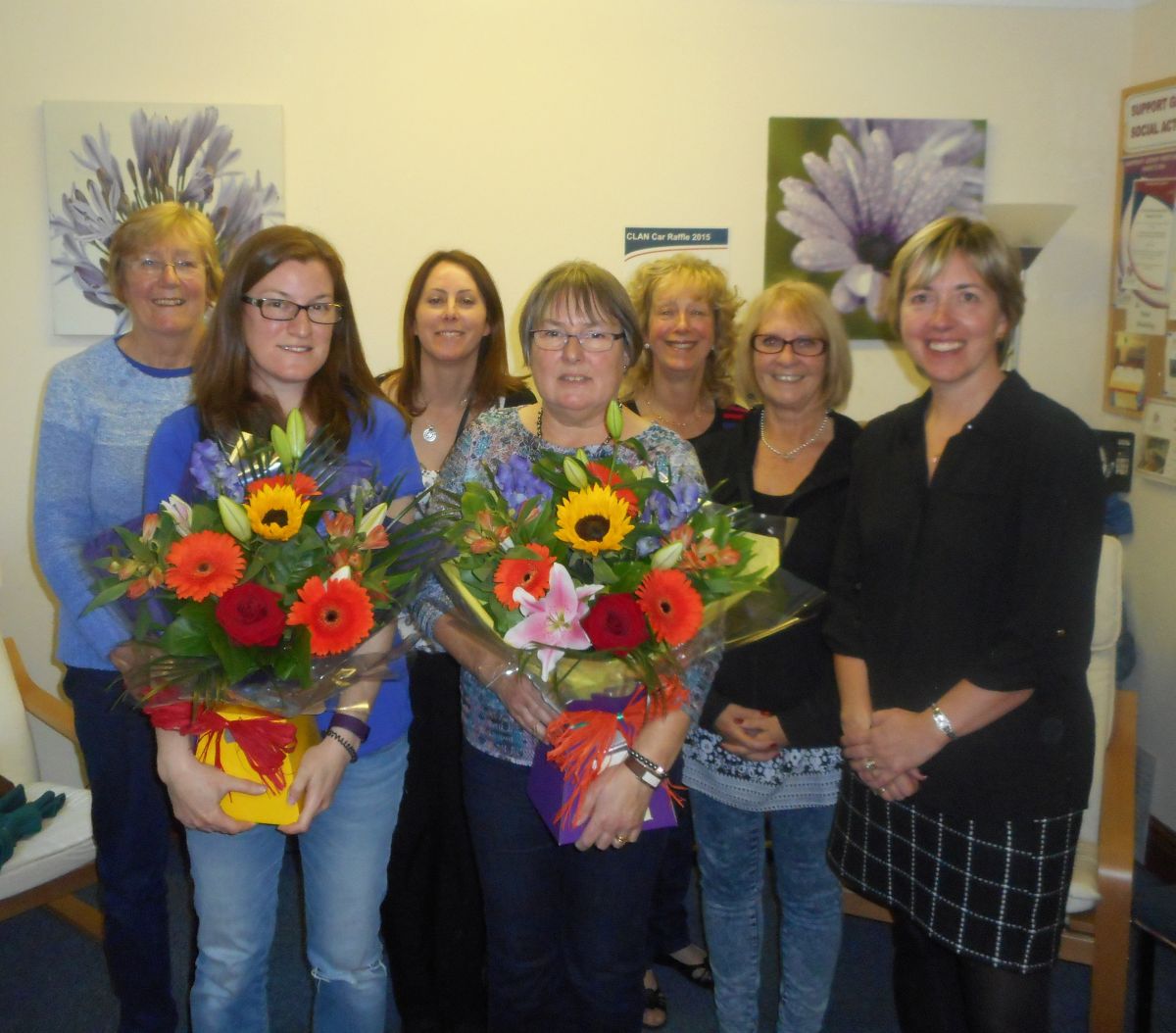 With thanks to Jessica Murphy, Senior Account Executive, Citrus Mix.
CLAN Cancer Support has paid tribute to a long serving volunteer who has been involved with the north-east charity for nearly a decade. CLAN thanked Frances Richards for her tireless fundraising efforts and role in spearheading the Friends of CLAN Stonehaven group in a moving presentation at its Stonehaven premises.
After being diagnosed with breast cancer in 1996, Frances wanted to do something to help others who were going through a similarly difficult experience.
She joined the charity's board of directors in 2006, serving for six years before standing down to concentrate on fundraising for CLAN in Stonehaven.
Along with her daughter Andrea, Frances put her efforts into organising a wide range of fundraising events through CLAN's Stonehaven Support Group, which became Stonehaven CLAN in the Community before the duo set up Friends of CLAN (FOC) Stonehaven in 2009.
Friends of CLAN groups are invaluable to the charity, helping to organise and host a number of fundraising and awareness events throughout the calendar year.
FOC Stonehaven brings in an annual estimated total of around £12,000 for the charity – testament to the dedication and enthusiasm of all volunteers involved.
Frances said:
"It has been very much a family effort with my daughter Andrea – we have worked together throughout the years on a lot of events which has been a lot of hard work and dedication but always good fun. Andrea and I fundraised through two fashion shows in 2006 and 2007 before we formally started Friends of CLAN Stonehaven in 2009.
"We started off with around six members and it has been great to see the group grow throughout the years. We have organised all sorts of events from quiz nights and shows to being involved with the Stonehaven Half Marathon as their charity of choice – there is always great variety. The Ury Players, a number of whom are members of the FOC committee, put on a wonderful charity performance of Dirty Dusting and will divide the proceeds between CLAN and another charity.
"All of the events have also had the effect of raising CLAN's profile in Stonehaven, which is something I was very passionate about. Leaving CLAN's board of directors in 2013 was quite difficult for me, but I had always been interested in CLAN in the community and wanted to focus on that. Andrea and I have lots of memories from FOC, but it is time for us to move on. However I am sure I will be still be involved in helping out at some events when CLAN needs it."
Lucy Whiteman, CLAN's services manager, said:
"Frances has been integral to the continued success of FOC Stonehaven and also played an important role during her time on our board of directors. On behalf of the entire CLAN family I would like to thank her for all her efforts over the years. We will miss her hugely but I am sure she will still be a presence in the life of CLAN at future events.
"Our Friends of CLAN groups are vitally important to us as a charity throughout the year and vital for conveying the message of CLAN and what we do. We would like to use this opportunity to appeal to people to consider joining. We have a number of opportunities in Stonehaven for people who are interested in helping organise and host fundraising and awareness events for the charity."
Frances added:
"Everyone will get something different out of volunteering. For me and my daughter it was all in the enjoyment of organising and doing something positive together and knowing that someone who is going through the cancer experience will be benefiting from our efforts. Although this can be stressful at times it also brings some fun and a wonderful sense of achievement. As well as helping to raise funds you become a part of the CLAN family and that in itself is a wonderful support network."
For more information on volunteering opportunities and to express an interest, please contact Cally Smith at Cally.smith@clanhouse.org or visit www.clanhouse.org
CLAN Cancer Support is an independent charity which provides comfort support and information, free of charge, for anyone, of any age, affected by any type of cancer. CLAN aims to support people to reduce anxiety, stress and to increase their ability to cope with the effects of a serious illness.
Based in Aberdeen, the charity covers the whole of north-east Scotland, Moray, Orkney and Shetland. CLAN has a presence in Ballater, Banchory, Elgin, Inverurie, Fraserburgh, Peterhead, Stonehaven, Turriff, Kirkwall and Lerwick.
For further information about CLAN Cancer Support please call (01224) 647 000 or visit www.clanhouse.org
Comments enabled – see comments box below. Note, all comments will be moderated.