With thanks to Jessica Murphy, Citrus Mix.
A cavalcade of the world's finest supercars will roar into action next month to raise funds for a leading north-east charity.
From Ferraris and MacLarens to Aston Martins, Porsches and Audi R8s, petrolheads are in for a treat when the annual SuperCLAN event descends on Aberdeen on July 12.
The gathering, organised by Scoro Solutions, was first held in 2011 and attracts the north-east's most prestigious cars to some of the region's finest roads to raise funds for CLAN Cancer Support, with more than £32,000 being raised over the past five years.
Susan Crighton, CLAN fundraising manager, said:
"The SuperCLAN event gets bigger and bigger each year and we are hugely grateful to Scoro for organising it. It really is incredible seeing such impressive cars being driven through Aberdeen, which is such a treat for both the passengers and onlookers.
"All money raised through driver entry fees and donations on the day will go towards supporting anyone affected by any type of cancer at any time, from diagnosis onwards. We are all looking forward to the SuperCLAN event, and are particularly delighted that Emily and Michelle Findlay, who are both service users, will get to enjoy it as passengers."
Emily Findlay was diagnosed with neuroblastoma, a rare cancer affecting children and young people, when she was just 14 years-old. After two years of treatment and a further 18 months of remission, the cancer returned last year. The 19-year-old is a self-confessed supercar fan and can't wait to be a passenger in one of the luxurious vehicles.
She said:
"I was so excited when I was offered the chance to accompany a driver during the SuperCLAN event. I love cars and being given the opportunity to be driven in one is absolutely amazing. It will be a great spectacle for onlookers too and help raise money for CLAN, which is a cause very close to my heart."
Also a supercar enthusiast, her mother Michelle is looking forward to taking part in the SuperCLAN event.
She said:
"I have been looking after Emily, mostly from home, since her diagnosis. I am a great supporter of CLAN as it has played a vital role in supporting us at times of need throughout Emily's cancer journey. Emily is going through gruelling treatment at the moment and getting the opportunity to have some fun whilst supporting CLAN is very welcomed."
The luxury convoy will leave the Scoro Solutions headquarters in Altens and follow a picturesque route via Kildrummy Castle before heading to Glenfiddich Distillery for 12.30pm, and finishing at the Hilton Treetops at 3.30pm. The general public is invited to have a look at the supercars at the Glenfiddich and Hilton Treetops stops.
Organiser Ross Gatt, director of oil and gas recruitment specialists Scoro Solutions, said:
"My colleague Scott and I are both extremely passionate about CLAN Cancer Support Charity and the services that they provide, and also have a shared love of supercars. It is fantastic that we have been able to enjoy our passion through this event and help CLAN at the same time. There is always a great atmosphere on the day and we are really looking forward to it."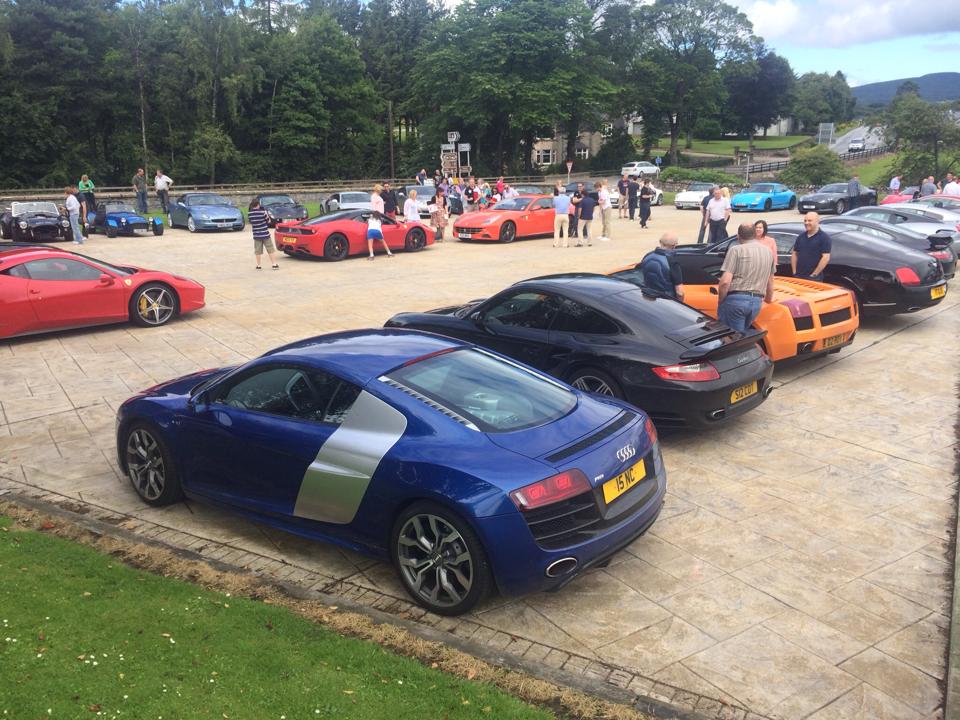 CLAN Cancer Support is an independent charity which provides comfort support and information, free of charge, for anyone, of any age, affected by any type of cancer. CLAN aims to support people to reduce anxiety, stress and to increase their ability to cope with the effects of a serious illness.
Based in Aberdeen, the charity covers the whole of north-east Scotland, Moray, Orkney and Shetland. CLAN has a presence in Ballater, Banchory, Elgin, Inverurie, Fraserburgh, Peterhead, Stonehaven, Turriff, Kirkwall and Lerwick.
To make a donation visit www.justgiving.com/SuperCLAN2015
For further information about CLAN Cancer Support please call (01224) 647 000 or visit www.clanhouseorg