Old Susannah's feeling sheepish about recent events, and has decided not to duck the important questions surrounding recent articles about Northfield Animal Haven.  Rather than going on the lamb or spreading any bull, here are some timely definitions should anyone think she's chicken. By Suzanne Kelly.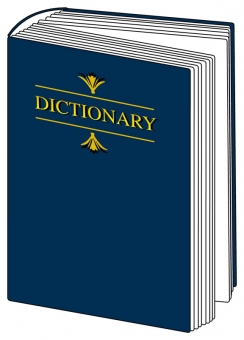 If you've been reading the Voice, you may be aware of articles and comments concerning Northfield Animal Haven. Were all of its fundraising appeals transparent and accurate? Did all of the animals it purported to rescue actually exist? Not so much. Now that the dossier of Northfield's activities has been turned over to the police, it's time for me to turn myself in.  If Northfield were to be believed – and wny wouldn't you? – then I have done wrong.
Here are a few related definitions to help unravel the Northfield saga.
Alias: (English noun) A false name, often used with the intent to conceal identity and/or to deceive.
Did you know that Old Susannah is actually an alias, and my name is Suzanne Kelly? Well, it's worse than that.
"She calls herself SueKelly10 on Twitter", tweeted Fiona Manclark.
Before you judge me too harshly for this subterfuge, please allow me to explain. 'Sue' is a name I'm using to try and throw people from thinking I'm Suzanne. I really am amazed that Fiona figured this out. Alas! I cannot ask her how she sleuthed this one through, she and Northfield have me blocked on Twitter and Facebook.
However, should you wish to ask for her opinions about how Suzanne Kelly has the gall to call herself 'SueKelly10', tweet to her at 'Mummyalfi'. Hope this helps.
As an aside, when I first started writing for Aberdeen Voice (some 400+ pieces ago), I was going to only be known as 'Old Susannah' and stay anonymous. I thought that might help give me more distance from people who might not like being investigated.
Alas! While I had said to AV editors that my pen name was going to be 'Old Susannah', the first column came out with the heading 'Old Susannah's Dictionary Corner – by Suzanne Kelly'. With the cat out of the bag, the decision was pretty much made for me that I'd continue investigating and not care whether people knew my name. After all, what was the worst that could happen?…
Death Threats: (English compound plural noun) To threaten to kill someone or a group of people
In various social media locations, Northfield's Kelly Cable and her father Eric have stated that Kelly's had death threats. I suppose this could be from The Vegan Conspiracy (see below), militants, etc. But death threats are very serious. Cable claims these have been reported to the police. There isn't anything funny about death threats – but it is funny that anyone should issue death threats to someone over the veracity of their interesting farming and fundraising frolics.  Or benefit fraud.
The family must be very upset by this. Death Threats are no joking matter. They are so upset at these death threats that dad Eric wrote on a Facebook Page about me and my articles that he should get an AK-47. But that's OK, as he also wrote in brackets 'tongue in cheek'.  He probably only meant he'd like to take me out shooting.
Threats are a tricky thing.  Old Susannah / SueKelly10/ I must work harder to understand when a death threat is a joke or when it's sinister.
Clearly the threats to Kelly are very real.  In fact, I am quite convinced the death threats are as genuine as the rescue appeal for the six Shetland ponies she recently removed from Go Fund Me. For some reason, some people found the appeal a tad misleading.  It was illustrated with a photo of a cute pony  – rescued years ago in Wales.  The owner of the six ponies has never come forward, we've no idea where they are or what they look like.  But because Cable says so, we know that only she was going to be allowed to save them.  Otherwise they would be turned into meat. Kind of like the lambs on the other side of the Cable business, but I digress.
By the way, it's important to remember that everything that happens because of my exposing Kelly Cable's methods of operation is my fault and not hers.  I should have just let her continue to rescue animals (though I suspect some are probably more suited to rehoming in a Farmville game than on a real farm). I could have let her take donations, such as the £150 she got from a pensioner.  This generous person wrote in a comment that they couldn't really afford their donation, but they didn't want the animals to suffer.   What nefarious knaves would be making death threats? I have a theory…
The Vegan Conspiracy: (extremely modern English compound noun) Shadowy organisation that is trying to get people to stop eating animals
I am supposed to confess that my interest in Northfield's inventive fundraising is due to my being part of The Vegan Conspiracy. This is mentioned here or there on Facebook by Northfield supporters.  I have a vegan agenda and I have cohorts.  As secret as our cabal is, I'm sure the boys won't mind me telling you a bit more about our little initiative, The Vegan Conspiracy.
Every full moon, a bunch of hemp-clothing clad, tofu-eating, unshaven, unwashed pagans gather at Torry Battery to advance our inevitable world domination.
The nefarious agenda is to get people to realise that fluffy chicks, fleecy lambs, adorable calves should be petted, loved, given space and not shredded alive and un-anaesthetised on birth for being male (chicks), locked in pens so they can't move (most other critters), or kept pregnant only to have calves snatched away and be re-impregnated again and again until worn out so we can have milk on our cornflakes.
After we paint ourselves in dayglow paint and dance to Morrissey, we strategise how to get people to be more compassionate and switch from meat and dairy to alternatives.
Alas! as I'm only a vegetarian, I don't get more than associate membership. But I'm working on it, and one day will be a fully fledged Vegan.  Possibly.
Karma:  (Sanskrit noun) Fate
Happily Northfield's owners have many friends around them in this difficult time.  Many of these are wishing that karma will get me / comment that ' karma's a bitch' and so on.  Needless to say, I am quaking in my boots at the idea. How will I be punished for what I've done?
It would be foolish of course to suggest that perhaps karma has paid a visit to New Pitsligo, and has started giving what is owed.
Alcoholism: (Modern English noun) A disease; those suffering from it are best ridiculed, outed and mocked
Fiona Manclark has let the world know I'm an alcoholic – so she says – and she and her witnesses have the proof.  These people claim I am often seen 'falling out' of  BrewDog.
I've a few friends who have this disease; and mocking the afflicted is always a great reminder to them of their weakness.
Some illnesses are quite serious.  Fiona, who has delighted in tweeting and posting about my alleged alcoholism, has now resigned from involvement with Northfield on ill health grounds.  I wish her a speedy recovery.
Also ill, but with nothing funny at all, is Kelly.  She's let us know her  brain tumour is giving her problems again.  My sympathies.
As with death threats, Old Susannah is not sure which illnesses are to be mocked and which are to be sympathised with.  But I'm working on it.  Clearly alcoholism falls into the mocking category for Ms Manclark.
My lawyer and the entire staff of BrewDog don't believe I'm an 'alkie' and that I should do something about these claims of Fiona's but that's a matter for another day.  I'm sure her repeated posts, comments and tweets about my being an alcoholic (and liar  AND keyboard warrior to my shame) were just meant to help me recover from a debilitating disease.  Otherwise, her behaviour might be misconstrued as a brutish, libelous,  ill-thought through attempt at intimidation.
Intimidation: (English noun) The attempt to subdue, silence, cow another person
Eric Cable, likewise, doesn't want to intimidate me. When he posts on Facebook remarks to the effect he's found interesting things on the internet, I tremble.  He probably just means he's found cute looking pony photos to save for future reference or something. I know it's not about me, but my heart still skips a beat nonetheless.  What if he found something out about me?
Could it be that time I jumped in the Trevi fountain fully clothed? There's the time I streaked through the Queen of the South v Hearts game last February.  What if he found out that I was Cancer with Leo rising? Does he have the video from that incident with the ACSEF members, the double-sided tape, and AFC's changing rooms?
We will soon find out. But until then, and probably even after then, I'll keep doing what I do.
Tally ho!
Comments enabled – see comments box below. Note, all comments will be moderated.
[Aberdeen Voice accepts and welcomes contributions from all sides/angles pertaining to any issue. Views and opinions expressed in any article are entirely those of the writer/contributor, and inclusion in our publication does not constitute support or endorsement of these by Aberdeen Voice as an organisation or any of its team members.]