Since last Saturday, June 6, Hell Yeah have taken over Peacock Visual Arts to draw a sugar loaded, popcorn poppin', over indulgent large-scale illustration installation on the walls of our main gallery.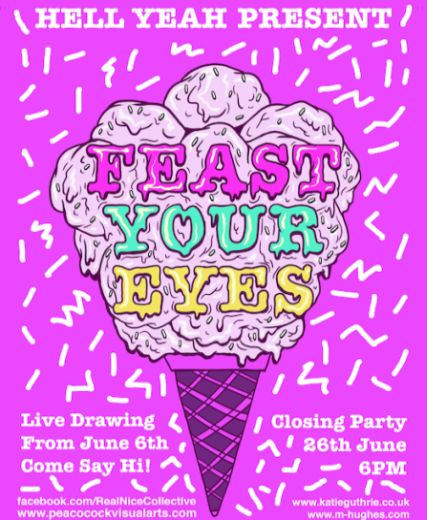 Hell Yeah actively encourage viewers to visit them in the gallery throughout the duration of the installation in order for you to engage with their creative process, with questions and interaction with artists welcomed.
Once the installation is complete the gallery will be closed throughout the day on Friday 26 June to prepare the space for the official Closing Party, which will feature previously unseen work
from the artists hung directly on top of the installation.
The guarded nature of the Closing Party is intended to provoke viewers' curiosity, urge you to explore the artwork further and also offer a fresh perspective of the exhibition as a whole.
The closing party will take place on Friday 26 June, 6-8pm, all welcome.
The finished exhibition will then run until Saturday 18 July 2015.
About the Artists
Hell Yeah are two artists who work together on large-scale site-specific illustration installations as well as commercial projects. Their typical Scottish dry wit and youthful enthusiasm for life gives their work a raw yet playful mix, which can leave the viewer feeling both amused and uneasy at the same time.
Live Drawing: 6 June – 25 June 2015
Closing Party: Friday 26 June. 6-8pm. All welcome.
Exhibition: 27 June – 18 July 2015