Sea Shepherd announces the second year of its Seal Defence Campaign around the coastline and islands of Scotland. By Robert Read – Sea Shepherd UK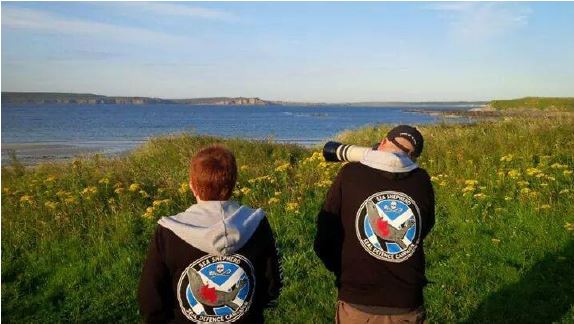 Sea Shepherd UK (SSUK) have deployed a seal defence crew to Gamrie Bay, Banffshire in the first phase of our 2015 campaign to prevent Scotland's iconic seals from being killed illegally by coastal netting fishing operations, fish farms or indeed anyone else in Scotland.
This year's deployment of a seal defence crew and a fast RIB (Rigid Inflatable Boat) to Gardenstown harbour coincides with the start of the wild salmon netting season as employees of USAN Salmon Fisheries ltd (AKA: Scottish Wild Salmon Company) who operate fixed engine nets either side of Gamrie Bay.
USAN Salmon Fisheries Ltd claimed to have shot a seal before we arrived in 2014 and prevented any further seals being killed at this location for the rest of the 2014.
Sea Shepherd UK's deployment of a land and boat crew to Gamrie Bay marks only the start of a much larger and wider ranging campaign for 2015 following our success in during 2014.
In 2014 at Gardenstown we were joined early in the campaign by members of the Hunt Saboteurs Association (HSA) who had a small team initially in the area on surveillance/intelligence gathering and who then sent a much larger team to provide support following increasing intimidation received from netsmen and their 'allies'.
Wherever Sea Shepherd operates we always try to recruit local volunteers and find supporters and with the recruiting of local volunteers from Aberdeenshire we were able to expand our 2014 Seal Defence Campaign to Montrose/Lunan Bay then to the Dunnet Bay area in the far north near Thurso where we were able to focus our resources on coastal land and boat patrols for the duration of the 2014 wild salmon netting season.
SSUK's deployment to the north coast and Orkney Islands was possible in part by the Hunt Saboteurs Association deploying teams in their own successful campaign to protect seals with intensive land based monitoring of the activities of salmon netsmen along the Montrose coastline.
Our patrols by land and sea in 2014 prevented any illegal shooting of seals and indeed any killing of seals where our teams and cameras were watching.
there are effective and proven methods of keeping seals away from netted fish
Sea Shepherd UK's Seal Defence Campaign 2015 around Scotland will (as in 2014) provide monitoring of the activities of both fish farms and wild salmon/mixed fisheries netting companies which hold licenses from Marine Scotland to shoot seals to protect their catch/profits.
The licenses issued by Marine Scotland which specify numbers of seals, locations and conditions under which seals can be shot (the shooting of seals is always supposed to be a last resort option where all deterrent methods have failed) remains open to abuse by some fishing/fish farm companies with a complete absence of any government monitoring.
Years of successful scientific development and trials of acoustic devices (often called pingers) which keep seals away from coastal and river nets together with the effective use of secondary EcoNets around fish farm pens mean that there are effective and proven methods of keeping seals away from netted fish therefore making the shooting of seals unnecessary under the terms of the Marine Scotland seal shooting permits.
However some companies continue to invest fully in deterrent/ prevention equipment preferring the cheap option of buying bullets instead.
Typically every year over 300 seals are declared as having been shot – but this 'official' declared number of seals shot come solely from the companies and individuals who pull the triggers of the guns and Sea Shepherd UK is convinced the real number of seals shot greatly exceeds this official number and some conservation groups have previously claimed up to 2000 grey and common seals are shot around Scotland's coast.
Sea Shepherd UK calls on Marine Scotland to re-assess their current policies regarding seals due to the proven seal deterrent methods now available and request the cancellation of all licenses.
Due to the continued absence of any proactive government or contracted independent teams tasked with monitoring the activities of these fishing companies – Sea Shepherd UK's campaign crews will continue to fulfill this role and provide much needed patrols providing information to Police Scotland and water/river bailiffs to enable prosecutions for poaching and any other illegal activities.
our crews will be operating from a number of mainland coastal locations
Our campaign crew will intervene if necessary to prevent the illegal killing or deliberate harassment of iconic Scottish seals which are all protected species under UK and EU legislation.
Sea Shepherd's 2015 Seal Defence Campaign in Scotland will be significantly larger than our campaign crew of last year already numbering over 60 volunteers joining us at their own expense from around Scotland as well as travelling from England, Wales, Northern Ireland, Italy, Spain, Germany, France, USA and Chile to help defend Scotland's seals.
For the next five months our crews will be operating from a number of mainland coastal locations and islands covering areas where seals are currently being shot illegally or allegedly legally under permit from Marine Scotland. Our international crew will be patrolling along the coastline by land and will use Sea Shepherd UK's fast RIBs as well as being supported by two privately owned/operated vessels.
Sea Shepherd UK is offering a £5000 reward for information, photographic or video evidence which directly leads to the successful prosecution of any individuals or any companies (including their employees, representatives, contractors or agents) for deliberately and illegally killing any marine mammal (including seals) or endangered marine creature around the coastline of the United Kingdom or in UK territorial waters.
To submit information securely and confidentially please e-mail Sea Shepherd UK on: report@seashepherduk.org with as much information as possible including the location, date, time of the offence with clear photographs and/or HQ video when possible.
Comments enabled – see comments box below. Note, all comments will be moderated.
[Aberdeen Voice accepts and welcomes contributions from all sides/angles pertaining to any issue. Views and opinions expressed in any article are entirely those of the writer/contributor, and inclusion in our publication does not constitute support or endorsement of these by Aberdeen Voice as an organisation or any of its team members.]