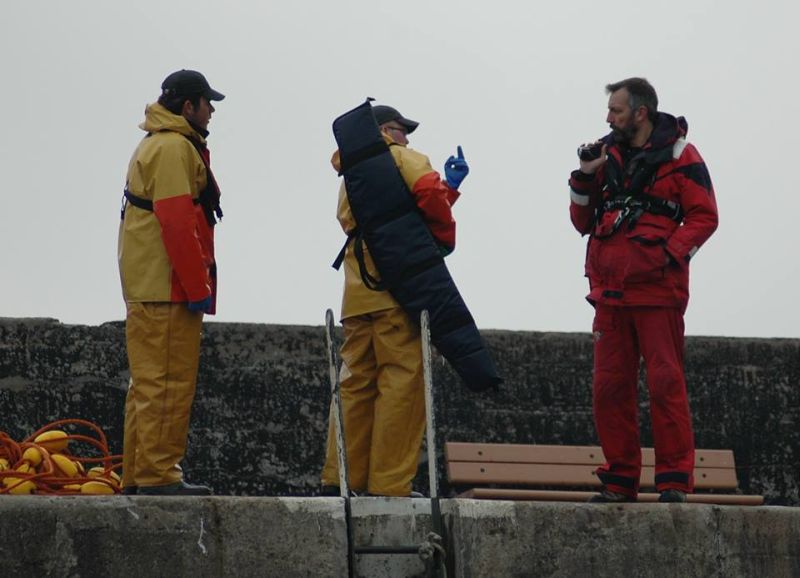 With thanks to Suzanne Kelly.
Operatives of a marine conservation charity claim to have been threatened by potential seal shooters.
On Easter Monday Aberdeen Voice spoke with a Sea Shepherd observer who claims there is a video showing the seal hunters physically intimidating those who would stop any shooting.
It is understood the police are investigating.
The state of play is a far cry from USAN's George Pullar's promise to use non-lethal measures.
Many in Scotland were unhappy at this commercial firm moving into the area to net salmon and trout; now it seems their promises have already been broken.
USAN is the parent company of Scottish Wild Salmon Company. Aberdeen Voice has left phone messages and emailed for comments on this development, but the company has not responded.
Potential shooters are alleged to claim they will take any opportunity they can to kill seals. Sea Shepherd likewise says it will remain present 24/7 during the season and will document any illegal shooting – or harrrassment – that takes place.
Sea Shepherd UK (SSUK) have deployed seal defence teams to Gardenstown, Banffshire to protect iconic Scottish Seals from being shot by killers from the Scottish Wild Salmon Company.
Over the Easter holiday last year (2013) it was widely reported in local press that the Scottish Wild Salmon Company had been indiscriminately killing seals in and around Gamrie Bay.
The Laird of Gardenstown and Crovie, Marc Ellington DL expressed concern over both the unnecessary killing and the resultant damage to an already fragile local tourist industry and wished SSUK every success to ensure that Easter Weekend this year resulted in zero kills.
From reports detailing the 2013 seal slaughter, SSUK quickly realised that they would need undercover personnel on the ground in advance of any deployment to gain information on the movements of the Scottish Wild Salmon Company's seal killing team.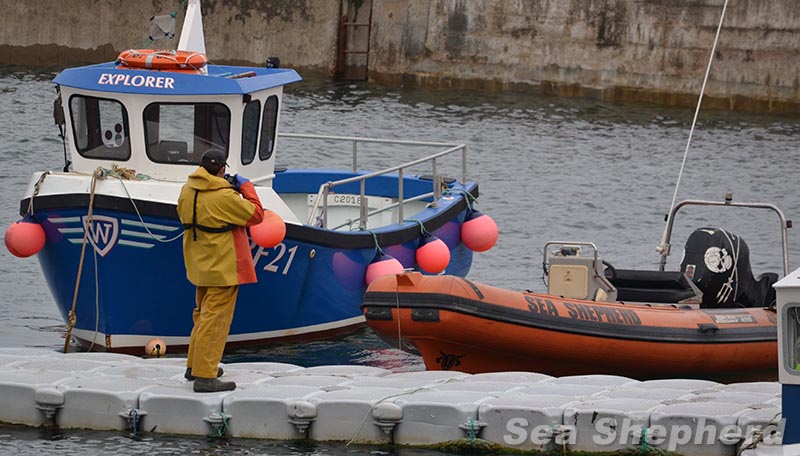 SSUK's own covert operatives were already engaged in other areas of Scotland where seal killing is taking place and our intent was to make sure our main seal defence group was very high profile in Gardenstown and Crovie.
We therefore took the opportunity to join forces with the Hunt Saboteurs Association for this seal defence action.
Following their successful campaign against the English Badger Cull it was clear that the HSA had the necessary skills to assist us with this task and were willing to put themselves at risk from the seal killers in order to help us achieve our zero kill aim.
Since arriving in the area the HSA undercover team have ranged across the territory on foot monitoring seal kill zones from beaches, hillsides and treacherous cliff-top locations often in extreme weather conditions.
The intelligence gathered has allowed SSUK to develop an effective plan for seal protection should the Scottish Wild Salmon Company be outrageous enough to attempt another seal slaughter either in full view of the public or hidden from view in less accessible places.
SSUK personnel are now in position in Gardenstown and Crovie with a Sea Shepherd RIB designed for inshore work of this nature.
They also have access to the full Sea Shepherd range of surveillance equipment including remotely operated drones and hidden camera devices if necessary. The command team on the ground are in routine contact with all relevant authorities as well as Crimestoppers and a network of local observers and activists.
SSUK will be operating in the area for as long as necessary to ensure that the Scottish Wild Salmon Company obey the law and do not kill any seals this Easter.
SSUK is also investigating other firms in Scotland who may be illegally killing seals and would encourage any concerned members of the public to contact us at report@seashepherduk.org if they suspect any criminal intent towards marine wildlife.
Aberdeen Voice is grateful for permission to reproduce text and pictures from the Sea Shepherd UK official website.
Update on SSUK site – http://www.seashepherd.org.uk/news-and-media/2014/04/21/violent-seal-killers-threaten-sea-shepherd-crew-caught-on-camera-1576
Comments enabled – see comments box below. Note, all comments will be moderated.