This New Firm derby developed into a fiery encounter with plenty more to talk about than the solitary goal, says Voice reporter Andrew Watson.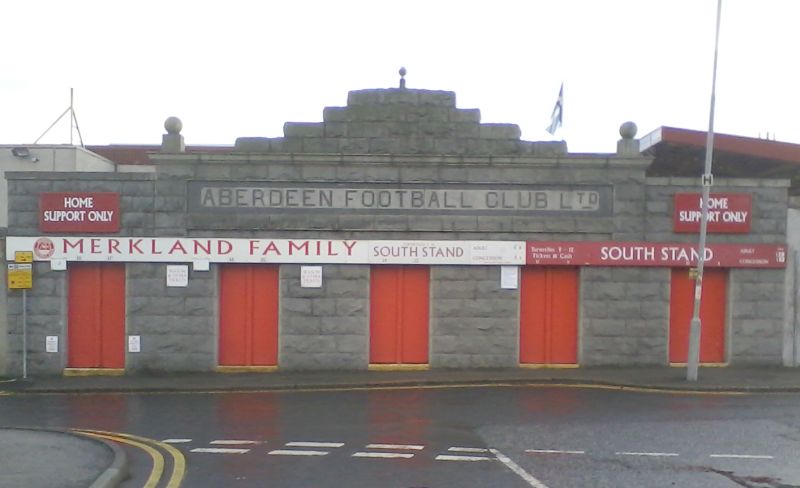 It was a mild Saturday afternoon with a cool wind blowing, though not enough to drastically alter the play or nature of the game.
The visiting Tangerines haven't been playing too well as of late, but the Reds could not, and did not underestimate their east coast adversaries.
I once said before, regarding a previous encounter between the Dons and Arabs, that if every player attacked the game with the same sense of urgency as Willo Flood, then it would've been an entirely different spectacle.
This time, however, his recent form didn't suggest this would again be the case. His wayward passing of late has been particularly woeful. Passing sideways, passing backwards; forever negative.
Perhaps though, Flood versus Dundee United is akin to Eoin Jess versus Rangers; always turning it on against their most bitter of rivals.
Again, he was the proverbial bull in the china shop, launching into every tackle. And again, there were boos for him, and Barry Robson, from the away crowd for the duration.
However, it was only fair that he was, again, awarded Man of the Match in this particular tussle of a fixture.  His work ethic, again, almost singlehandedly propelled the Reds' engine room in the centre of the park.
Despite this, it was striker Adam Rooney who grabbed the headlines after 39 minutes.
Captain Mark Reynolds exploited a lapse of concentration amongst the Tannadice back four and managed to put a ball across the box for Rooney to meet, and find the back of the net.
1-0 Aberdeen!
Rooney came close, but no cigar, in the second half, too; and although United weren't remarkable it wasn't all one way traffic.
They forced keeper Scott Brown into a couple of fine saves. His involvement increased after 71 minutes when Robson was sent off for a seemingly dubious elbow on United's Charlie Telfer.
Ryan Jack came on the pitch four minutes later in place of Niall McGinn. The industrious Flood left the pitch as Donervorn Daniels was drafted in a minute after normal time.
Both switches were aimed to shore up the backline after losing such an influential figure in Robson. The game, more so after his dismissal, became frenetic and bad tempered.
This, I suppose, made the victory all the more gratifying. Okay, they've drawn out narrow one nil victories in the past, but rarely have they done so having been reduced to ten men.
Hopefully, they might make Celtic sweat in the race to the top of the table.
Final score:  1-0.