It is with a heavy heart that I have to write about another boyhood Dons hero who has gone. By David Innes.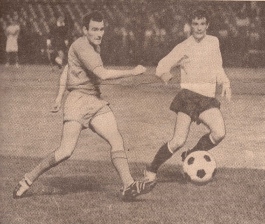 When Jim Storrie signed for Aberdeen from Leeds United in February 1967, the 10 year old me, and the very few Dons fans who attended my school, were visibly excited. We'd signed a player who some of us could recall playing in the 1965 FA Cup final against Liverpool, and although in the mini-battle of Scottish centre forwards that Wembley afternoon, Ian St John prevailed, this was still big news.
The Dons were going well. From previous torpor and disgraceful cup exits, defeated by East Fife and Ayr United, Eddie Turnbull had arrived and had taken the club by the scruff of the neck and forced it to modernise.
Money was still tight though, as were the Board's pockets, and with a high quality crop of youngsters coming through, Turnbull's need was to bring in an experienced striker to score goals and to help the young starlets develop.
Turnbull's antennae were rarely switched off, and his scouting and insider gossip networks well-established, and on hearing that the experienced, streetwise Jim Storrie was looking to move back north, he wasted no time in bringing him aboard. Storrie was just a month short of his 27th birthday. Turnbull would have been aware of the player's striking skills when Storrie was hot property at Airdrie before heading for Elland Road.
He debuted in The Sacred Red against Hearts at Tynecastle on 4 March 1967, leaving it two weeks later before he bagged his first Dons goal in a 1-1 draw at Firhill. More importantly, at Pittodrie 10 days later he scored a crucial goal in the Scottish Cup quarter final replay 3-0 defeat of Hibs.
That game was attended by 44000 people, with Pittodrie packed to eye-watering capacity. His own drama continued as the Dons went ahead early against Dundee United in the semi-final but Storrie missed the chance to seal the game when he missed a penalty.
Playing his second national cup final in two years, Storrie was disappointed to be on the losing side, a 2-0 defeat to Celtic in the final, a game where the Dons never got going.
What is often forgotten is that the Dons then played in the USA for a summer, under the banner of Washington Whips. This great adventure saw Storrie score 6 goals in 13 appearances, contribute regular columns on the trip to The Sunday Post, and win the Whips' head honcho's garish yellow sports jacket for scoring two goals in a play-off game against LA Wolves.
The whole story of that pioneering adventure was written, with input from Jim and most of his teammates, 17 years ago. I'll attempt to get it into print for the 50th anniversary in two years time.
It was during the authoring of that book that I spoke with Jim, by phone, from his home near Glasgow. He was a splendid interviewee, full of anecdotes, delighted to reminisce about the trip and his affection for the time he spent at Pittodrie was obvious. On the tour, he was always prepared to sing Scots songs at ex-pat parties to which the Whips were invited.
Of his regular singing partner, Jimmy Wilson, he said, "Wee Jimmy and me thought we were Peters and Lee. More like Litres of Pee".
He also suffered the ignominy, as a Scot, of being congratulated in the Cleveland match programme for his part in England's 1966 World Cup theft victory.
Back home as runners-up in the President's Cup, Storrie made history by scoring in Aberdeen's first-ever European tie as the Reds crushed KR Reykjavik 10-0. Over both legs, Jim scored four goals, making him the Dons' ninth equal all-time top scorer in Europe!
Unfortunately, following that US and early Scottish season goal harvest, Jim's form didn't continue and he played only fleetingly in the 1967-68 season, before Rotherham United took him back to Yorkshire in 1969. In his time at Pittodrie, he played 25 games and scored 11 goals. He returned to Scotland and managed St Johnstone from 1976-78. He then moved into sports management, running sports centres in the Kilsyth area.
We first heard of his illness in 2012 when Jim's son Joe contacted me asking if he could have a copy of my manuscript to cheer his dad up after a serious operation. From the feedback Joe sent it seems that it had the desired effect, as Jim enjoyed it.
It was with great sadness that we learned the news of his death on 11 November 2014, aged 74, a fleeting but important part of the Reds' history. The sympathies of all Dons fans around in those exciting days will be with his loved ones.
Comments enabled – see comments box below. Note, all comments will be moderated.