Earlier this year, on Eddie Turnbull's birthday – that'll be 12 April, then – the writer of this article opined that that Dons great would live  forever. He died a few weeks later and there was a genuine, deserved, widespread expression of grief from the Scottish fitba community. The Boss was 88. Of course he couldn't be expected to live forever, but when one's heroes or icons die, the world seems a dimmer place.
This week, Dons fans of a certain vintage, among them Voice's David Innes are mourning the loss of Francis Munro, rarely mentioned in pub and online debates about Great Reds, yet from 1966-68 the most dynamic and explosive individual in a supremely-talented squad.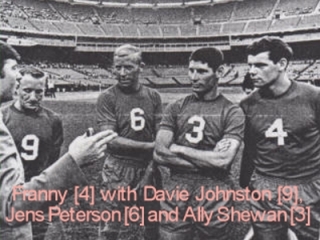 The statistics show that
Francis Michael Munro
played 59 games for the Dons and scored 14 goals.
In today's multi-media analytical world, his number of assists, the yards he covered during 90 minutes, his percentage successful passing rate would all be monitored and published. Had  such analysis been available in Franny's time at Pittodrie, his value would have been far more obvious 45 years on.
But it still wouldn't have told the full story.
When I interviewed Eddie Turnbull in 1997 for an as yet unpublished account of the Dons 1967 USA adventure as The Washington Whips, I asked The Boss about Franny in particular. Why? Because on Christmas Eve 1966, I was to witness this teenager rule the midfield in a top of the table head-to-head with Celtic, a mere five months before Jock Stein's team lifted the European Cup.
Stein's midfield of the time included luminaries such as Bertie Auld and Bobby Murdoch, yet it was Munro who bossed the game and, had it not been for Ronnie's Simpson's breathtaking save just before the end, Munro's piledriving late goal attempt would have secured a rare victory over Celtic. He achieved instant hero status from this wide-eyed loon.
He wasn't about blood and thunder, though. He was as graceful an athlete, despite an ongoing weight problem, as any of the more high-profile figures of the time.
During the 1997 interview, his manager told me,
"It shows how if you're aware or alert what can happen. In the early days, before I came to Aberdeen, I was in charge of the Scotland Under-18s. And I remember Francis as a fifteen or sixteen  year old, and I thought, 'This is some player'. Of course he was a Dundee boy and he went to Dundee United, but Jerry Kerr couldn't handle him and he started getting into the wrong company.
"He was one of the finest long passers of a ball that I ever saw in my life, that I ever had under me, that I ever played against. He would say, 'I can't do that', and I would say, 'You're the most skilful of the lot'. That was when he first came in, he was an introvert. A lovely lad. For a big man, he was so light on his feet. He'd great vision, could see everything on the park."
In his pen picture of Franny in a programme for a Washington Whips fixture in summer 1967, The Boss described his protégé as being "as nimble as a ballerina".
In the States, he proved his worth, even scoring a hat trick in the largely-forgotten but supremely thrilling President's Cup final. He followed that by becoming the first Aberdeen player to score, and the first Don to score a hat trick in a European tie, both in the 10-0 extirpation of KR Reykjavik, the Dons' debut competitive European outing.
He wis some boy
Wolves, who had been on the receiving end of Franny's hat trick in the USA, eventually persuaded the Dons to transfer him to Molineux in 1968. He was immediately converted into a centre half, the Wolves number 5 shirt as comfortable on his back as his Pittodrie number 4 had been. At Wolves, he won a League Cup winners' medal in 1973-74 and became a club legend.
I hope that two Wolves fans for whom I have almost as  much long-distance affection as I had for Franny – Led Zeppelin's Robert Plant and Dexys' Kevin Rowland – idolised him as much as I did.
During my research in 1997, I spoke briefly with Franny on the phone. I hope I didn't come across like a babbling, tongue-tied teenager. He was very polite, informative and interested in what I was doing, but was obviously in poor health, an affliction which continued until his death on 16 August 2011 aged 64, no age at all really.
That he shares his date of death with Elvis is a coincidence that I will regard as wholly indicative of the level of Franny Munro's talent.
Sleep easy, big fella.