With thanks to Kirsty Young.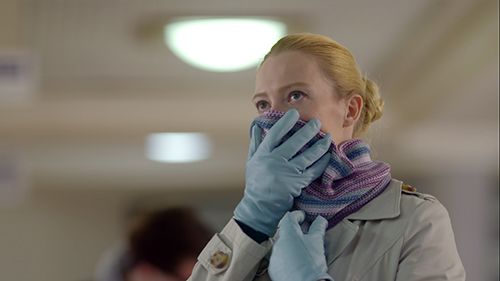 On Friday 16 May 2014, Aberdeen audiences will have the opportunity to see the results of Cecilia Stenbom's participatory art project Manual.
The work will be shown on a loop in the gallery at Peacock Visual Arts from 9:30 – 5:30pm.
Cecilia Stenbom will then be present on the evening of Friday 16 May at 6pm for an informal question and answer session, for members of the audience to find out more about the project.
Manual started with a public participatory research event hosted by Peacock Visual Arts, which took place at Aberdeen City Council building, Seventeen, in November 2013.
The event consisted of a series of one-to-one interviews with members of the public that explore people's everyday behaviours and habits in public space.
Participants were encouraged to talk about their own experiences, routines and preferences within the framework of everyday situations;  How do you choose a seat in a restaurant? What do you do in order to feel secure? Does surveillance make you feel safe or watched?
Do you take measures to avoid catching infections from other people? Do you have a system for staying safe in public space? How do you act when you run into someone you don't want to run into? What do you find unacceptable behaviour? Do you have a preferred toilet cubicle?
The material recorded during this event was developed into a fictional artist film about how we deal with anxieties and hang-ups whilst in public space. Set entirely inside a shopping centre, the film follows the interactions between two sisters; one anxious about her personal safety, the other concerned with the invisible threat of infection.
The sterile atmosphere of the environment quickly becomes menacing as the women's personal safety systems begin to fail.
Cecilia comments:
"I am really excited to come back to Aberdeen to show the work that came out of the participatory event 'Manual'. The opinions and stories about behaviour in public space that I captured during the event in November is the basis for the fictional film about two women navigating a shopping centre. It is great to finally bring it back to Aberdeen to screen it."
Manual has been supported by Arts Council England through the Grants for the Arts scheme.
Cecilia Stenbom (1976, Stockholm) is a visual artist and filmmaker. Originally from Sweden, has previously been based in Reykjavik, Helsinki and Glasgow and currently lives and works in the North East of England.
Q&A 6pm, Free admission. Please RSVP to sarah@peacockvisualarts.co.uk
Location: Peacock Visual Arts, 21 Castle St, Aberdeen, AB11 5BQ